Episode 15 of Dr. Stone: New World was yet another scientific thrill ride. The season has now hit its last set-up episode for a while so what's one without humor, whacky facial expression, Senku showing his mad scientist side, and the return of some of our favorite side characters? Above all, Senku faces an internal conflict after re-creating what he considers one of humanity's greatest inventions but also possibly its worst—the gun.
Senku's Dilemma
Senku isn't usually one to reflect on things. He puts his trust in his knowledge of science and lets it do the rest. But every once in a while, he has his moments of reflection and we saw that briefly in this episode. Only this time, it was different. It's one of those traits of Senku that gives his character depth so he isn't just doing nothing but building stuff and giving lessons on science. However, what Senku reflected on is one of the most common thoughts of any great scientist—is this taking it too far?
It's gotten to the point that Senku has now created modern weaponry and in this episode, he creates none other than the New Stone Age's first handgun. This is where the writing for Dr. Stone shines and let me tell you why without adding exclamation points at the end of every sentence because I'm so excited to talk about this.
A problem that many anime and manga nowadays is they introduce problems and brush them off without any ethical thought or perspective offered. Some series treat problems like it's a gag, others treat it like it's not a big deal, etc.. But here in this episode, those from the modern world in the Kingdom of Science, including Senku, realize what introducing a gun to this new world could bring about.

This also creates a dynamic between them and those who were brought up in this new age who think it's just another cool invention of his. They can't fully grasp what Senku just invented. Then, at that moment, Senku even says to himself, "I'm definitely going to hell." The angle of the close-up shot, the shading, the angle, that slight smirk with soft eyes, and Yuusuke Kobayashi's superb voice acting. That entire moment was captured so damn perfectly. It was almost hard not to get a little choked up for me.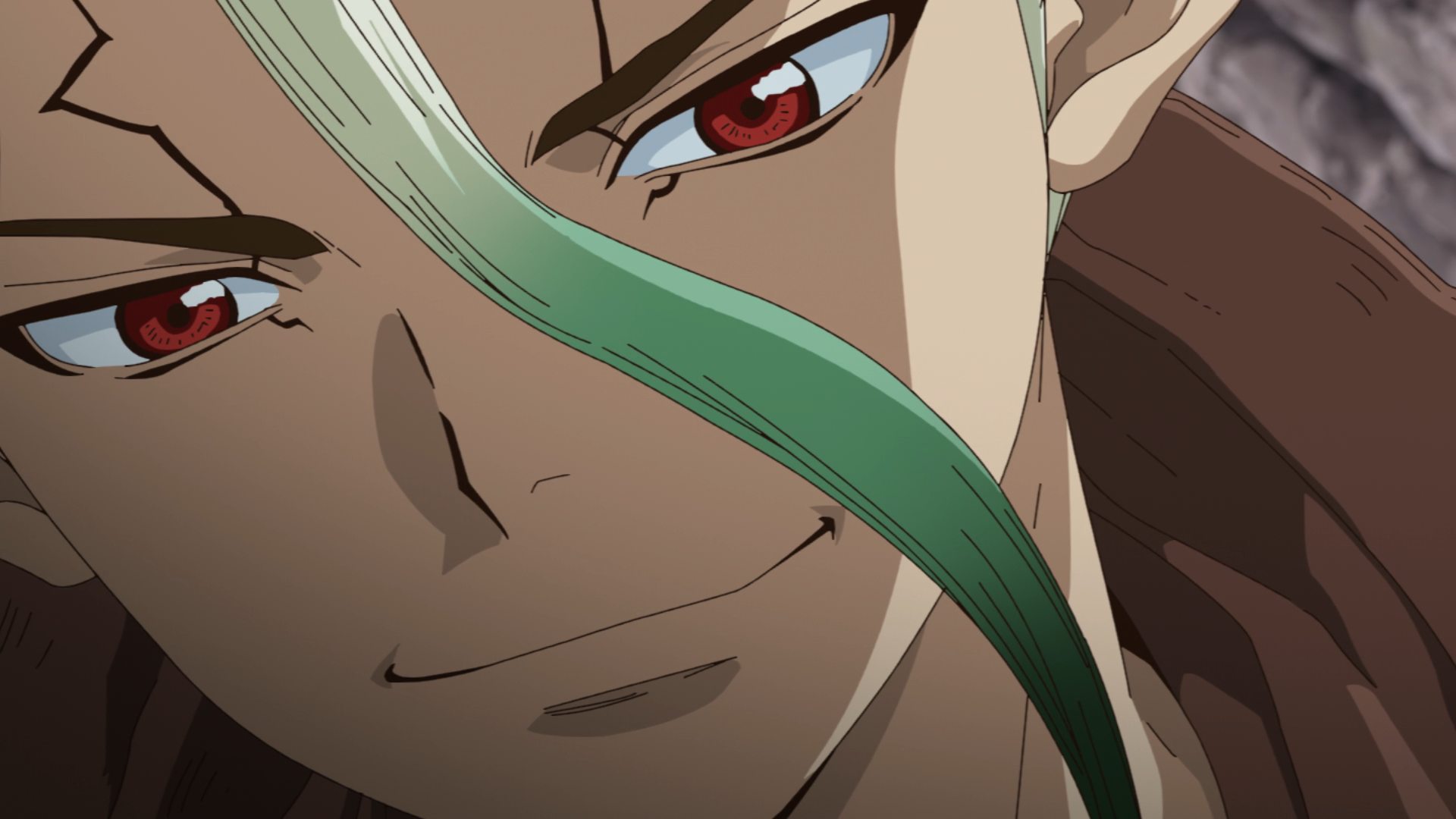 While humanity might not remember Senku as the one who resurrected guns in the world, he always will. That's a big boulder of guilt to shoulder for someone who never uses his science to cause permanent harm to people. And even though he made sure the gun was nothing more than a "new world tranquilizer", it was the fact that the thought still weighed on him and what he just created. That pressure was something that even worried him for a split second, the always level-head scientific mastermind. As someone who even battled Tsukasa for his belief in saving every human life possible, creating a weapon that's taken so many lives throughout history is an internal conflict of his I couldn't even begin to comprehend. That's a very heavy burden to carry I think can easily be overlooked in this episode.

But see, these moments for Senku are needed, not just for his character but because he's a scientist. I highly doubt there has ever been a scientist in the history of mankind with a stable moral compass who has never once thought in fear, "What have I created?" Hell, we just had an entire box office hit in Oppenheimer that dealt with this exact ethical issue. Above all else, Senku's attitude towards bringing a gun into the new world shows that his heart will always be in the right place—one of the core roots of all great shonen main characters.
This episode showed that even the greatest mastermind in human history has moments where even he doesn't know how things will play out. We saw last week how terrified he was of Moz possibly ending all of them where they stand. This week he's fearing for his life again fighting the villagers. But I think one thing I respect about Senku the most, especially as a shonen MC, is that he doesn't get beaten to a pulp, gets angry, and powers up.

He realizes he stands no chance in physical combat, or labor for that matter, yet still smiles at the problem right in his face and tries to come up with quick, scientific solutions to not only survive but to prevent others from being brutally injured as well. Instead of just running into the village and shooting everyone with guns, he takes the most non-violent approach possible to revive Kohaku and Ginro along with the Medusa. That takes an incredible mind to do, especially in a new Stone Age.
Kinro's Revival
I think Kinro's revival in the manga wasn't as dramatic as it was in the anime and I give credit to the staff and cast on that one. His revival is one that counts on the anime production staff to make it a little more grandiose. So that being said, I love this moment in the series. Within seconds of being revived, Kinro knew something bad happened to Ginro. It's that serious brotherly connection we don't see much in the series that really came to life in this episode. It's hard to not appreciate it no matter what we think of Ginro as a character. Most of the time they have those typical, goofy brother moments. But this arc is bringing out their serious sides and I absolutely love it.

Having him come back, with his gold spear, and leading Senku's group against everyone with not a single spec of hesitation was one of the more badass moments of the series so far. They usually don't come often unless Kohaku is involved in some way or Senku concocts something extraordinary while in a pinch. So having Kinro get right into the action without even asking anything other than how Ginro is doing just shows that a lot of the side characters in this series are well-written and easy to like.
Dr. Stone: New World Episode 15 Wrap-Up
I think there was nothing specifically special about this episode in terms of animation, that's being saved for the next episode onward. But the comedic timing and excellent voice cast still went out and proved that even in set-up episodes, the series can be as enjoyable as any other kind of episode in shonen anime. Dr. Stone: New World doesn't overly complicate experiments and episode 15 even brought forth moral dilemmas, emotional reasoning, and a solid cliffhanger to get fans excited for the real fight to begin.

The series just knows how to keep its viewers entertained with laughs, science, and both great story and character progression. If episodes like this are what is getting the series into the top 10 of our weekly polls, I can't wait to see where the series ends up after this next episode.

Episode 15 rating: 8.5/10
If you enjoyed episode 15 of Dr. Stone: New World, then make sure to vote for it in our weekly poll! Episode 16 of Dr. Stone: New World will air on Thursday, November 9. Crunchyroll is steaming Dr. Stone: New World with English subtitles.
Screenshots via Crunchyroll
©Richiro Inagaki, Boichi/Shueisha, Dr. STONE Production Committee