The long-awaited Genshin Impact 1.6 update is just around the corner and we finally have more information about it. If the update follows the previously established pattern, it will come out on June 8, 2021, right after Eula's banner ends.
The information was revealed during a special program that was live-streamed on YouTube on May 28th, 2021. Zach Aguilar (Aether), Poonam Basu (Klee), Laura Stahl (Barbara), and Stephanie Southerland (Jean) hosted the event.
While the trailer that was released earlier gave some hints about the upcoming update, the live stream revealed more details. The main storyline is continuing with Autumn Wind, Scarlet Leaves, a new Archon quest centered around Kazuha. As always there are going to be plenty of new events, weapons, mechanics, and new characters (also fish blasting!).
Here is what we know so far about the upcoming Genshin Impact 1.6 update:
Klee Re-run and Kazuha Banners
New banner announcements are some of the most awaited news for Genshin Impact. In the 1.6 update we will get to hang out with Klee again – the Spark Knight is coming back. It's not yet known which 4* characters will be on her banner, but it seems like we aren't getting any new ones. Klee's banner will be the first in the 1.6 update.
Kaedehara Kazuha
The second banner features a new 5* character. His name is Kaedehara Kazuha and he wields an anemo vision. This sword user is from Inazuma and is currently part of Beidou's crew. He's supposedly exiled from Inazuma, and he questions Electro Archon's motives. Judging from the trailer we'll meet him during Beidou's tournament.
Kazuha will be voiced by Nobunaga Shimazaki in the JP version and Mark Whitten in the English dub. His skill set is still a mystery, but it seems to combine elements from the three current 5* anemo characters, Jean, Venti, and Xiao. He is able to create a vortex, which propels him into the air, and helps him plunge down and attack his enemies who are now grouped in one spot. If you hold his elemental skill button he can do more damage and increase the AoE of the attack. His skill can also become infused with another element, which allows him to deal damage of that kind.
Kazuha's passive talent grants elemental damage bonus to his teammates, when they trigger swirl reaction. Other passive decreases sprint stamina usage.
New Weapons
Kazuha will be getting his own specialized weapon – a sword, Freedom Sworn. Not a lot is known about it, but Mihoyo seems to be following the trend of giving new 5* characters weapons that suit their kit well. More 4* weapons are coming in the update as well, some of them free with the events. We can see Fischl wielding a new bow, that suits her color scheme and is called Mitternachts Waltz.
New Area
It's not Inazuma, but it's still a new area. In Midsummer Island, players will be able to explore, solve puzzles, find new chests and enemies. There appears to be an area that will be accessible by a boat, which can be used to fight monsters. Parts of these are most likely intertwined with the new event, but we are also getting some new world quests.
New World Boss
New characters need new ascension materials – which is why we're getting a new world boss in Genshin Impact 1.6 release. Maguu Kenki, a humanoid, samurai-looking creature with anemo element. Presumably, this new boss will be located in the new area. It can also summon phantoms – that can deal additional damage. It's very likely Kazuha will be needing materials from this boss.
Maguu Kenki won't take damage from ranged attacks – sorry Ganyu mains! It is immune to damage unless engaged in close range combat.
New Events and Rewards
The new update is also bringing various new events. Midsummer Island Adventures is the name of the main event, which will feature Klee. Although the event is centered around her, it will not be set in Mondstadt.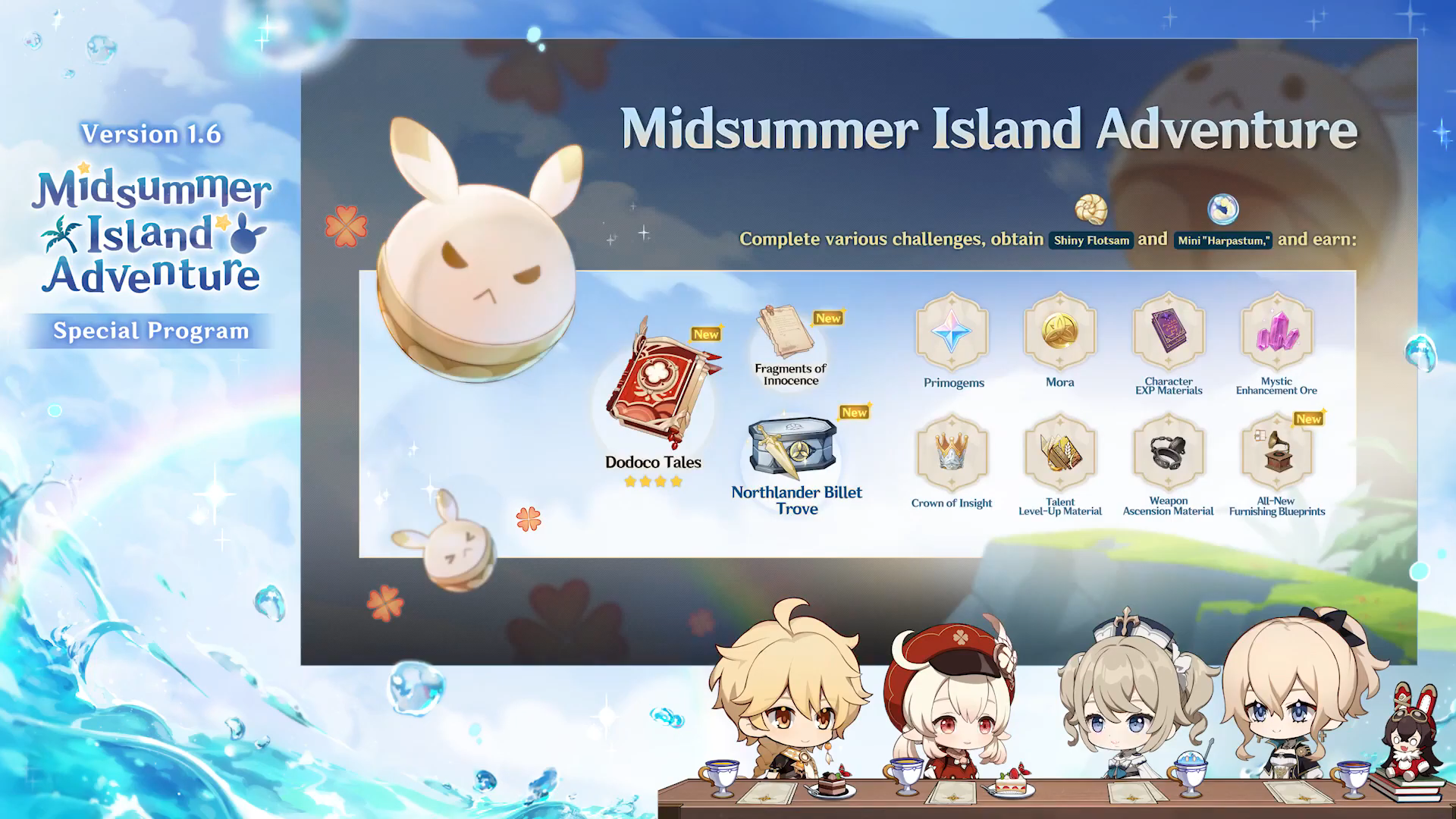 From what looks like some kind of dodgeball game to boat racing and new domain battles (like the ones with the Cubes and Energy Amplifier Event), Genshin Impact is once again introducing more new mechanics. Rewards for the events weren't fully revealed – but we are getting a new 4* catalyst weapon, similar to Festering Desire and Windbloom Ode. The catalyst has a 4-leaf clover on the cover and is called Dodoco Tales, which probably means it'll be suited for Klee's kit. Other than the new catalyst, players will get the usual Primogems, mora, and other rewards.
Take a look at upcoming events below:
One of the upcoming events also features a character skin reward, presumably for Barbara. But more on that below.
Character Outfits
Character skins are finally coming to Genshin Impact. Barbara and Jean are getting new beach attires. While Barbara's outfit will be a reward in an upcoming event, Jean's will be a paid item. Players will be able to buy it through the in-game shop, and during the 1.6 version it will be discounted. After the event ends, the outfit is going back to its full price, which wasn't revealed in the stream.
Housing System Improvements
Tubby is also getting a buff in a way. Mihoyo already hinted at Serenitea Pot improvements in the recent Developers Discussion. Load limit will be increased, accessibility will be improved and we will be able to decorate the rooms on the second floor of the main building. Tubby menu will be reworked, and players will no longer have to interact with them every time
A new special feature for the Serenitea pot includes placing your characters inside your realm. Players will be able to interact with them, craft their favorite sets and then receive a gift from said characters while unlocking more voice lines.
Quality of Life Improvements
Starting with Genshin Impact 1.6 update, ley line disorders inside domains will be displayed in the main menu. This will help create team comps that are suitable for the domain in question, without entering just to see what the debuff is.
Adventurer's Handbook now also tracks more enemies of the type after a player defeats the first one. No more re-opening to navigate to another enemy. It's also important to note that players will be able to use the Crafting Bench in co-op now, which was one of the most requested features.
For PC users, new hotkeys have been added. O key now opens the Friends List, while L opens party setup.
Inazuma Sneak Peek
Kamisato Ayaka, the long-anticipated character from Inazuma, made an appearance and introduced some Inazuma areas. While the area is still in development, it is expected to come in one of the upcoming updates. The situation in Inazuma doesn't seem to be great, since the Electro Archon is hunting down people with visions. Ayaka mentions the resistance army, so Inazuma will likely be a completely different political system from Liyue and Mondstadt. Take a look at Inazuma locations below:
You can watch the full livestream below:
Copyright © 2020 miHoYo All Rights Reserved