The Hell's Paradise season finale aired on Saturday giving us what most could argue as the best episode of the season. While discourse about the episode may have been drowned out by the echoes of Anime Expo news and updates, there's no denying that Hell's Paradise delivered a season finale that showed us just what this series is really capable of.
Shion
As the Asaemon numbers continue to dwindle it was only a matter of time until Shion stepped in and showed why he's the most respected Asaemon of all. The little hiccups in production during Shion's fight that I noticed were rightfully overshadowed by the wonderful animation throughout the rest of his fight. But Shion's battle goes beyond the realms of clashing against a god. The real fight was Shion coming to terms with everything surrounding him.
While it may not come across that way with tears and mourning, Shion showed he's just as emotional as anyone else on this island. Behind the rough exterior of a battle-worn master is someone masking the hatred and frustration of seeing close ones perish in ways he can't prevent. This battle was more than just a matter of life and death, it runs much deeper than that. Deeper than any of the flowers that almost took root inside of him. And that's one of the reasons why this was by far the best of Hell's Paradise so far.
Shion has been a favorite character of mine for a while and anyone here that reads my episode reviews would know such. But this season finale of Hell's Paradise really put everything in perspective as to why Shion is such an amazing character. In this episode alone he showed that he's not afraid of death, rather, he's afraid of not being able to save anyone else close to him. It showed that he's not just the "cool senseI", he's also gentle when he has to be and fierce when the time calls for it. But most importantly, Shion is flawed like everyone else. He's not the perfect swordsman everyone sees him as.
Shion's hatred for what happened to his former students is what nearly drove him to the brink of death, not just what the Tensen did to him physically. It was warned in the episode of the side effects using one's own Tao has on a person and we saw that with Shion as well. The writing is clear as day and doesn't make the viewer guess. It's one of those times where it's best the viewer knows exactly who they're watching… and it was glorious.
Shion's story almost coming around full circle in this episode was a sight to see. He was able to save his students for the first time in his life in the most bad-ass way possible—he literally killed a god. Even though he didn't shed a tear at the thought of finally accomplishing what he wanted, I sure as hell did seeing him stand still in the light rain of pink and red flower petals. Having him joke with Sagiri at the end of the episode was something that forced a little chuckle out of me because it just adds more to the part of who Shion is as a person, not an Asaemon.
Sagiri
Sagiri's new resolve to not let any more people die from here on out gives viewers both a stellar emotional moment after Senta's death and something to look forward to as the story continues. As someone that was constantly battling back and forth on what path to take and doubting her own morals to sharpening her resolve after what was one of the most tragic moments in the series just gave us more amazing Sagiri character development.
Between the teamwork in the fight and the heart-to-heart talk with Shion afterward, the two really are a fantastic pair that's been a long time coming since everyone arrived on Shinsekyo Island. I couldn't be happier seeing the two fiercest Asaemon together and it all came to be from defeating a Tensen. Sagiri is one of the best female protagonists in modern shonen and this episode proved it more than any of the previous ones.
She plays the role of a mother with Mei. A sister to Yuzuriha. A student to Shion. A friend to Gabimaru. And a teacher to her own self. She's such a complicated character yet so simple at the time. Seeing her have her entire viewpoint on Gabimaru flipped upside down thanks to Yuzuriha really goes to show that right now is a time for her to believe in her own gut of who Gabimaru really is.
Not only is Sagiri battling an internal conflict of trying to find herself, but she's also dealing with the external conflict of trying to figure out who Gabimaru is and the real truth behind his story. Yuzuriha drove a hard bargain so it's not like Sagiri is in the wrong to question everything surrounding him even after what they've been through together. Sagiri's mind is, understandably, running a mile a minute and Yumiri Hanamori (Sagiri's VA) did a stellar job in this episode capturing that giant mix of feelings. But helping Shion kill the Tensen and then immediately start crying over Senta's death shows Sagiri may be the center road of Tao that the likes of Gabimaru and Shion can never reach.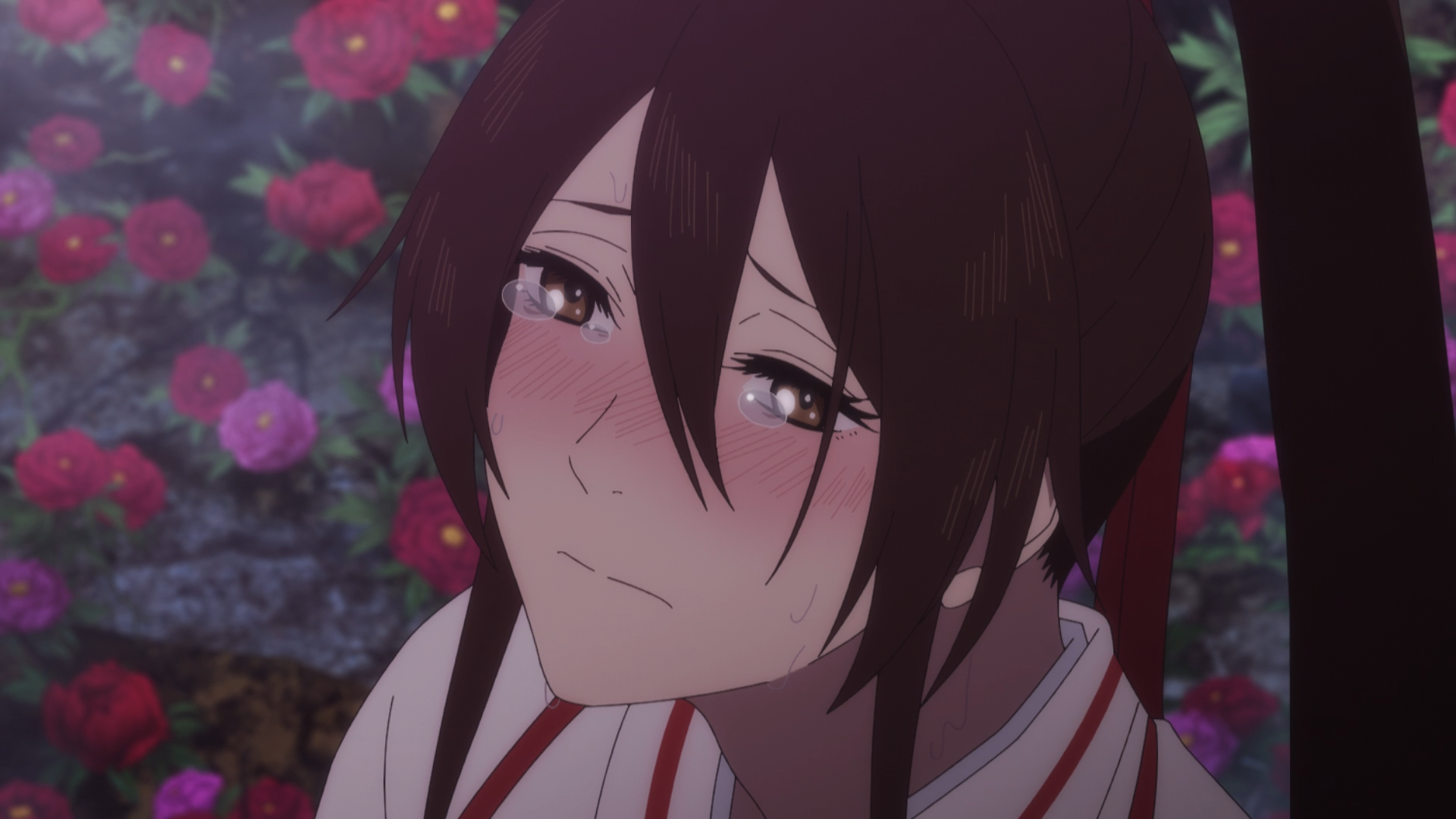 Yuzuriha
Yuzuriha is such a wild card at this point that it's hard to really like or dislike her character. Her realistic approach to every situation is a nice contrast to Sagiri's idealism and is the main reason that Shion really survived in the first place. However, the drawback with her in this episode showed that she's on nobody's side. She has shown opportunist moments and that hasn't changed once in the series so far.
However, her moment with Senta in his final moments showed she's not completely immune to being a little empathic. While she took a backseat to the fight in this episode, she still made the decision to use her ninjutsu in a support role and also save Shion. Other than being the prime character for fan service moments, Yuzuriha needs a little more development compared to what we've seen from others.
Her discussion with Sagiri felt extremely out of place given what they all just went through and it shows she doesn't know how to read the room as well as she thinks she does. Yet, while Shion and Sagiri brought their own character development, so did Yuzuriha. If anything, the best part of her discussion with Sagiri was the artwork, lighting, and camera angles.
Gabimaru
So while Shion and Sagiri gave us the action and prime character development in this episode, and Yuzuriha some comedic and dramatic elements, Gabimaru brought forth the perfect seasonal cliffhanger possible. Having us see Gabimaru's Tao around his head completely gone from Mei's perspective gave viewers just that little more of a needed glimpse into what's really happening. While it was explained what can happen to someone if they're not careful using Tao, the effects were shown to the extreme with Gabimaru.
Now with "Gabimaru The Hollow" back, how he's gonna return to normal is just one element that leaves the season off on a wonderful cliffhanger. Not only does this make viewers wonder if he's going to snap and just kill everything in sight, but now he needs to remember he's on Shinsekyo and who, or more like what, he can come up against. Then there's that fear of him coming so far in his development just to hit the reset button and not remember a single thing, especially his supposed wife.
Hell's Paradise Season Finale Wrap-Up
In the after credits were introduced to Shuga, another Asaemon who will be sent to Shinsekyo. So the season finale gave us every possible element of storytelling that could make for a great, 23-minute episode of anime possible. There's not a single element in production or script writing that one couldn't love about this season finale. It checked off every box, crossed every "t" and dotted every "i" and it looked damn good while doing so.
If you're asking "Is Hell's Paradise a good anime?" then let me shortly give you the best possible answer in the shortest way possible. Yes, Hell's Paradise is undoubtedly one of the best new anime of 2023. While some may take a leg up on the series in terms of stellar animation production, the adaptation of the original source material itself has been damn near perfect. That's just something anyone who took the time out to watch Hell's Paradise can't deny.
Season finale rating: 10/10
Hell's Paradise Season 2 is currently in production as of July 2023. No release date for the new season has been announced.
Screenshots via Crunchyroll
©YUJI KAKU/SHUEISHA, TWIN ENGINE, MAPPA