Jujutsu Kaisen Season 2 episode 4 aired on Friday giving fans a strong taste of just how overpowered Satarou Gojo really is. Throw it in with some wonderful production (again), a one-sided fight between Toji and Geto, and the turning point for both Gojo and Geto as characters, we received yet another stellar episode of Jujutsu Kaisen. While it doesn't hold the weight last week's episode did, there's still plenty to be excited about with this episode.
Toji vs Geto
I wouldn't so much say this was a fight but rather a one-sided affair that left Toji just toying with Geto. The entire time Toji never once saw Geto as a threat to him and we really get to see the particularly level-head Geto lose his cool for once. But what gets me most about this scene between the two is the sound design.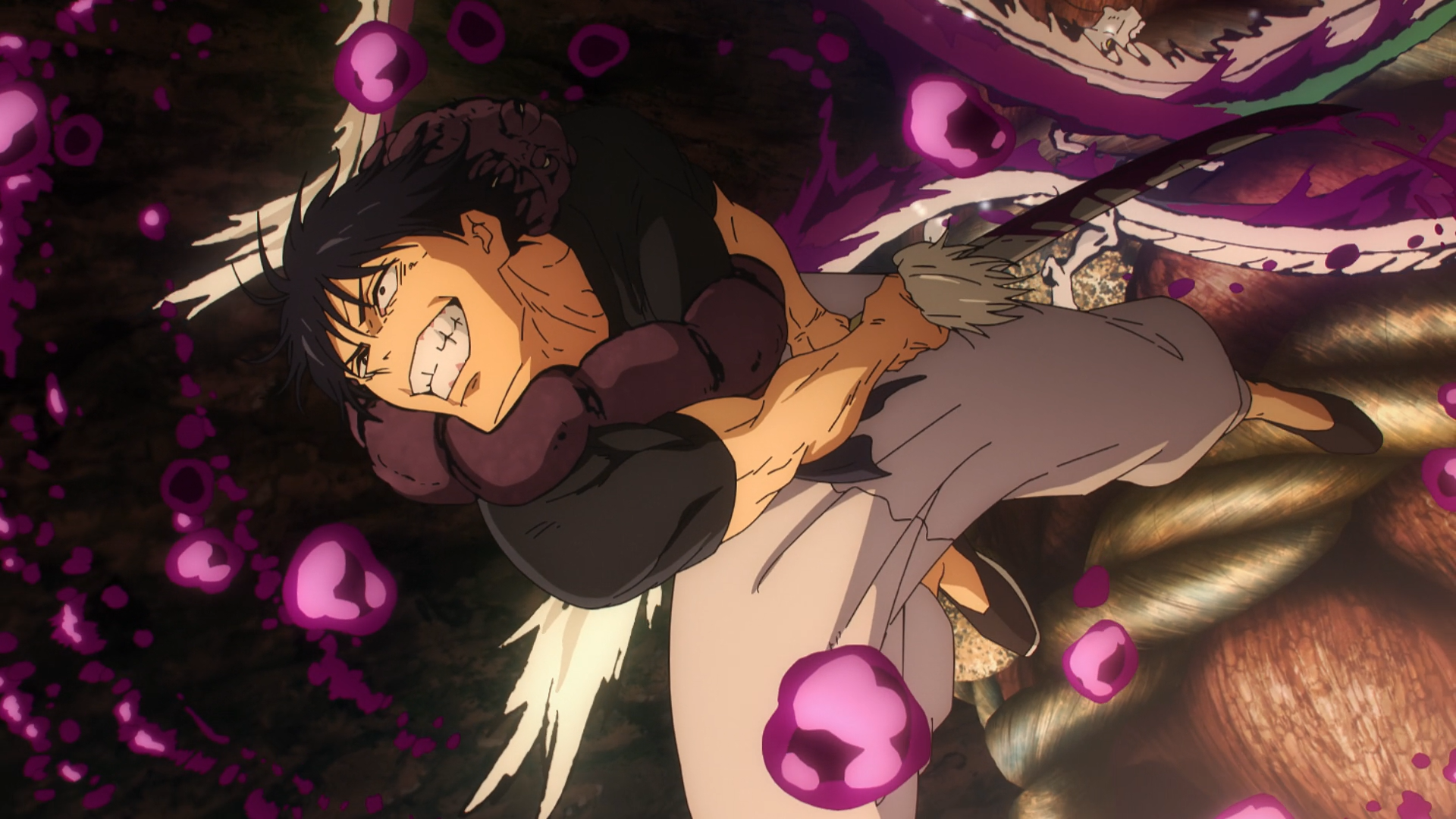 The sound design in Jujutsu Kaisen is one I've never praised in the past but it stood out to me a lot more than usual, especially in this fight. The bass that hits during the impact of Toji's kicks is powerful and leaves you with the feeling of just how strong Toji is physically. But that comes as no surprise when you realize the sound director for this season is Yasunori Ebina, the industry veteran who was also the sound director for the original Naruto series.
The significance of Toji's fight with Geto is that it eventually led Geto to have the views he did, which we saw during the Jujutsu Kaisen 0 movie. Being tossed around by a human with no cursed energy struck Geto's ego (putting it lightly). Then seeing his blank stare at the end looking out at all the normal humans in the cult just goes to show that his fight with Toji, and what he did to Amanai, really sparked that twisted fire inside him. A perfect shot at the very end of the episode conveys the meaning behind him and Gojo going separate routes.
Gojo – Insanity or Enlightenment?
Apart from the incredible animation that surrounded the entire short-lived fight between Gojo and Toji. it, too, bared a lot of significance. Not only did the end of both fights with Toji exemplify what the two jujutsu sorcerers believe in, but it showcased their fighting skills on different planes of existence.
Unlike Geto, Gojo was never defeated in the first place. He lost the first battle but won the war. Meanwhile, Geto was humiliated. He let Amanai die right in front of him. He couldn't save Amanai's maid. He saw Gojo have a knife driven through his chest thinking he was dead. And he got the 20-kick special at Toji's Diner with a side of embarrassment. Then knowing Gojo was perfectly fine and finished the job that he couldn't just goes to show the difference in overall ability.
The constant visuals of showing Gojo with the rays of light shining on him were constant throughout the entire fight with Toji. So is it too far to say that Gojo didn't go insane but instead found enlightenment in the sense of realizing just how powerful he truly is? It is kind of odd how Gojo acted during his fight the entire time and then did the right thing going straight to retrieve Amanai's body.
Unlike Geto, Gojo never lost his sense of self. Despite how he acted at times, Gojo only had one priority — protecting Amanai. We need to remember that Gojo didn't know Amanai was truly dead until later on. Carrying her dead body at the end implies he either knew she was dead and where she was after his fight with Toji or he knew beforehand and that's part of the reason why he also went berserk.
Symbolism and Contrast
I never thought I would say this about Jujutsu Kaisen but this episode had a vast amount of symbolism and contrast involved in it. Going into too much detail regarding it would take up a lot of both my time and whoever may be reading this. But all the signs were there. Whether it was background art, transitions, or even in the heat of battle. Both were consistently executed in a perfect way.
Take the photos below for example. Gojo looks up as his vision fades into a colorful butterfly, possibly representing Amanai or just peace in general, while Toji is looking down as a memory of him holding baby Megumi fades into the screen. It was a really bittersweet moment. Gojo envisions some sort of peace then violently blows a hole through Toji, whose memory serves as possible regret and sorrow, and ends up dying. Not to mention the blood on Gojo is dried while Toji's blood is running down his face.
The amount of contrast and symbolism that was recognizable wasn't just focused on Gojo and Toji's fight, it was also there a lot for Gojo and Geto in general through the entire episode. Amanai's death is the turning point for these two characters and episode director and storyboard artist Arifumi Imai did a wonderful job at establish the tone.
This is where the fork in the road comes into play with Gojo and Geto's story. So heightening the emotion in any way possible with an anime adaptation was severely needed in this part of the story. Luckily for us, Imai did an outstanding job of conveying the emotions and mindset of practically everyone involved in this episode through many different elements.
Jujutsu Kaisen Season 2 Episode 4 Wrap Up
Jujutsu Kaisen Season 2 doesn't seem to be slowing down any time soon. And with the Shibuya Incident arc coming up, the foot will be on the gas the entire way and the production team put together for this season is on their own level right now. That being said, I still think last week's episode was better from a few perspectives. However, Jujutsu Kaisen Season 2 brought us another stellar episode and the series has given us zero reason to believe the quality will drop at any point.
Episode 4 rating: 9/10
If you enjoyed episode 3 of Jujutsu Kaisen Season 2 then make sure to vote for the series in our weekly poll! The next episode will air on Thursday, August 3. The series is streaming on Crunchyroll with English subtitles.
Screenshots via Crunchyroll
©Gege Akutami/Shueisha/JUJUTSU KAISEN Project