Jujutsu Kaisen Season 2 episode 7 aired on Thursday giving anime fans worldwide one of the best fights of the year. While the animation during the fight was mind-boggling from beginning to end, the quick switch up to practically everything coming to a quiet stand could easily throw any fans, even those who read the manga. Going from a destructive battle to an entire ward in Tokyo being dead silent with sorcerers talking together was odd.
Mechamaru vs Mahito
Besides the cool references to Gurren Lagann and Neon Genesis Evangelion during the fight that fans pointed out, the animation was unbelievable and constantly had me whistling in amazement. The one drawback many fans, including myself, was dimming certain scenes, making it a little rough to watch at some point. So it was extremely easy to get lost in what was going on once in a while during the fight a few times.
I thought going into this fight that I wouldn't be too concerned with the outcome being Mechamura's demise, but surprisingly enough, I found myself sort of hoping he would be able to pull away from it at some point. Of course, being a side character facing one of the prominent villains of the series, the odds were already stacked against Mechamaru and it was easy to predict, even as an anime-only fan, who would win the fight. But Yoshitsugu Matsuoka's performance as Mechamaru is one that deserves some respect. He did an outstanding job of capturing the feelings Mechamaru had in the short time he was alive.
Overall, even though we can consider this a "side fight", seeing the animation for it makes me excited for what's to come. It's no wonder the fight was stellar when we take into account that Yooto was the episode director and storyboard artist for part A of the episode, who also worked as a key animator for episode 3 this season.
One takeaway from this fight was that it was a way to, once again, understand just how powerful Mahito is and how utterly creepy he can be. But he's a curse, they're supposed to be creepy. Yet, Mahito didn't feel like a standard curse who looks the part, he played it as well. The psychotic smile and the body transformation are something you could witness in a horror anime, especially when he uses his domain expansion.
The team for this episode did a marvelous job of recreating that feeling in the anime that we received in the manga, perhaps even better given the voice acting by Nobunaga Shimazaki, the soundtrack courtesy of Yoshimasa Terui, and the gut-punching sound design work from Yasunori Ebina. It just ended up being one of those fights where you can see the fruits of the production team's labor.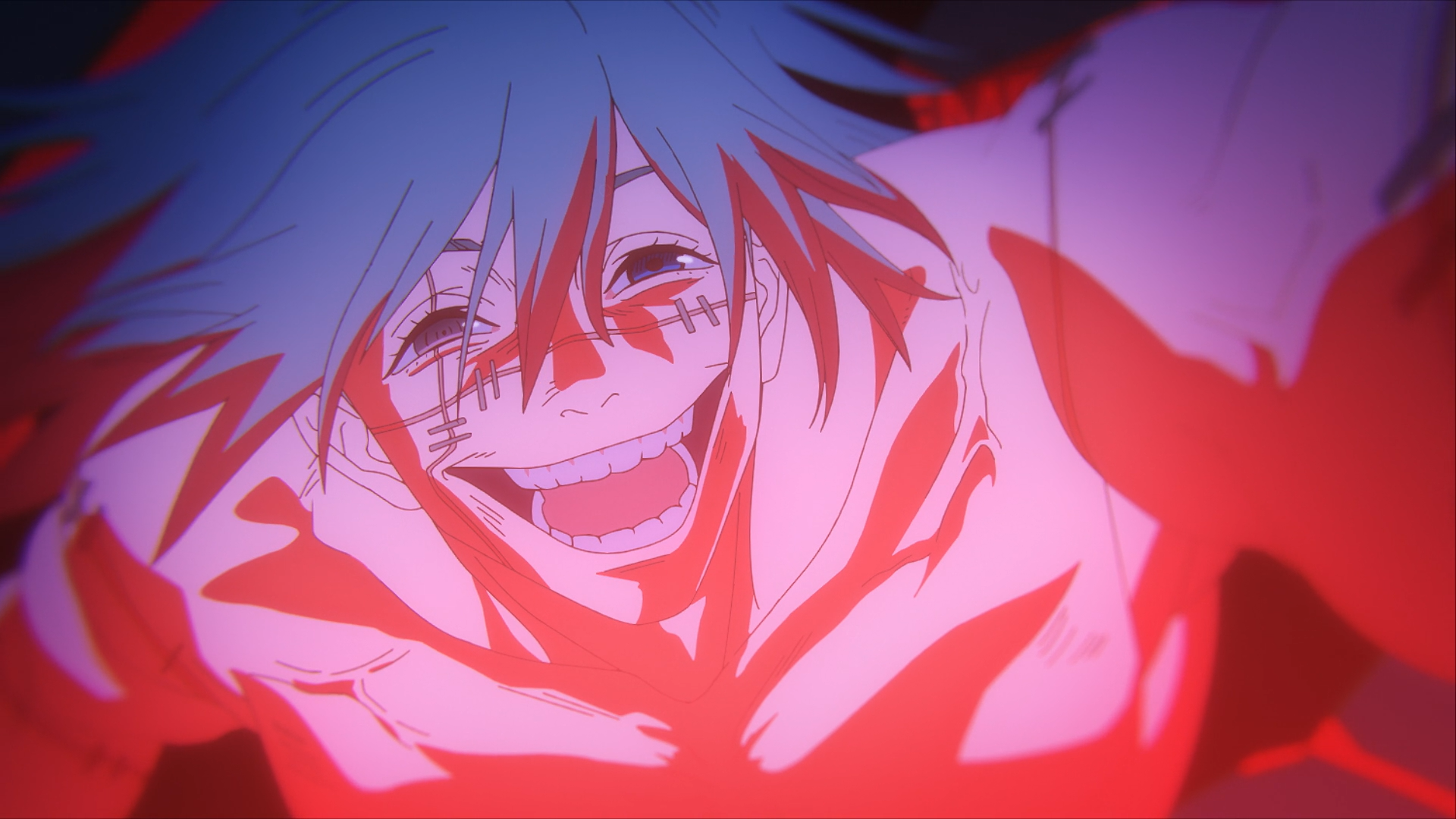 Favorite Moment
I'd say, despite the wonderful animation from a respectable team of animators, my favorite moment was probably when Miwa was talking to Mechamaru's cold robot puppet and her goal of being with each other more. It was such a human moment that we rarely get to see with the sorcerers. And seeing how the beginning of this arc started last week between Itadori, Megumi, and Nobara, it almost felt as if it was that final "human" moment. After all, these kids high schoolers. It's only natural we were bound to see some kind of mushy emotion from some of them.
Most importantly, I think her scene added a lot of character and emotion to Mechamaru's fight that would be void of it completely if not for her. The lighting and composition looked fantastic. The moment of silence before she started talking was heavy. I know we all love the action-packed episode and that's what Jujutsu Kaisen is all about. But when it comes to plot and character development, I think these slower moments tend to hold a lot more weight.
Part B
I don't think the latter half of the episode was necessarily bad. The background artwork looked great in both of my walkthroughs and it did a good job establishing the teams that were set up just as the manga did. That being said, going from that explosive barrage of a fight clearly in the middle of nowhere that not even a single soul managed to see, or at least hear for some reason, to dead silence and all of the sorcerers already in teams and formation waiting for Gojo to show up was a little odd.
It felt like something was missing and it left me wondering when they even planned all of this despite the explanations. That being said, Gojo's entrance being the cliffhanger it left on wasn't ideal, but it wasn't necessarily uneventful either. In short, they all wait for Gojo to arrive and he does — end of the episode. Perhaps this arc was too hyped up for the rather slower start (for the most part) it has, but don't let it trip you up. There's plenty more in store. Once it begins to pop off, it'll never stop. I predict once it does, Jujutsu Kaisen Season 2 is going to dominate the Fall 2023 weekly polls.
Jujutsu Kaisen Season 2 Episode 6 Wrap-Up
I think episode 7 of Jujutsu Kaisen Season 2 was a thrill ride. Yooto did an outstanding job directing and storyboarding the first half of the episode and giving us one of the best fights from any anime we've seen all year long. In the end, this episode was one of those "If this is how it looks now, I can't wait to see what's next."
Episode rating: 9/10
If you enjoyed episode 8 of Jujutsu Kaisen Season 2 then make sure to vote for the series in our weekly poll! The next episode will air on Thursday, September 14. The series is streaming on Crunchyroll with English subtitles.
Screenshots via Crunchyroll
©Gege Akutami/Shueisha/JUJUTSU KAISEN Project