Anime and Cosplay Expo (ACX) 2023 is set to happen this July 15-16 at the SMX Convention Center, Pasay City, Philippines. Following Cosplay Carnival which took place in May, ACX will be the second event of the Cosplay Mania event series by Cosplay.ph. The convention will have everything related to anime, cosplay, games, collectibles, virtual idols, J-music, and more. This year, it features an "isekai adventure" and for ACX 2023 specifically, the theme is "Re: born a Chimera."
The event's hours will be from 10:30 AM to 8:00 PM on both days. Titanium and Premium Pass holders, however, have the privilege of entering 30 minutes before the gates open. Day Passes (P399) and Portal/Weekend Passes (P1,499) are still available to purchase via Ticketmax.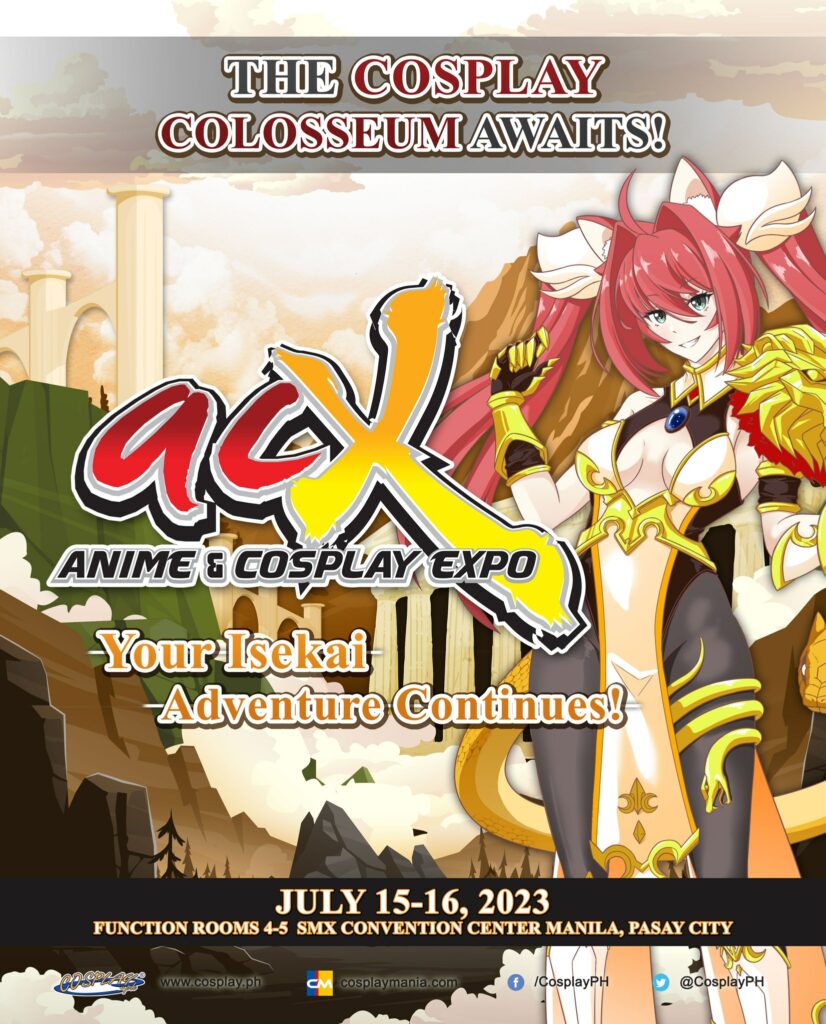 Event Highlights:
Amelia Khor is the event's guest of honor! She will have stage appearances and meet-and-greets on both days. Visit her page for more information.
All-Star Avenue
VTuber Kirakirakat's stage performance on Day 1 and Day/Break's on Day 2
Cosplay Mania & JAM concert announcements
Truck-kun Photo Op: An off-stage activity for con-goers to have isekai-themed pictures
Cosplay SideQuest: A free and optional side quest that con-goers can participate in and are guaranteed a prize when completed.
Event Activities:
Cosplay Karaoke Encore: Contestants must dress up in costume while singing to their favorite music. The winner gets to compete at Cosplay Mania's Karaoke Cup.
Cosplays Got Talent: A J-music talent competition where participants can sing or dance, or a combination of two. The winners get to become the opening acts of Cosplay Mania's JAM Concert.
Solo Cosplay Catwalk: A simple and quick yet entertaining contest where cosplayers can present their costumes. The champion secures a slot to compete in Cosplay Mania's Cup.
Trick N' Trivia: Put your anime knowledge to the test to emerge victorious in this tricky trivia game.
Pic-A-Tune: A musical mayhem game match.
Emoji Master: A game for the best decoders!
Cosplay Auction: Bid for your favorite anime merchandise.
Event Guides
Other than the stage events, the convention will be jam-packed with hobby exhibits, fan fair tables, and food booths. Star Avenue will also surely be an exciting corner with all the popular cosplay personalities present.
The official event map, exhibitor list, and program schedule have also been released. The official event hashtag is #ACX2023.
Updates Regarding Customer Care
A baggage counter will be available to con-goers. In addition, Cosplay Mania announced their plan to implement some Customer Care improvements to avoid the last event's mishaps involving staff conduct and lack of rest areas. They said, "SMX Security Guards and Marshalls will be better informed regarding customer care. Designated Rest Areas will be indicated on the Event Map. Sitting down will not be allowed only in high traffic and potentially hazardous areas." In regards to submitting an incident report, a guide was also posted.
Ready for the next Isekai Adventure?
The Anime and Cosplay Expo (ACX) 2023 is just a few days away. It's sure to be another jam-packed place of fun, especially with its portal and world-traveling themes. We don't know the full story of it yet, but we'll find out soon. See you there!
Source: Official Cosplay.ph Website, Official Cosplay Mania Facebook, Twitter
Disclaimer: Anime Corner is a media partner for ACX 2023.
Also Read:
Cosplay Matsuri 2022: Ending the Year With a Blast
Explosion of Creativity and Inspiration Graces Cosplay Mania 2022
Cosplay Carnival 2022 Shows Fans' Craving for In-Person Events