Oshi no Ko episode 7 has aired and it showed three geniuses at play: Memcho, Aqua, and Akane. After the near-tragic turn of events in the previous episode, Akane's fate takes a miraculous turn: Aqua intervenes after Memcho urges him to act. Because of this attempt,  Aqua now starts to take action and shift the online perspective of Akane. However, his strategy to combat online hate can't succeed without the help of Memcho.
The Genius Influencer Memcho
Already seen in both opening and ending sequences, Memcho manages to share the spotlight with Akane and Aqua in this episode, showcasing her genius understanding of social media and her perspectives as an online influencer.
Memcho's impressive talent was on full display as she shared valuable insights with Aqua on the strategies to effectively engage the online audience and bring out lasting impressions on social media. Her passion for content creation can be seen in the way she explains the intricacies of viral trends and the various factors that impact the performance of online content. Needless to say, this adorable yet somewhat mischievous-looking character is finally getting some love she deserves, and hopefully, more screen time in the future.
The Genius Protagonist Aqua
In episode 7 of Oshi no Ko, Aqua's skills and overall genius take center stage once more. Even without his heroic act of saving Akane, his brilliance shines even brighter in this episode. When he asked her a thought-provoking question that prompted Akane to find her resolve again, this gave a glimpse of what was to come.
Moving forward he also came up with the press release, in which Oshi no Ko subtly highlighted the impact and power of the press nowadays. For more insights into this premise, my colleague Teddy shared a thread on the state of digital journalism and the relentless 24/7 news cycle on his Twitter.

Aqua's greatness can also be seen when he confronts the director of the reality TV show. While slowly manipulating the director, Aqua gradually exposes the harsh reality of these forms of entertainment and the morally questionable practices by the production team to fulfill their own agenda. It's a masterful display of Aqua's protagonist qualities. I almost even completely forgot that he is a reincarnation of Goro, a man in his 30s until he said the line "Pro or not, 17-year-olds are dumb kids who're always making mistakes."
Being an assistant to the director he worked for when he was young, Aqua's editing skills and knowledge were also somewhat showcased. With the help of Memcho and his other co-casts, his directing and staging created a viral video to help Akane in the end. He was also the main reason for Akane discovering her acting persona, to figure out the actress' lie to the world in order to make her stand out and survive the harsh environment of show business. And the character she ultimately embodies is none other than the legendary idol herself, Ai Hoshino.
The Genius Actress Akane
In contrast to the previous episode's portrayal of destruction, this episode highlights how a single video can have the potential to be someone's saving grace. Akane finally makes a return to the set, but before that, she has to craft first a persona to shield herself from what happened previously.
Funnily enough, Akane, like many others, had believed that reality TV portrays actors as their genuine selves which explains why she had previously acted out her true self. As she decided to become Aqua's favorite person, this is when her genius acting skills came into a display that even Aqua, who was confident that nobody can copy Ai was astounded by what she did at the end – perfectly imitating Ai Hoshino. 
As Akane embraced the role of Aqua's favorite person, her extraordinary talent for acting emerged with an astonishing display of raw skill and talent. Even Aqua, who had unwavering confidence that no one could replicate Ai, was left speechless by Akane's flawless imitation. It was as if Ai Hoshino herself had been resurrected on set.

It was a chilling yet incredible scene, especially when the ending song began playing as Akane altered the tone of her voice. The scene in which Aqua slowly turned his head and gazed upon Akane's eyes, which mirrored those of the woman she loved was a moment of insane direction that continues to send shivers down my spine.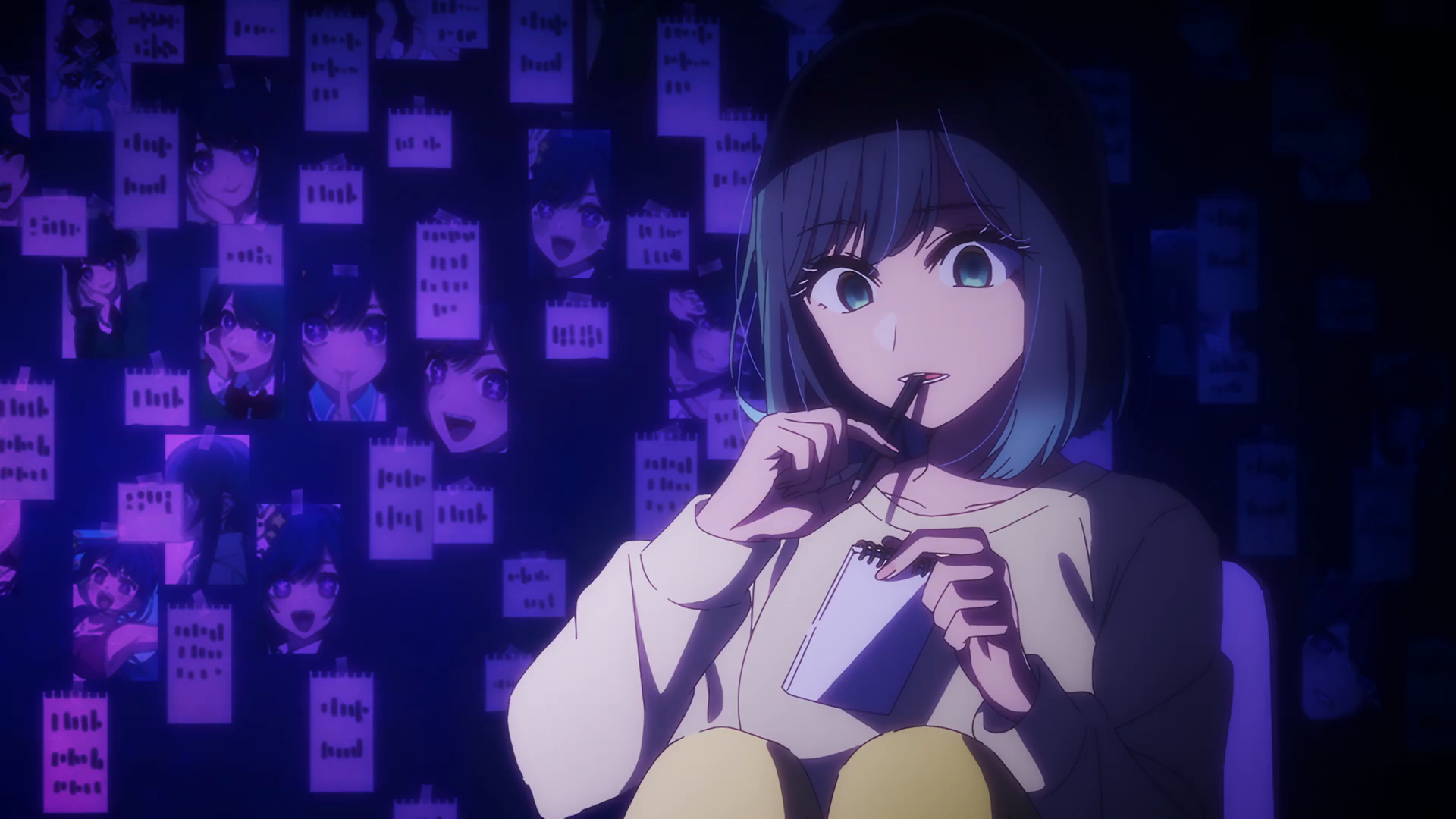 This whole transformation came to fruition after Akane diligently studied Ai and meticulously captured every detail. From her movements, personality, demeanor, and nature, she was accurate in everything. The whole scene was creepy yet exemplified Akane's genius and talent as an actress when she puts her mind to it. Her precise observation and ability to internalize the character are truly out of this world and this is why she is my favorite character in the entire series.

Oshi no Ko episode 7 screenshots via HIDIVE
© Akasaka Aka x Mengo Yokoyari / Shueisha / Oshi no Ko Production Committee