Tokyo Game Show 2023 (TGS) ended this past Sunday, September 24th with a total weekend attendance of over 243,000 people. Anime Corner visited the event to bring you the latest news on Japanese and anime games. These are the titles we played that you're going to want to put on your game list.  
Yohane the Parhelion – NUMAZU in the MIRAGE –
The Love Live School Idol Festival franchise has had its foot in gaming for years now, although usually within the rhythm phone game realm. I've enjoyed the Love Live anime over the last decade, so I knew I had to check out what I simply only knew as "the Yohane game." To my surprise, Yohane the Parhelion – NUMAZU in the MIRAGE – is a card battle RPG where you build a deck and play cards to defeat enemies in a turn-based setting. I'm not one to be into card-based video games, but I had a ton of fun with this newest installment in the Love Live universe. The instructions provided on the cards are incredibly straightforward (even in Japanese, they were relatively easy to grasp), which is highly encouraging for individuals who usually find themselves daunted by lengthy card explanations.
The visuals are stunning and really reflect the iconic art style of the Love Live franchise. After every battle, you move around on a Super Mario Bros style map and try to reach the end of an area by battling a boss. Everything I played was fully voice-acted, and there were plenty of appearances of other Love Live Sunshine girls. I asked the representative at the demo about an English release to which he said one is planned. The game will be release on Nintendo Switch, PlayStation 5, and Steam on February 22nd, 2024. 
SAND LAND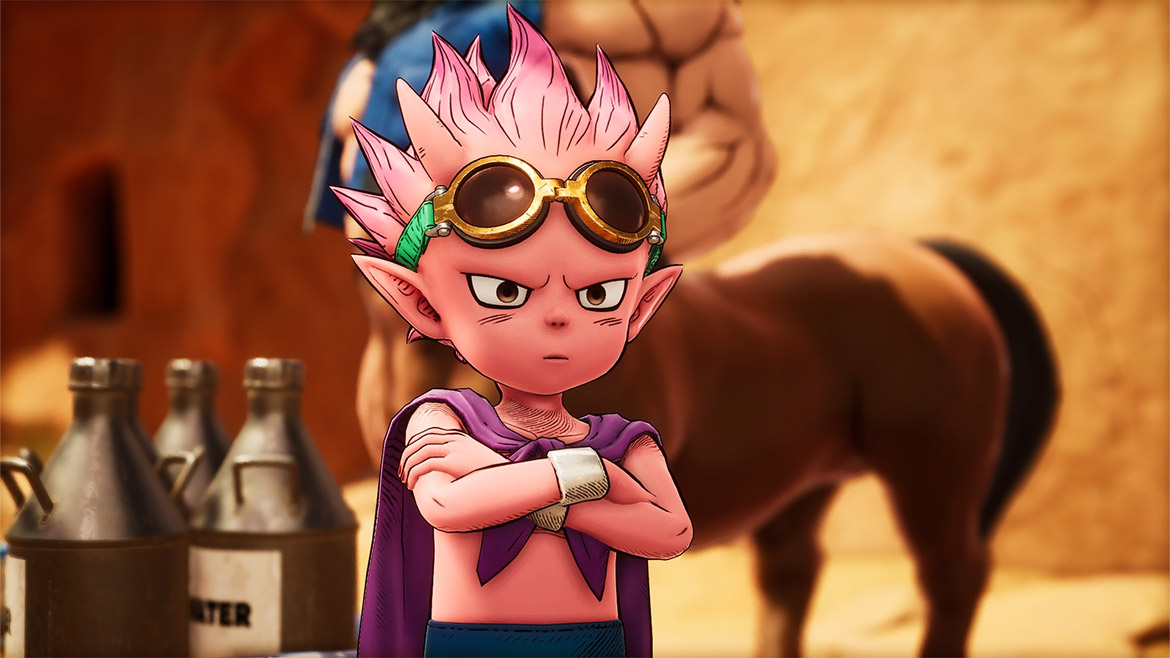 The first thing I noticed about SAND LAND was the obvious Akira Toriyama (Dragon Ball) character art style. Bandai Namco had a huge display of SAND LAND in one corner of their exhibit, trying to catch the eye of attendees. I didn't know anything about it before the Tokyo Game Show, even though Toriyama released the complete manga in 2000 and the movie came out this year. The lines for SAND LAND on both the business day and the public day were fairly short since everyone seemed to be getting into the Tekken 8 line on the other side of the booth instead. Bandai Namco had a comfortable set-up for players with huge TV screens, PlayStation 5s, and gaming chairs to sit in for their 20-minute demo. 
The first thing that stunned me about SAND LAND was the visuals. The environments and character designs really immerse you into this world. I started off the demo by driving a wagon-type vehicle to escape a giant sand monster that was chasing me. After escaping the enemy, I was thrust into this partially open-world environment to explore. Desert areas in games are normally a hard sell for me, but I was enthralled with how detailed and anime-like the world looked. As I wandered around, I came upon dragon-like enemies to battle. The combat felt punchy and easy to control even as the character was flitting around the screen like a true shounen protagonist.

Eventually, I came across a group of bandits with a tank. It was rewarding to find out that I could steal their vehicle and use it to shoot enemies around the area. There were several different kinds of enemies to be found, and I had to use a different strategy of battle for each one. At one point, I kept being chased by a giant crocodile that was actually super tricky to lose. While exploring, I found treasure chests and caves, so it was worth it to exit my vehicle and spend some time scanning the area for goodies.
The end of the demo featured a mini-boss fight with some bandits and their leader. It is here that you learn about more of your abilities to make combat even more versatile and interesting. I entered this demo without any expectations, but after experiencing the thrilling exploration, intense combat, and captivating treasure hunting, I was utterly convinced that this game was my absolute favorite among all the ones I tried at the Tokyo Game Show. While SAND LAND doesn't yet have an official release date, you can look forward to playing it on PlayStation 5, PlayStation 4, Xbox Series S/X, and Steam. 
BIRDIE WING -Golf Girls' Story-
The Birdie Wing -Golf Girls' Story – anime premiered in 2022 and wrapped up season two this past June. The anime series is now getting a game that features – you guessed it, golfing! I played the demo on the Nintendo Switch, opting to use the Pro-Controller offered at the booth even though Joy-con motion controls were also an option. As expected, the game works similarly to other popular golf video games. You can choose to play as characters from the anime such as Eve and Aoi.
I decided to play a free-mode game, so I could just test how the game controls feel. After choosing a character, I took to the green fairway and played a couple of holes worth. Based on my demo experience, the game didn't provide much that you can't already find in other popular golf titles which many people already own on the Switch. But the charm of this game lies within the character and story mode that you'll find from the animation. The game also features golf mini-games; though I didn't get to try these. I had fun with free mode, and the character art style was charming enough to have me consider the game. At $19.99 USD, the game is an easy sell for those who enjoyed the original anime. 
Memories: Millennium Girl
On Sunday at TGS, I took a stroll through the indie developer area to scout for a few anime games to catch my interest. V-SISTERS, an indie gaming studio, managed to charm me with their simulation game, titled Memories: Millennium Girl, where you have to raise a young girl for eight years. The game presents an extensive range of options, allowing players to have the young girl learn magic, sword fighting, and arts, or even have the opportunity to work part-time to earn some extra cash.
Players must exercise caution as your child could build up stress depending on how you manage her life. As far as an action element, the game features a dungeon crawler where you control your child and fight through different areas. 
The developers from V-SISTERS explained to me that the game has over fifty endings and twenty-five NPCs. I was initially impressed by the game's key and in-game art styles, and I continued to be enthralled with the (seemingly) simple yet fun gameplay. This is a game for fans of not only anime art styles and cute girls, but for fans of management and dungeon-crawling games as well. Memories: Millennium Girl's demo and early access versions are available on Steam. 
Star Ocean: The Second Story R
Square Enix was possibly the busiest booth at the Tokyo Game Show all weekend. Star Ocean: The Second Story R, though, had a short line on Friday as most people were hurrying to play Final Fantasy VII Remake: Rebirth instead. As a fan of Star Ocean games on the PSP, I was eager to try out the remake of the second installment in the Star Ocean franchise.
The background environments of the game are strikingly realistic in contrast to the pixel art of the characters. This juxtaposition of art styles has been quite popular lately, and I could see why while playing this demo. I ran around as Claude, the game's main protagonist, in a rocky desert environment. One of the most appealing aspects of Star Ocean is its combat system. It's fast, flashy, and a bit more compelling to play for people who find turn-based combat too daunting. I ran around these battlefields switching characters and delivering devastating blows to the enemies I encountered. One of my favorite things about the game is the full voice acting of the characters and the pristine dialogue art that is shown in cutscenes.
After gathering some treasure and taking the time to look through my items and skills, I found the demo's flying boss, which was actually quite a challenging battle. I lost to it twice, to my embarrassment. But the game is so intriguing that I kept restarting the battle to finish it just in time for the demo's time to end. Star Ocean is one of the cleanest and most compelling RPGs I've played, and Star Ocean: The Second Story R is shaping up to be a hit for newcomers and veterans of the series. The game will be out on PlayStation 5, PlayStation 4, and Nintendo Switch on November 2nd, 2023.
Demon Slayer: Sweep the Board
Demon Slayer is, at no surprise, one of the most popular anime series in Japan and in the West. Sega is bringing us a new Demon Slayer title, but not a fighting or adventure game. This time, you can play as Tanjiro, Nezuko, Inosuke, and more in a 4-player board game battle royale. Like many other board game titles, you start by rolling a die to determine how many steps on the board you will take. There are blue and red spaces that will manipulate your currency, random event spaces, shop spaces, and more. After each player takes their turn, a mini-game ensues.
I was able to play through two rounds and two mini-games during my 20-minute demo. My favorite mini-game featured Nezuko hiding in her usual box with fake duplicate boxes attempting to hide where Nezuko is. Find Nezuko in each round and get enough points to win the mini-game.
It's possible you won't be putting your other 4-player party games to the side for this one, but for the hardcore Demon Slayer fan, this is one you won't want to miss out on. Demon Slayer: Sweep the Board will be coming to Nintendo Switch sometime in 2023. You can read our full review of the demo here.
---
That concludes Anime Corner's coverage of Tokyo Game Show 2023. We had a fantastic time at the event and hope that our articles on the event have been helpful to you. We look forward to attending again in 2024!

Copyrights:
©PROJECT YOHANE / BeXide Inc.
©Bird Studio/Shueisha ©Bandai Namco Entertainment Inc.
© BNP/BIRDIE WING Golf Club © VIVEPORT DIGITAL CORPORATION © WOWWOW TECHNOLOGY CORPORATION
© 1998, 2023 SQUARE ENIX Original version developed by tri-Ace Inc.
©Koyoharu Gotoge / SHUEISHA, Aniplex, ufotable ©DEMON SLAYER KIMETSU NO YAIBA SWEEP THE BOARD COMMITTEE