A trailer for the Zom 100: Bucket List of the Dead live-action movie was revealed on Saturday at Anime Expo 2023. The adaptation will release on August 3, 2023, exclusively on Netflix. Fans can check out the trailer below:
Read More:
Zom 100: Bucket List of The Dead Will Stream on Crunchyroll Starting on July 9
Zom 100 English Dub Cast and Release Date Announced
Eiji Akaso stars as the main protagonist Akira Tendo. His co-stars include Mai Shiraishi as Shizuka Mikazuki, Shuntarou Yanagi (left) plays Kenichiro "Kencho" Ryuzaki, and Kazuki Kitamura who plays Akira's abusive boss Gonzou Kosugi. A teaser visual was also released for the film which you can check out below: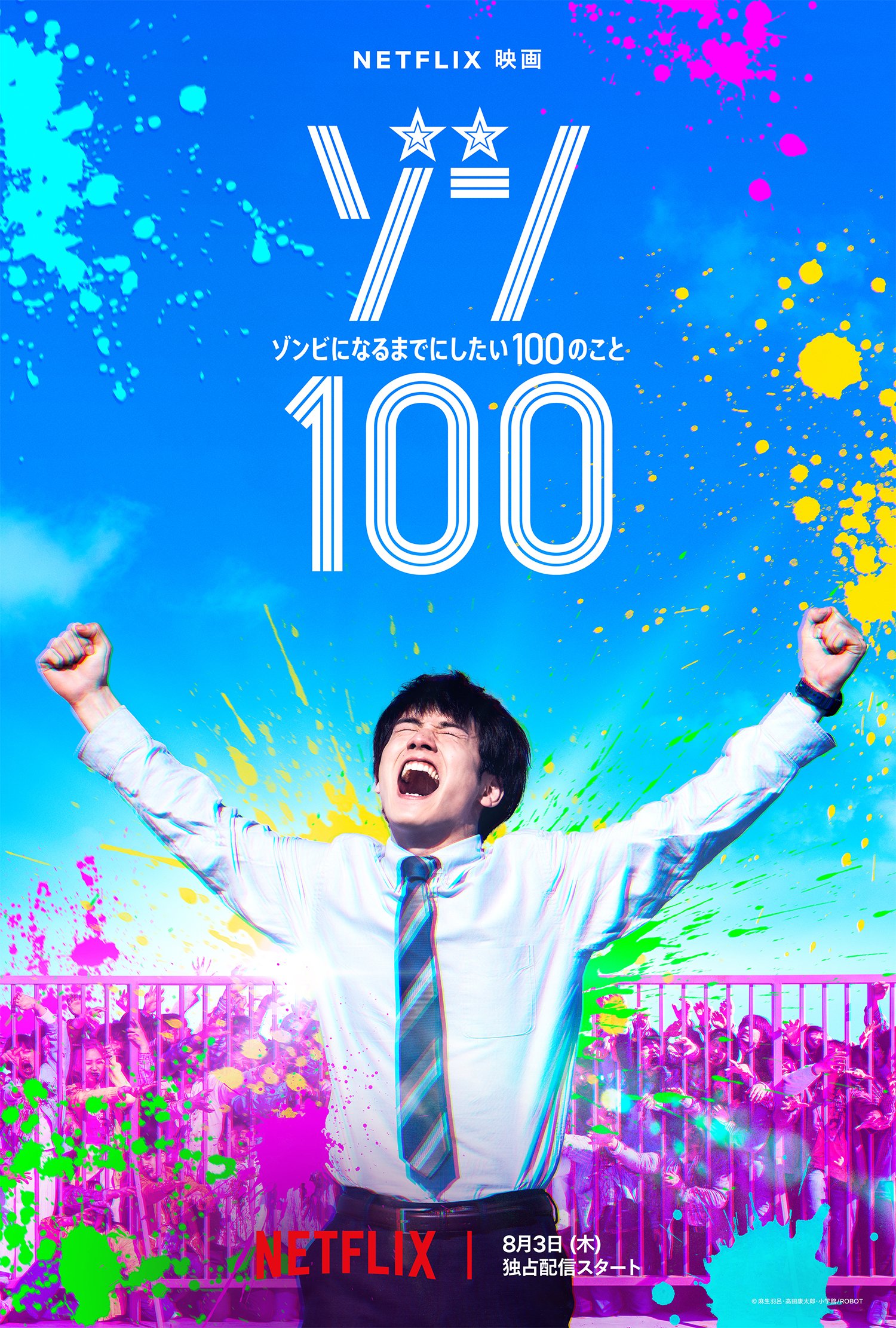 Zom 100 Anime
The anime series for Zom 100 will begin streaming on Crunchyroll, Netflix, and Hulu on July 9. Kazuki Kawagoe will be directing the series at studio BUG FILMS. which will mark Zom 100 as the studio's first-ever anime series. The second trailer for Zom 100 was released last month and spotlighted the main cast for the series. Shuichiro Umeda will voice the main protagonist Akira Tendo. The rest of the Zom 100 cast is the following:
Tomori Kusunoki as Shizuka Mikazuki
Makoto Furukawa as Kenichiro "Kencho" Ryuzaki
Minami Takahashi as Beatrix Amerhauser
KANA-BOON is singing the opening theme "Song of the Dead" while Shiyui is singing the ending theme, titled "Happiness of the Dead." The Zom 100: Bucket List of the Dead main staff includes the following:
Director: Kazuki Kawagoe (Komi Can't Communicate)
Assistant Director: Hanako Ueda (Summertime Rendering)
Series Composition: Hiroshi Seko (Vinland Saga)
Character Design: Kii Tanaka (So I'm a Spider, So What?)
Zombie Design: Junpei Fukuchi (Beyblade Burst)
Music: Makoto Miyazaki (One Punch Man)
Music Selection: Maiko Gouda (Chainsaw Man)
The official synopsis for the anime is as follows:
With three years under his belt at the company from hell, Akira Tendo is mentally and physically spent. All at the ripe old age of twenty-four. Even his crush from Accounting, Saori, wants nothing to do with him. Then, just when life is beginning to look like one big disappointment, it happens. The zombie apocalypse descends on Japan! Surrounded by hordes of hungry zombies, Akira comes to a realization that will forever change his life…
Zom 100: Bucket List of the Dead is a VIZ Media co-production alongside Shogakukan and Shogakukan-Shueisha Productions Japan, with VIZ Media representing the anime in the North America, Latin America, Australia, and New Zealand territories.
The first sneak peek for Zom 100: Bucket List of the Dead was revealed at Anime Expo 2023 ahead of the series premiere on July 9.
Source: Anime Expo 2023, Official Twitter, Official Website
© Haro Aso, Kotaro Takata, Shogakukan / Zom100 Project