Australia doesn't see much in the way of anime conventions. Chalk it up to our relative inaccessibility—both in terms of geographical location and general population—and it means that large conventions are few and far between. Outside the perennial OZ Comic-Con and Supanova festivals, anime and manga fans are left seeking out much smaller gatherings—but out of this desire for more has arisen Animaga, and in 2023, we were lucky enough to take a peak inside this rapidly growing convention.
Animaga's humble beginnings trace back to 2014, when they had no guests and only two cosplayers, but in the years since, they've grown rapidly, until now in 2023 when they took out an entire hall at the Melbourne Convention and Exhibition Centre (MCEC), securing panels with illustrators like redjuice, and even Hololive English VTuber, IRyS.
This year, Crunchyroll decided to cancel their global Crunchyroll Expo, which meant Australia was left short-changed. Admittedly, the inaugural 2022 event left a bitter taste in many event-goers mouths, with poor queue management leading to national media coverage. Thankfully, Animaga 2023 was organised well, with excellent crowd control and line management.
Inside the hall, Animaga had arranged a mix of local anime artists, hobby and figure shops, gaming booths, and two separate stages for events. Trivia quizzes and cosplay competitions were available for the more socially-minded eventgoers, while those with borderline spending issues (yes, we're talking about ourselves), could hit up the shops to find limited-edition figurines without those pesky international shipping costs. As always, the local artists were fabulous, with a broad range of merchandise that mostly covered the evergreen Genshin Impact and Honkai: Star Rail fandoms, although we did manage to score some adorable Jujutsu Kaisen merch.
On the main stage, we saw professional illustrator redjuice—best known for his works as the character designer for GUILTY CROWN and cover designer for EGOIST—talk about his artistic process, even giving us a live drawing while narrating his thoughts. Throughout the day, the delightful sounds of local idols emanated from the performance stage, with idol groups and fans alike having an absolute blast.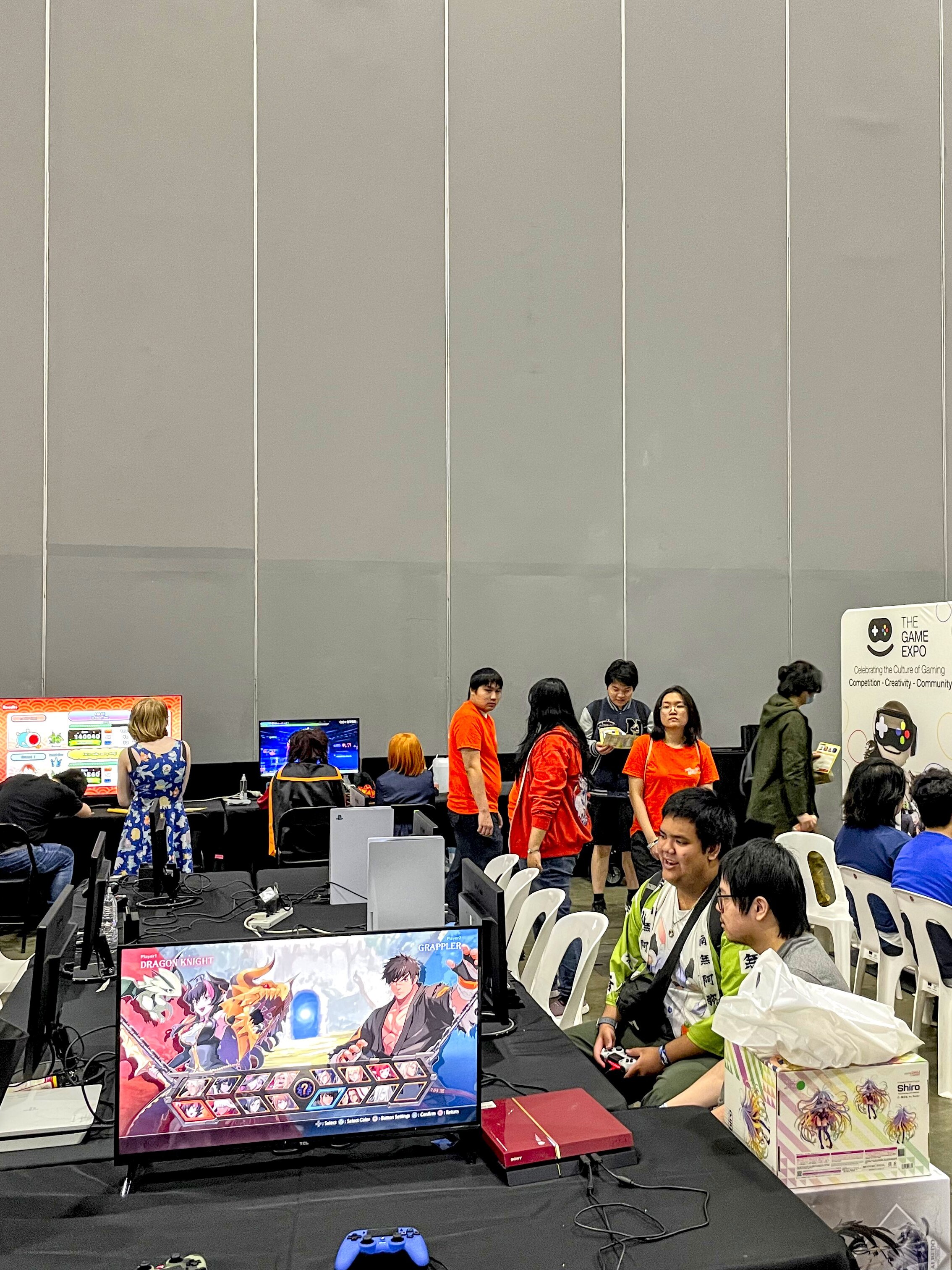 The gaming area was a nice addition, too, with Beat Saber, Project Diva, Dance Dance Revolution, and Guilty Gear Strive all available for play. The tabletop zone gave non-video gamers a chance to learn Go, Mahjong, or play the brand-new Grand Archive TCG, which launched earlier this year.
In summary, we had an excellent time at Animaga 2023, and would highly recommend the event. It was small enough not to intimidate, but well-thought-out and packed full of enough shops and events to keep you going throughout the two-day weekend. We look forward to seeing how Animaga rises to the challenge of 2024!
Disclaimer: Anime Corner attended the Animaga 2023 with media pass.