B-Project's third season of the anime series, B-PROJECT Passion*Love Call, aired its first episode on Monday, October 2. The first episode, titled "BIG WAVE," was pleasantly surprising. The first episode of B-Project Passion*Love Call takes place after the events of the second season of the anime series. After a successful dome live, B-Project members have finally reached their dream of becoming top idols. All the members are surging in popularity, gaining many different types of jobs that keep them busy every day. Even their A&R, Tsubasa Sumizora, has no time for rest as the sole person in charge of the B-Project. However, Gandhara Music, Tsubasa, and B-Project's company want them to take on new projects different from what they are used to. Having no support and the desire to help the boys shine more, Tsubasa has no choice but to get to work. Luckily, she is not alone as she thought.
For an anime that focuses on its idols, I prepared myself for the episode that would re-introduce us to the idols of B-PROJECT, but I was wrong. Instead, the series chose to start the season differently by focusing on one character that most people might have forgotten about.
Tsubasa Sumizora From the A&R Department Is the Star of the Episode
It was a surprise to see Tsubasa under the spotlight, but it was one I welcomed and enjoyed wholeheartedly. Tsubasa has been one of the main characters and a supporter of the boys in B-PROJECT since the start. I was pleased to see more of how hard Tsubasa works for them, especially now that the boys are famous. The episode did a great job of focusing on the hard-working character, her motivation, the care and love she has for the group, and the struggles and hardships she is currently facing as probably what looks like the only person in charge of B-PROJECT. The episode showed that being successful idols isn't just about the idols themselves, but also the people who support them and how tough it is for them to manage their idols.
Lack of New Supporting Characters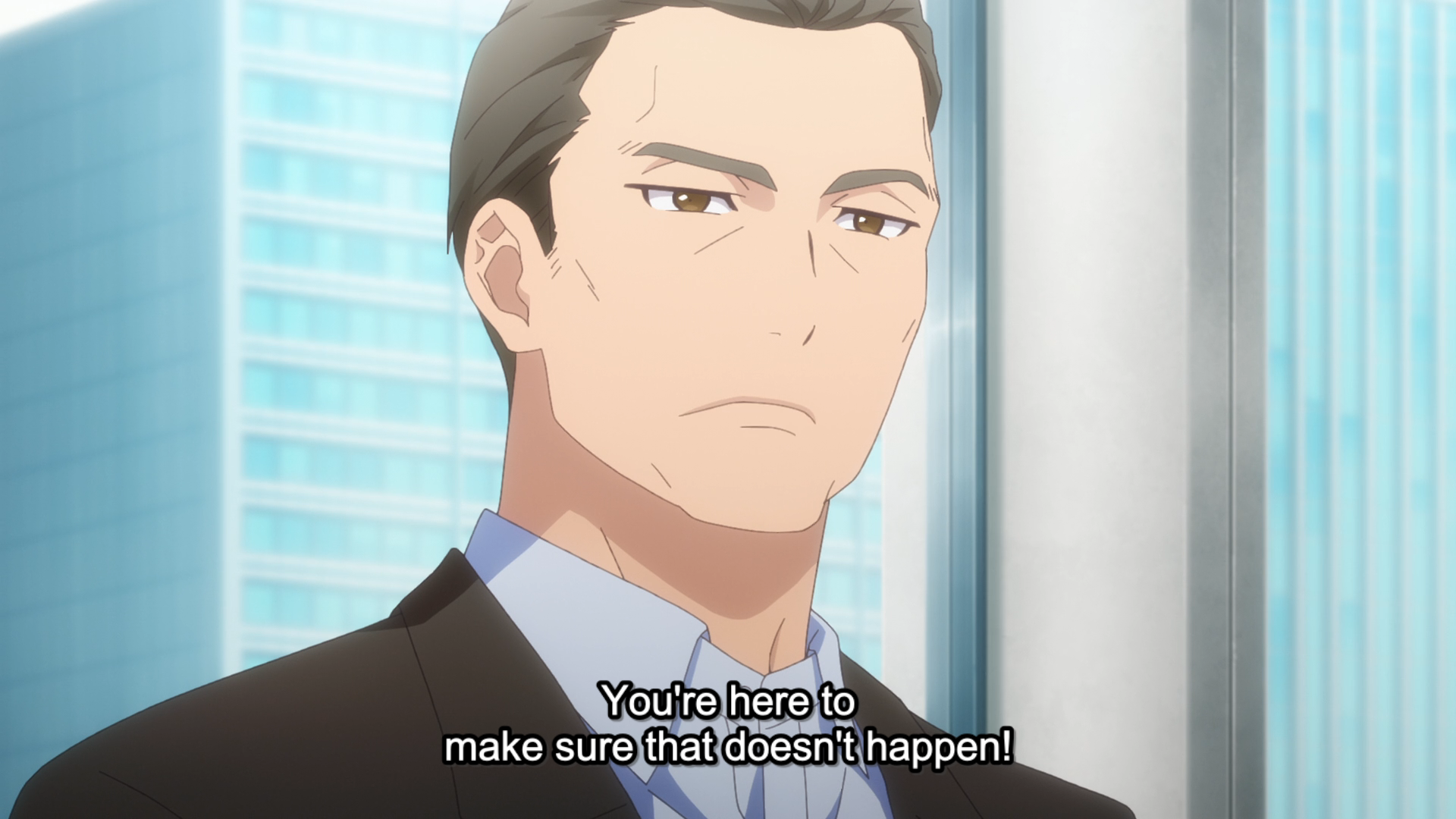 One thing I did find a bit surprising was the lack of support she is getting from her new boss and department. I understand that the episode is supposed to focus on Tsubasa and her struggles, but since it's a new season, I expected at least one or two new characters that should have been under Tsubasa's wing. What we got instead were her new boss and department head that don't really help her. It was a bit of an annoyance to see how hard at work she is but without any help. It could change as the season continues, but we won't know if there will be new supporting characters until then.
B-PROJECT Is a 15-member Group
One of the best scenes in the episode is near the end, where Tsubasa is struggling and hard at work when the boys in B-PROJECT call her. The line where Tomohisa says that B-Project is a 15-member group, including Tsubasa, was sweet and impactful. It was a pleasant moment and showed how much the boys trusted and cared about her. Even if she doesn't have support from her department, the boys are at least there to support her when the going gets tough.
A Glimpse of Idol Management?
One question that popped up in my mind throughout the episode was, did we get a small glimpse of what idol management is like in Japan? We heard and read about how Japanese production companies treat their idols, but this episode might have given us a glimpse of what managing an idol in Japan is like. While I am unsure if it is true, authors/creators/producers get their inspiration from them, so there is a chance that what we see in the first episode might be the truth in real life.
Production and CGI
While the animation throughout the series was good, the CGI could have been better. I may not be an expert in CGI, but the CGI in the opening sequence seems a bit off. I'm not sure if it's because of the lighting or coloring of the characters, but the CGI they produced in the last season was better than what they did for this season. In the second season, they also did a combination of the idols dancing and singing that was mixed very well in terms of transitions. They haven't done that for the opening theme song for this season, which was quite a disappointment since there was a particular charm that they had when it came to them.
Overall, the first episode was a good start for B-PROJECT. It may not have left a big impact like other popular anime series, but for fans of idol and music anime, especially boy idols, this episode might have left fans with a good impression of the series. I'm excited to see what's more in store for the season and what new music they will have for us, especially with the introduction of a new group. I wonder what will Tsubasa do now that she is also in charge of supporting and producing music for famous YouTubers (the series version of YouTubers)?
B-PROJECT Passion*Love Call is the third season of the B-PROJECT anime series. The series is streaming with English subtitles on Crunchyroll.
Source: Screenshots via Crunchyroll
©MAGES/TEAM BPRO3; ©B-PROJECT