Lycoris Recoil original anime ended with the 13th episode in September 2022, but a big fan, legendary game developer Hideo Kojima's excitement seems to be ongoing, as he had a manikin pose with "Sakana (fish)" and "Chinanago (spotted garden eel)" which the main characters Takina Inoue and Chisato Nishikigi did while calling the names respectively at an aquarium in the fourt episode.
The 59-year-old developer, best known for Konami's Metal Gear series, enjoyed the series to a certain extent where he checked the anime's broadcast in real time on Saturday night every week and he even wore some shirts of the franchise. His newest update on the anime came as his manekin's poses.
The first photo post came with no caption on Twitter, but the pose was obvious as Takina Inoue's "Sakana (fish)" pose for fans, so it caught attention with quote-tweets from the original story writer Asaura "If I'm guessing right, this is…" and the original character designer Imigimuru "I can hear… the voice….!!🐟🐟🐟".
The next day, Kojima tweeted another photo without a caption, which shows the same manekin doing Chisato Nishikigi's "Chinanago (spotted garden eel)" pose, and attracted reactions from Asaura with "Chin…!" and Imigimuru with "Yes…. I can hear that….!".
The scene from the anime is visible below: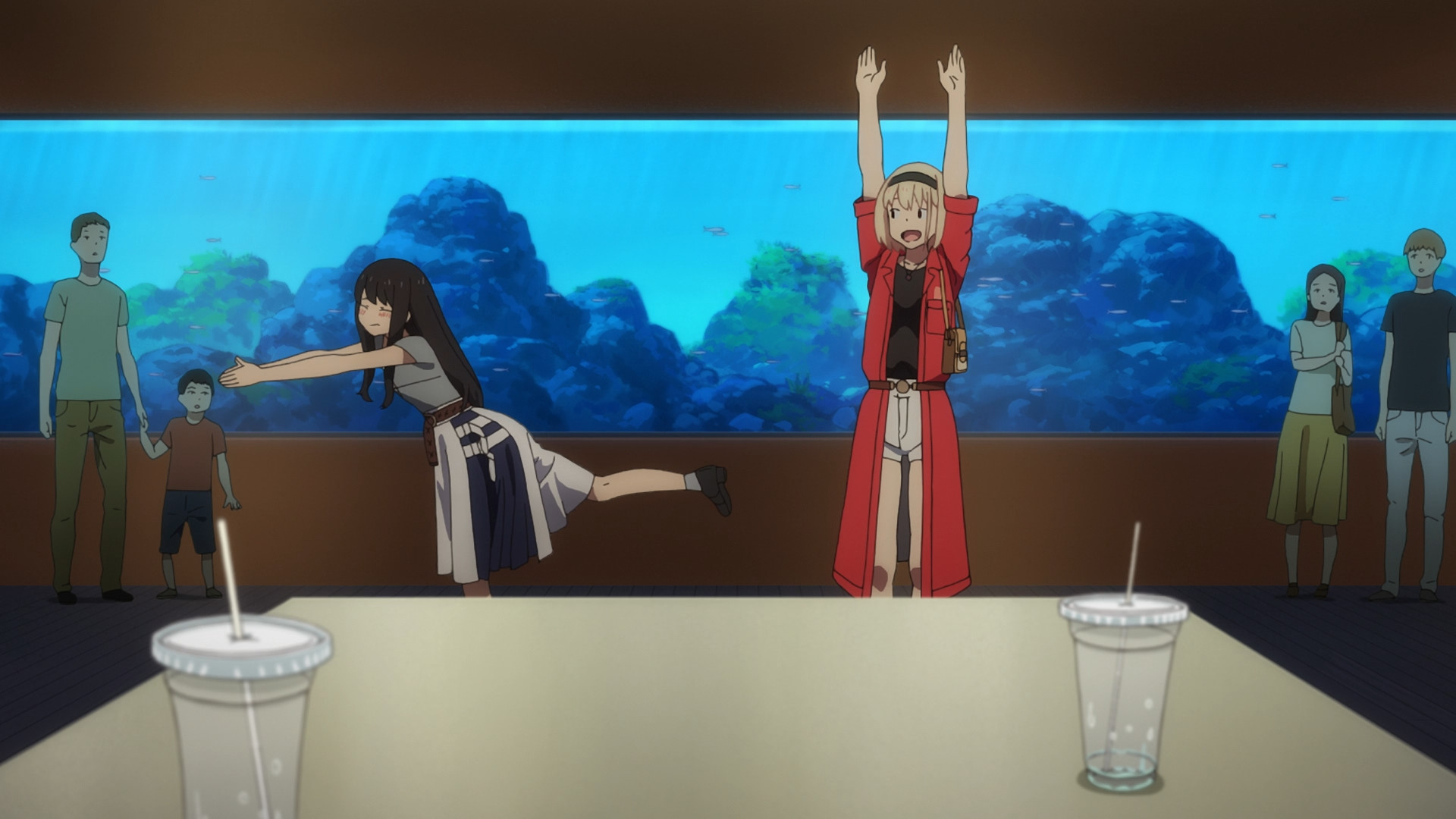 Also read:
Legendary Hideo Kojima Praises Lycoris Recoil: That's Some Crazy Setting and Introduction!
Hideo Kojima Reacts to Lycoris Recoil Episode 4 With Shorts Emoji; Decides to Keep Following the Anime
Studio A-1 Pictures produced the original anime Lycoris Recoil from July to September 2022. The story was written by Asaura, known for his battles-over-bento-boxes light novel Ben-To, while the characters were designed by Imigimuru, the author of This Art Club Has a Problem manga. Shingo Adachi, who is known as the chief animation director in the Sword Art Online series, directed the series.
Also Read:
Lycoris Recoil Anime Replaces Eye-Catch Illustrations of Red Flowers in Episode 11
Lycoris Recoil: Café LycoReco Updates Fans With Chisato and Takina's Selfie
The anime's official website is available in English as well as Japanese and describes the plot of the series as:
"LycoReco" is a café with a traditional Japanese twist located in downtown Tokyo. But the delicious coffee and sugary sweets are not the only orders this café takes! From delivering packages to short distances, to pick-ups and drop-offs on the lonely streets at night, to zombies and giant monster extermination…?! Whatever your problem, we're here to help! We will solve any kind of "trouble" you may have! Waiting for you are the ever-smiling poster girl and the cool, serious newcomer. A petite girl who never wants to work and a young woman approaching thirty who wants to get married. And the manager is a nice guy who's obsessed with Japan! Whatever your order is, leave it all up to us!
Source: Hideo Kojima's Tweet (1, 2), Asaura's Tweet (1, 2), Imigimuru's Tweet (1, 2)
© Hideo Kojima © Spider Lily / Aniplex / ABC Animation / BS11