The official Twitter account of Call of the Night anime posted an illustration of Nazuna Nanakusa and Ko Yamori with an appreciation message from the anime's chief director Tetsuya Miyanishi on Saturday. The anime adaptation by LIDENFILMS aired from July to September 2022 with a total of 13 episodes.
The newly-posted illustration features the two main characters, vampire Nazuna Nanakusa (left) and Ko Yamori (right) watching the TV which warns viewers to be sure they are in a well-lit room and keep their distance from the screen. Above them can be seen the chief director Tetsuya Miyanishi's message:
"Thank you for the 2022! Having been surrounded by the fantastic staff and cast members, and music, it was truly a fun job! Wishing further prosperity of "Call of the Night"! He also recommends reading the manga after checking out the anime in the text next to Nazuna. His signature is spotted at the bottom right corner as "Call of the Night Chief Director Tetsuya Miyanishi". The post's caption reads in part that Nazuna and Ko must be staying up late also on the last day of the year, and it's concluded with a happy new year wish.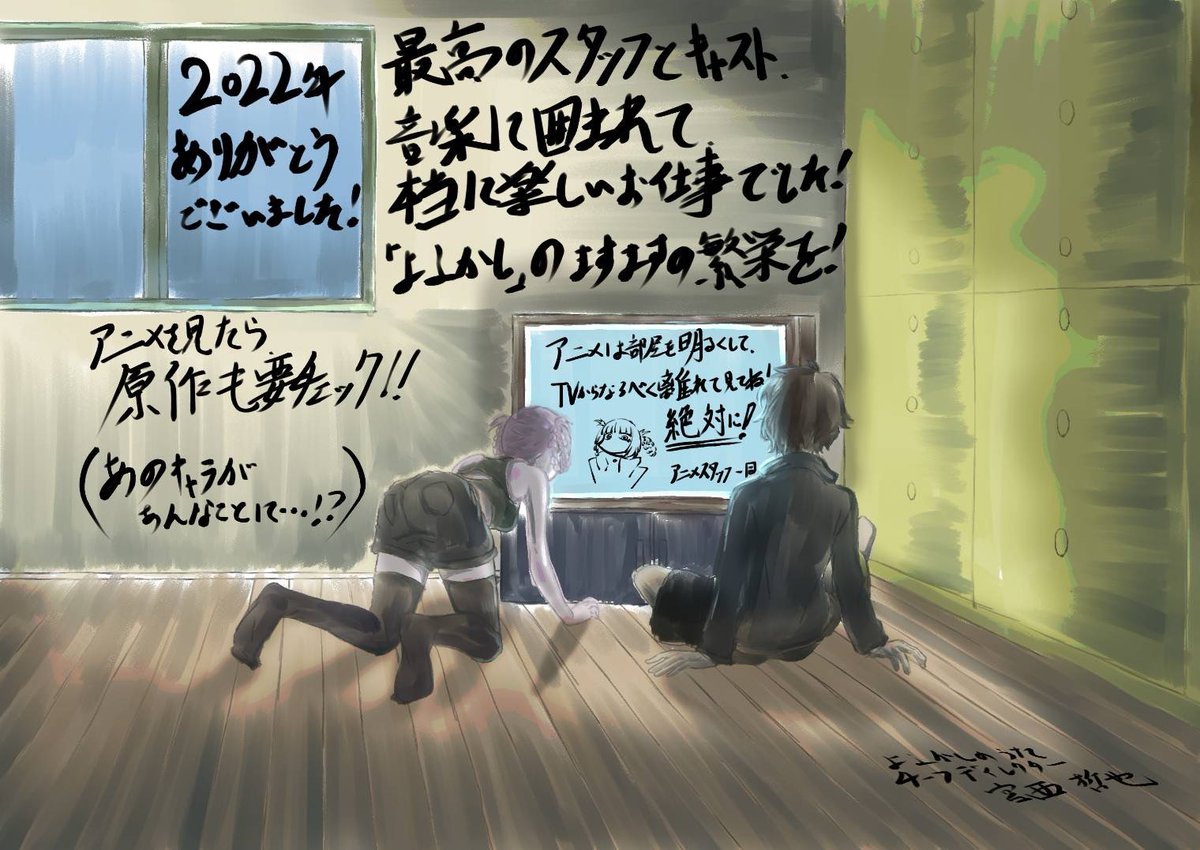 Also Read:
Call of the Night Manga Author Draws Akira Asai Ahead of Volume 14's Release
Call of the Night Author Kotoyama Is Impressed With Nazuna Nanakusa 1/7 Figure
Call of the Night anime was produced based on Kotoyama's manga of the same name having been serialized in Shogakukan's Weekly Shonen Sunday magazine since August 2019. The series released its newest, 14th volume on December 16, 2022. The manga was named after Creepy Nuts' song of the same name, "Yofukashi no Uta" in Japanese. The band performed both the opening and ending songs titled "Daten" and "Yofukashi no Uta" respectively in the anime adaptation.
Viz Media licensed the manga for English releases and released the newest, 10th volume on December 13, 2022. The 11th volume is scheduled to be released on March 13, 2023. The official website describes the plot of the debut volume as:
One sleepless night, Ko slips out to walk the streets. Life after dark is a revelation! When flirtatious Nazuna invites Ko to spend the night at her place in an abandoned building, he's stoked! But then he awakens to kisses on his neck with a little too much bite to them… Is it just the delicious taste of his blood that makes her meet him night after night for late-night adventures, conversation and…naps? Or something else? Then, when a cute girl from Ko's past shows up and competes for his attention, his budding relationship with the undead is put to the test!
Source: Official Twitter
© 2022 Kotoyama, Shogakukan / "Call of the Night" Production Committee