Classroom of the Elite anime revealed a Kikyo version of the previously revealed key visual for the upcoming season 2. Studio Lerche animating the second season, which is set to air in July 2022.
The Classroom of the Elite Season 2 visual initially featured Kiyotaka Ayanokoji, who is the main protagonist of the series, but in the updated version he is joined by Kikyo Kushida. The placement indicates that more characters might be added later on, to get the main visual.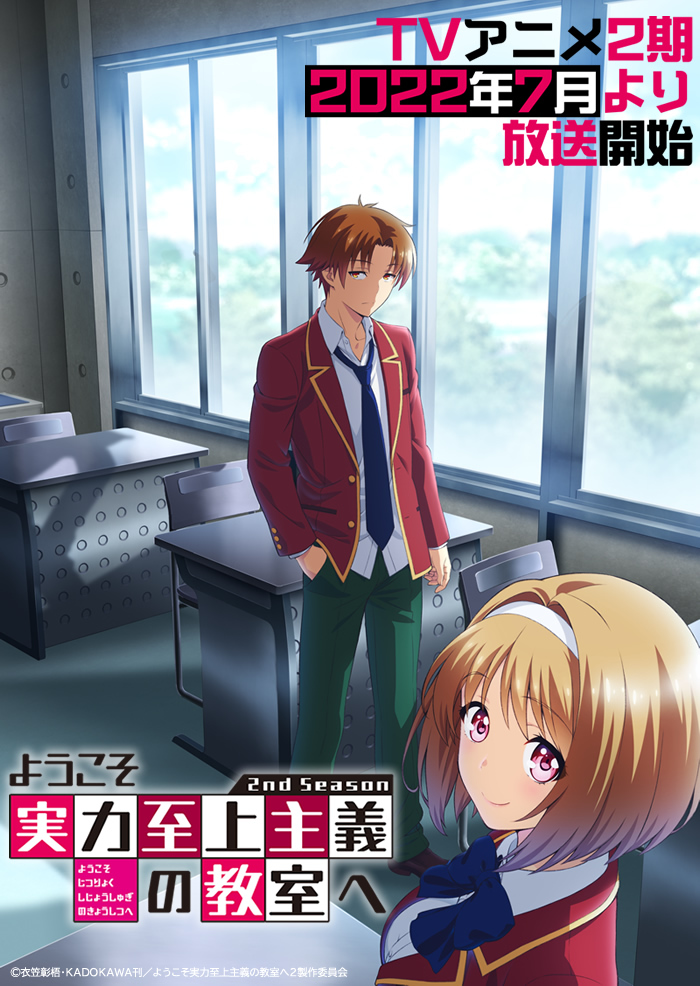 The sequel to the Classroom of the Elite anime was announced in February of 2022. A few weeks later, an announcement revealed the visual, but also a third season, which is set to air in 2023. Watch the announcement below:
The anime is based on a light novel written by Shogo Kinugasa and illustrated by Tomose Shunsaku. Year 1 was serialized from May 2015 until September 2019 and compiled into 14 volumes. The sequel, Year 2 began in January 2020 and is still ongoing. Manga adaptations of both arcs are currently ongoing with Kawaisounako providing the art for Year 1 and Shia Sasane for Year 2.
Seven Seas Entertainment licensed both the original light novel and the manga and describes the plot as:
Students of the prestigious Tokyo Metropolitan Advanced Nurturing High School are given remarkable freedom—if they can win, barter, or save enough points to work their way up the ranks! Ayanokoji Kiyotaka has landed at the bottom in the scorned Class D, where he meets Horikita Suzune, who's determined to rise up the ladder to Class A. Can they beat the system in a school where cutthroat competition is the name of the game?
Source: Official Twitter
© Shogo Kinugasa, KADOKAWA / Welcome to the Classroom of Elite Supremacy Production Committee