Cosplay Mania 2023 kicked off last weekend and as always, the convention was a thrilling gathering for fans from all walks of life to celebrate their love for anime, cosplay, and everything related to Japanese pop culture. Last year, we had the nostalgic theme of reigniting our passions but this year, the organizers decided to have a modern spin to it — an isekai adventure of being reborn as a machine (no, not the vending machine). Cosplay Mania's key visual was cute and while the context was not visually obvious at the convention itself, my own interpretation of it was the "stylish" times of today. For example, Crunchyroll Philippines made itself known throughout the event, while Good Smile Company and Kotobukiya also made a grand exhibit of their latest collections. Another one was how a lot of the special guest performers mentioned how modern technology has shaped the music industry and is easily accessible to a lot of people. Despite all these virtual things, nothing still beats the hands-on experience. Being a part of fandoms on the internet is one thing, but being part of an actual physical convention is another.
Anime Corner had the honor once again of being invited to Cosplay Mania 2023 and to be a part of the wonderful 15th-anniversary celebration. And so without further ado, here are some of my favorite CosMania 2023 highlights.
A Paradise of Anime Merchandise
Like last year, Cosplay Mania 2023 opens up to an eye-catching exhibit from Globe, Kotobukiya, and Good Smile Company (Arigatoys Collectibles.) It was every otaku's happy place with a lot of cool and cute figures on display!
Exploring the Vibrant Artist Alley and Exhibitor Halls
The wonderful (and financially threatening) treasure mine of fan artwork and authentic collectibles is one of the most exciting hotspots of the convention. This year, Hubbyte featured a real-life gacha booth where one would literally fish out their prize. I also got to meet the people behind VOLs, a VTuber company of some very adorable and clever Filipino talents.
Another interesting highlight of my Cosplay Mania 2023 is the Golden Talong (Eggplant) plush by SSKAIT which many con-goers were enthusiastic, if not convinced, to purchase. If you didn't know, the comic-inspired eggplant is meant to bless you with good luck, wealth, and happiness.
Celebrating Creative Expression Through Cosplay and Craftsmanship
As compared to last year's CosMania, I noticed that the convention this year had plenty of ONE PIECE cosplays. Despite it being one of the oldest shows out there, the fandom is more alive than ever because of the anime and live-action. It's nice to see fellow Filipino fans appreciate that. Make sure to check out our Cosplay Mania 2023 Cosplay gallery to see more of our cosplay favorites.
If you missed it, the world-renowned Malaysian cosplayer, Hakken, was also one of the esteemed guests at Cosplay Mania 2023 through AFA's "Hakken Fan Meet World Tour." Although the event was exclusive, the excited cheers from fans could be heard throughout the convention center. In a Facebook post after the event, he said "Mahal Kita (I love you). See you next time Philippines!" and humorously added how he forgot to have a Jollibee meal.
A Lively Cultural Exchange and Appreciation for Japan
The Information and Culture Center of the Embassy of Japan in the Philippines was also a fun corner of colorful informational flyers filled with tips for travel, career, and everything Japan-related. I myself enjoyed seeing the fun experiences I could possibly have and it makes me feel so excited to travel again soon. I can just imagine how authentic it'll be with the fascinating trains, the amazing food, and the beautiful cherry blossoms! But at least for now, we can at least appreciate how our favorite anime artists came to visit the Philippines and perform at the JAM concert.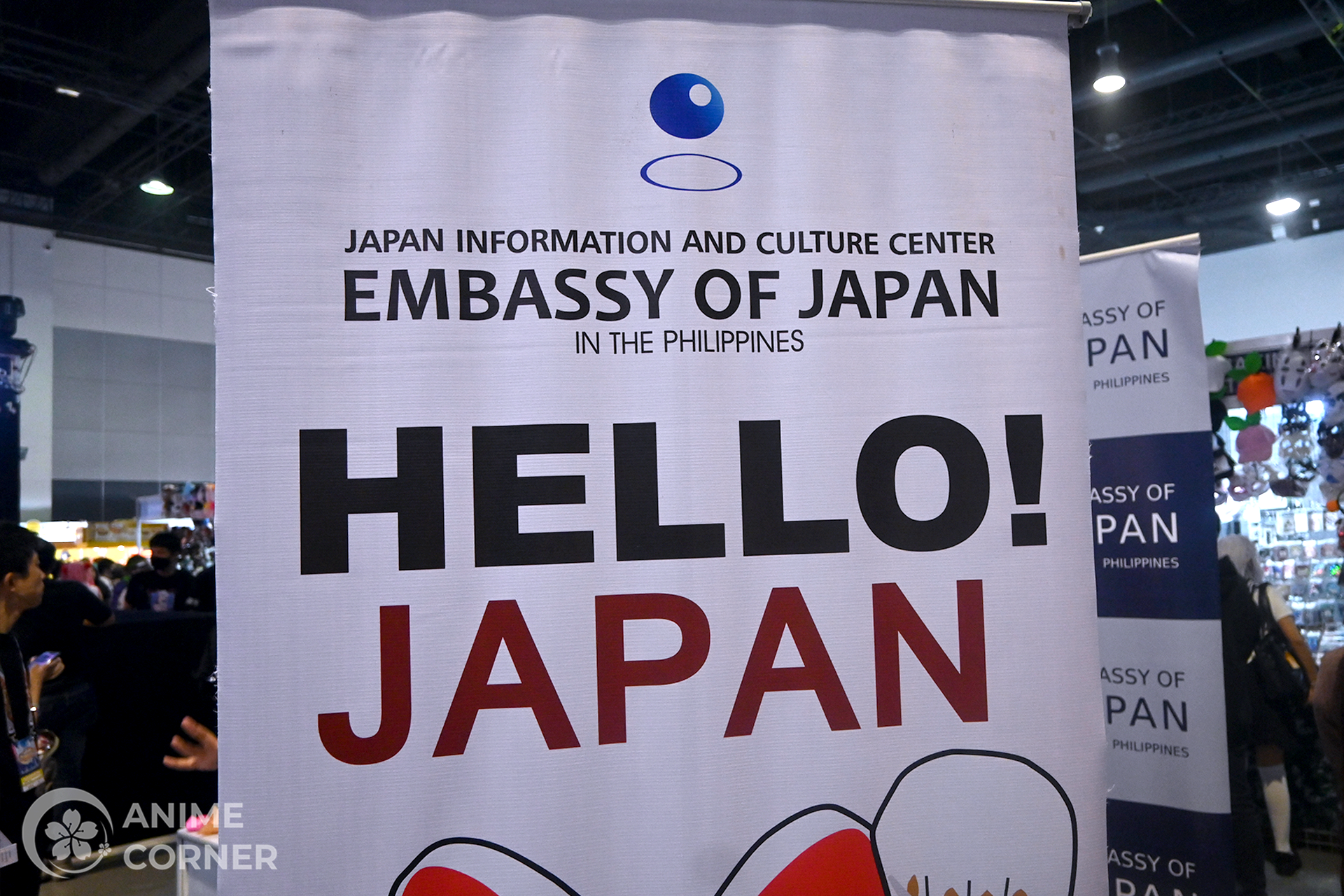 The Japanese Anime Music (JAM) Concert featured Ni Ko La, BPM15Q, Junna, Daoko, Nano, Kobo Kanaeru, and Shiki Miyoshino this year. I had the opportunity to see Junna during her interview on stage and she shared about her singing approaches. Junna said that she would make a mental picture of the anime characters, imagine how they felt, and then use her own emotions to find the expressions to sing. She also believes that taking extra steps in the process will surely get the message across to her audience.
When DAOKO appeared on stage, she shared about how she likes going to different places, meeting new people, and exploring music genres. Regarding her songwriting, she said personal experience is what connects us all as humans so she incorporates details from her day-to-day life. Lastly, as an artist, the role she wants to play in the future music industry is someone who continues to perform for many years and connects with people from different walks of life.
Meanwhile, Nano's first time in the Philippines also gathered a lot of excitement from her Filipino fans. She shared how her journey molded her — from living in America to Japan, from different rock, pop, and classical musical influences all throughout her life. She even mentions The Beatles! For her, anime music is a huge part of her life because anime is cool, and without anime, she wouldn't meet many people because, for her, anime connects the world. In true rockstar energy, "Rock on!"
Speaking of Japanese anime music, another one of my favorite things at Cosplay Mania 2023 was the singing contest. The DJs also served sick anime beats that were energizing, nostalgic, and really loud. A lot of the audience was partying to favorite opening songs like "Guren no Yumiya," "A Cruel Angel's Thesis," and "Fighting Dreamers."
Cosplay Mania 2023 – The Memories We Make
Another year, another convention to remember. Cosplay Mania 2023 was undoubtedly a successful event that was able to satisfy a lot of its con-goers. Other than the separated floorplans that contributed a lot to my exhaustion, I can also happily say that this year's Cosplay Mania had its unique set of highlights and memories. What's more, I had a lot of fun seeing familiar faces and getting to talk about each other's cosplays, activities, or how we've all been. It's just as Cosplay Mania puts it, the convention is "a journey; one that grows and evolves every year."
One thing I particularly enjoyed this time around was introducing my friend to his first-ever anime and cosplay convention. I could see in his eyes both his panic and excitement while roaming around. After asking how the whole experience was, he mentioned how everyone was so welcoming and engaging. Needless to say, he had a lot of fun and is already excited to come along (and cosplay) for the next event.
I admit that at one point, I was beginning to feel tired about these events but after bumping into new and old friends, especially my newbie friend who enjoyed and got de-stressed, I found myself enjoying the convention now more than ever. I already have a long list of people that I appreciate for introducing me to different parts of the community — the arts, cosplay, prop crafting, the industry, and so on and so forth. They are the ones who always keep me happy and inspired. That said, I also want to give some appreciation to the people behind the camera. I have been granted the honor of interviewing a few cosplay photographers and I hope that you look forward to reading about them soon.
And with that, Cosplay Mania 2023 officially comes to a close. I hope that you made a lot of fond memories here. The next event by Cosplay.ph is the year-ender, Cosplay Matsuri , happening through December 28-30, 2023. See you there!
Special thanks to our editors, Tamara and Marko, and to our team on-site, Ian and Bea. Another special thanks to Cosplay.ph for also having us again.
Disclaimer: Anime Corner is a media partner for Cosplay Mania 2023.