After the idol segway in the last episode, it's now finally time to go back to the voice acting journey of the ones who passed the auditions. Episode 5 of Cue! shows what is going on in the studio when it's recording for an anime. But before that, let's take a look first at a secret that Haruna is hiding from her colleagues because it is pretty interesting. Spoilers Ahead!
A Stress Reliever
At the start of the episode, Haruna seems to be acting discreetly. It was then later revealed that she actually has a little companion in her room – a turtle. It might be a little weird that she's owning a turtle but it's actually one of the perfect pets she can bring into the house. Normally, pets aren't allowed in the place she's staying due to how inconvenient it can be to some but a turtle requires little to no attention at all. It's also nice to have a stress reliever in your room because voice acting can be stressful at times too and also having a companion to at least face while practicing your lines can be helpful. I also find it cute that Haruna likes turtles because we can get a bit of personality from her.
Time to Record
It's now finally time to record the voice of the cast for the anime. Before the formal recording, first off the whole staff and cast must do a test recording first. A test recording is wherein the whole cast will act the whole scene so that the staff can evaluate and make suggestions for them to adjust.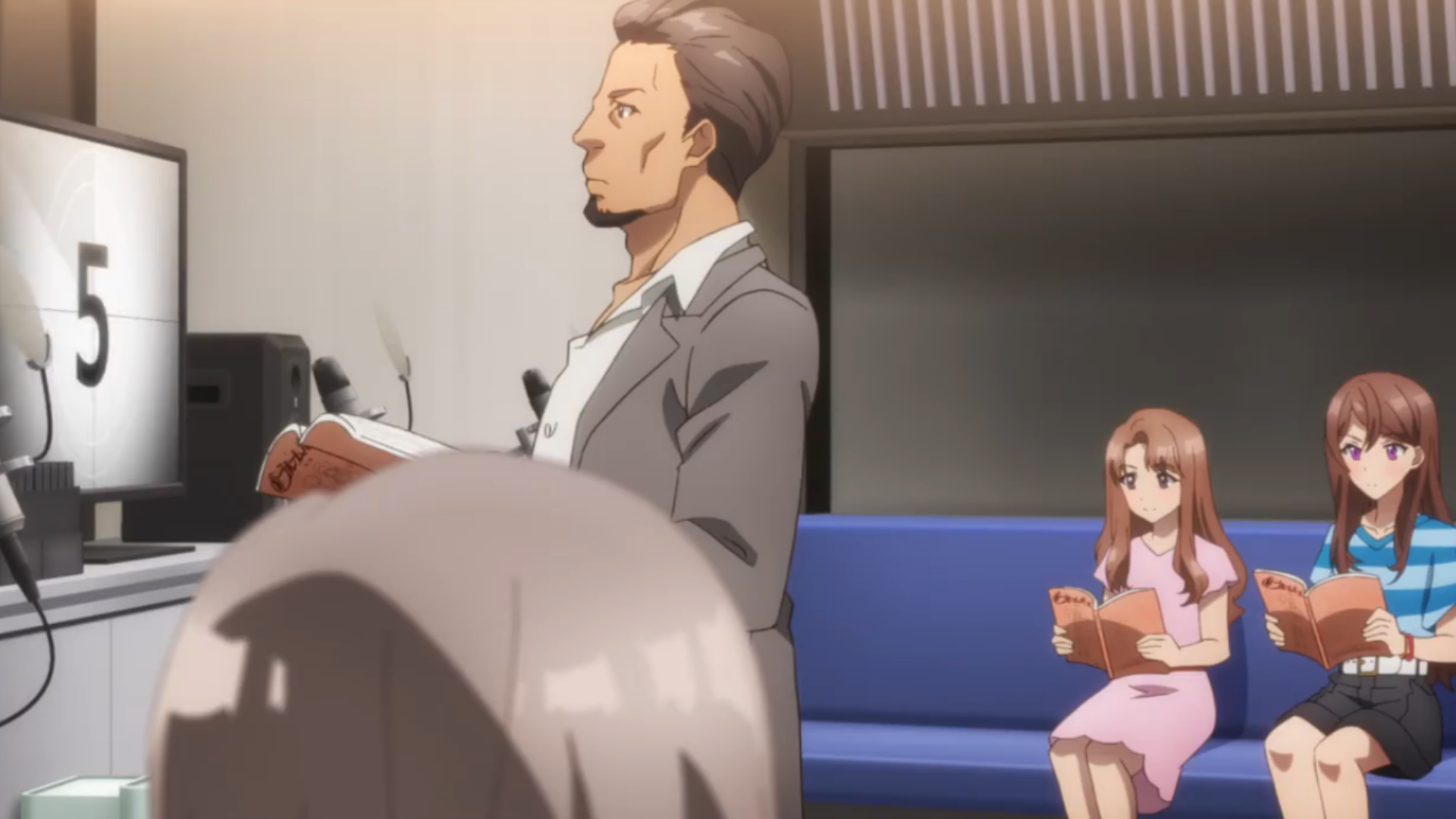 In the episode, a few adjustments were indeed made, however, Haruna and Maika's performance in their respective scene made wonders yet again. Remember that in the first episode, these two were paired up to act out one of Shakespeare's plays. Despite their interpretation of the characters being different, they still put on a good performance. Somehow, it happened once again in this episode because they managed to inspire the author of the series from their unique portrayal of the characters. It might just be their chemistry with each other and who knows what this duo can do even more. Overall, a decent episode from Cue! this week, and looking forward to where these rookie voice actors will take us.
If you enjoyed episode 5 of Cue!, consider voting for it in our weekly polls!
Images via Bilibli
©CUE! Animation Project