The Dr. STONE manga has reached 13 million copies in circulation, according to PR Times Japan. The news broke in a press release for the upcoming Dr. STONE musical concert that will be held on Sunday, July 3.
Created by Riichiro Inagaki and illustrated by Boichi, Dr. STONE officially came to an end this year on March 6 with chapter 232 in Weekly Shonen Jump Magazine Issue #14. The final volume (26) of the series will be released on July 4 in Japan.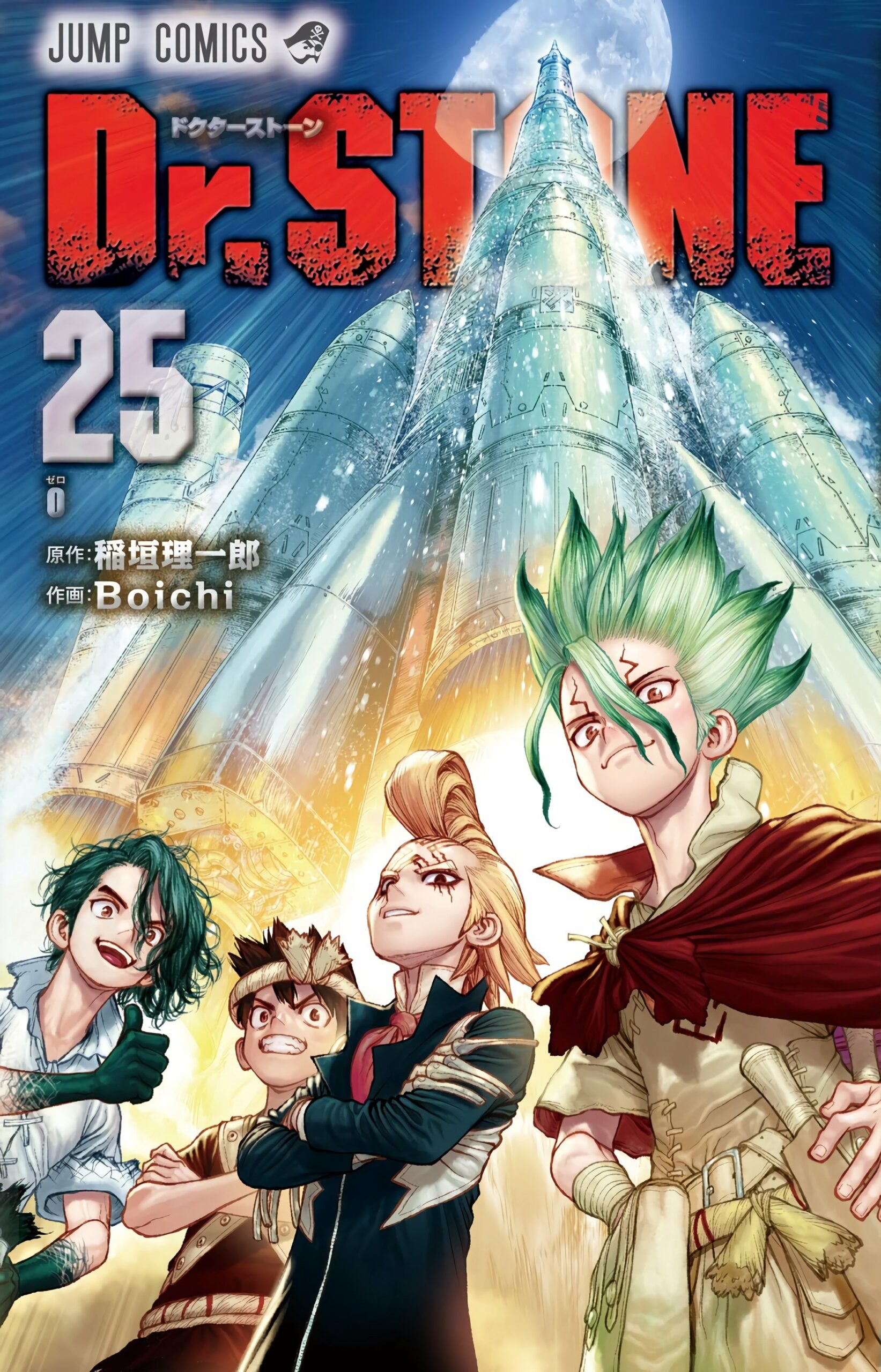 After announcing the end of the series earlier this year, Dr. STONE received a cover page and a lead color page in WSJ Magazine Issue #13 to commemorate the series and its success. Many authors also published in WSJ Magazine gave praise to Inagaki, Boichi, and the series after it officially came to an end:
I consider it one of the great shonen manga series. Inagaki Sensei, Boichi Sensei, congratulations!

Kentaro Yabuki, Ayakashi Triangle
I was overwhelmed by the passion every week! Inagaki Sensei, Boichi Sensei, congratulations!

Gege Akutami, Jujutsu Kaisen
I was blown away each week by the story and art of Dr. STONE! Congratulations!

Yūki Tabata, Black Clover
Dr. STONE inspired so many kids! So with the greatest respect, I say "Congratulations!"

Kenta Shinohara, WITCH WATCH
I learned so much about manga from reading Dr. STONE every week. It really got me excited!

Yoshifumi Tozuka, Undead Unluck
Constantly in a state of being excited! Thank you so much, Inagaki Sensei and Boichi Sensei!

Kohei Horikoshi, My Hero Academia
Inagaki Sensei! Boichi Sensei! Thank you so much for an eriouslysay awesomeyay manga!

Shuhei Miyazaki, Me & Roboco
I enjoyed Dr. STONE every week when I was still a student. Thank you so much for all these years!

Yuto Suzuki, Sakamoto Days
Congratulations on the conclusion of Dr. STONE! With such dense art and story, you deserve a wonderful break!

Kouji Miura, Blue Box
Dr. STONE's conclusion! Inagaki Sensei, Boichi Sensei, congrats on five years of amazing manga!

Ryo Nakama, High School Family: Kokosei Kazoku
Congratulations to Inagaki Sensei and Boichi Sensei! The skill of veterans who can land their shots! Hats off!

Yusei Matsui, Elusive Samurai
The series previously received a musical concert on April 3 in front of a large audience that also included guest appearances from members of the anime cast, including Yusuke Kobayashi (Senku) and Kengo Kawanishi (Gen). The upcoming concert on July 3 will be held in Tokyo Bunka Kaikan's main hall and will be conducted by Shinpei Sasaki. The performance will begin at 2:00 pm and run for 2 hours and 30 minutes. Doors will open at 1:00 pm.
The Dr. STONE anime adaptation will also be receiving a third season, as announced during Jump Festa 2022. A special teaser video was released for the upcoming Ryusui special that will air in July 2022 along with a special chapter for the Dr. STONE manga.
"Exactly five years! Thank you so much for the support. It's continuing just a little longer?!"

Riichiro Inagaki, Weekly Shonen Jump Magazine 2022 Issue #14.
Source: PR Times Japan
Dr. STONE © 2017 by Riichiro Inagaki, Boichi/SHUEISHA Inc.