Fans can now raise Anya Forger from Spy x Family series in the special product collaboration with Tamagotchi. The toy is set to be released in Japan on December 17 this year and will be available in a nano version. The Tamagotchi is designed with a green hue, a tribute to the color used on most Spy x Family manga covers (and Loid's suit). A pink hue model will be also available, made to match Anya's hair color.
Through the special toy collaboration, fans can take care of Anya in the game by feeding her favorite food, peanuts. They can also choose from 14 costume variations, which will be unlocked in the process. Three mini-games are also made available to play with Anya and by playing you get to unlock special facial reactions.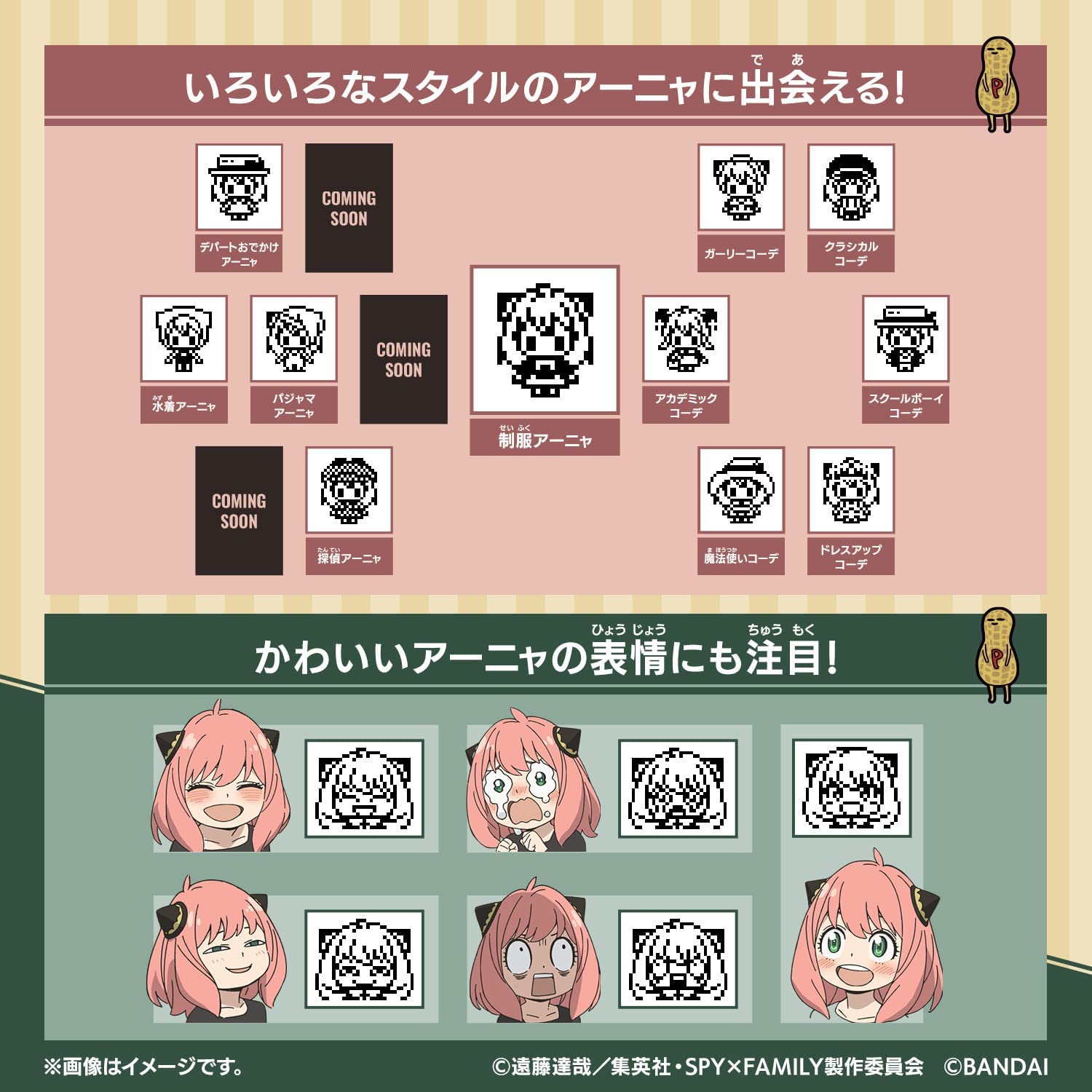 The Tamagotchi is a toy product developed by toy manufacturer Bandai in 1996. It has since then become a popular toy product and although its popularity has faded over the years in recent time it has seen an uptick in popularity. Tamagotchi Nano was introduced in 2010. It's an egg-shaped device that allows the user to take care of their virtual pets (or in this case, Anya). It is now mainly used as a template for licensed releases.
Spy x Family is a manga series by Tatsuya Endo that received an anime adaptation from studios CloverWorks and WIT Studio. The series follows the story of a spy named Twilight, assigned to a mission called Operation Strix. Part of the mission is to form a fake family in order to get closer to his target, Donovand Desmond. It turns out, the fake family he has formed is composed of a mother who is secretly an assassin, and a daughter who is secretly a telepath. It is currently available to watch on Crunchyroll, Netflix, Bilibili, and Muse Asia.
Source: Bandai
© Tatsuya Endo, Shueisha / Spy x Family Project
Also Read:
Adorable Anya Figure Is the Gem of Spy x Family Ichiban Kuji Lottery Box
Gen Hoshino Draws a Visual for Spy x Family Anime