Kawagoe Boys Sing revealed a new trailer, key visual, and an October 9 premiere date. The new trailer features a shortened version of a new song that will appear in the series, titled "Kiraikaki Tomoro e."
The main cast can be seen in the key visual below. In addition to it and the trailer, additional cast members have been announced such as:
Hayato Dojima as Mitsuru Morimura
Mika Doi as Aisa Hibiki, the principal of Kawagoe Academy
Aya Suzaki as Rika Iijima, the other advisor of the boys' choir club
Ryumaru Tachibana as Zen Kogarashi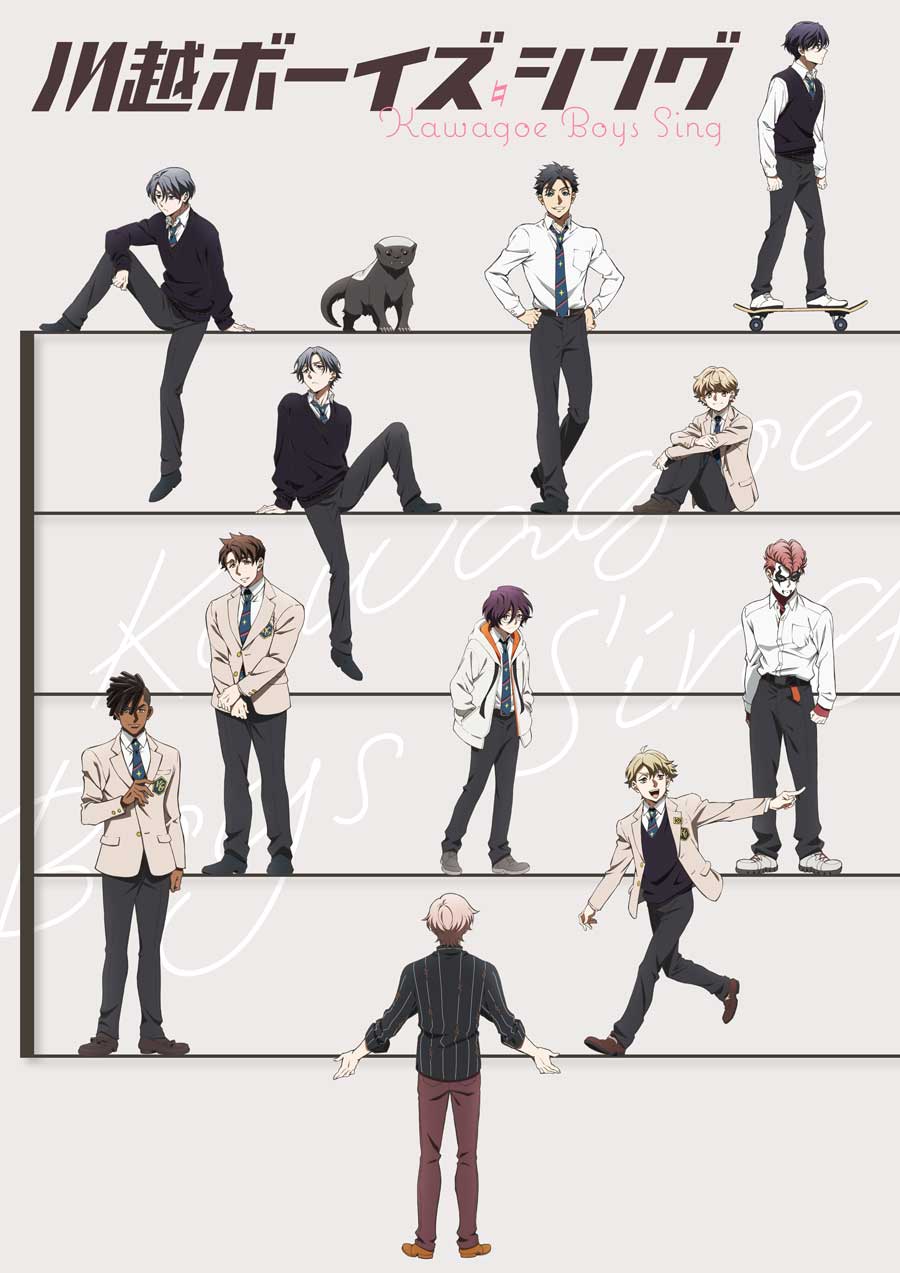 They will be joining the main cast of the series which includes:
Shotaro Uzawa as Tenshi Dei (Danbocchi)
Reo Tsuchida as Hiroshi Yazawa (Ei-chan)
Yuki Ohara as Shuji Shiratori (Tori-chan)
Nakanishi Nanao as Kaito Kobashi (IT)
Makoto Kaneko as Shizuo Barato
Subaru Kimura as Jin Adachi
Yoji Ikuta as Kou Hyuuga
Yukuri Ise as Shin Hyuuga
Shota Hayama as Tomo Hakase (Hakase)
Kazumasa Fukagawa as Curtis Suzuki
Kazuyuki Okitsu as Haruo Hibiki
Jun Matsumoto (To Every You I've Loved Before) is directing the anime with Ebimo (High Card) and Haru Watanabe as the original character creator and character designer. A group called Kawagoe Academy Literature Club is in charge of the series composition while YUKI KANESAKA (Dr. Stone: New World), Shin Rizumu, and Junko Yokayama are in charge of the series's music, and Hiromi Kikuta (Haikyuu!!) is the sound director. The anime revealed first teaser trailer during this year's AnimeJapan.
Kawagoe Boys Sing is an original TV anime animated by evg, with assistance from Telecom Animation Film. It takes place in Kawagoe Academy where two unlikely people meet. On the Kawagoe Boys Sing official website, the story was described as:
A youth-comedy series with soulful choir songs! Tenshi Dei was having a peaceful school life when he suddenly met Haruo Hibiki, a former orchestra conductor. Haruo, who was kicked out of the orchestra, formed an all-boys choir club together with Tenshi and his friends. Their goal: to win the National Boys Choir Competition. While they were fed up with Haruo's personality and antics, they continued to sing together under his guidance and get more absorbed into the choir. Will they win the competition especially when strong rivals appear one after another?!
Source: Kawagoe Boys Sing Official Website, Natalie Comic
© Our Kawagoe Western Confectionary Store