Popular Japanese instant noodle brand Nissin is collaborating with the Cyberpunk: Edgerunners anime series. As part of it, a 30-second commercial parodying the anime's opening was released.
The ad features Cyberpunk: Edgerunners' opening theme song "This Fffire" by Franz Ferdinand and aims to promote the NEGI-SIO noodle lineup. A commemorative visual was also released, depicting Lucy and David Martinez enjoying Cup Noodles. The visual was drawn by animation director Yoshifumo Hagano.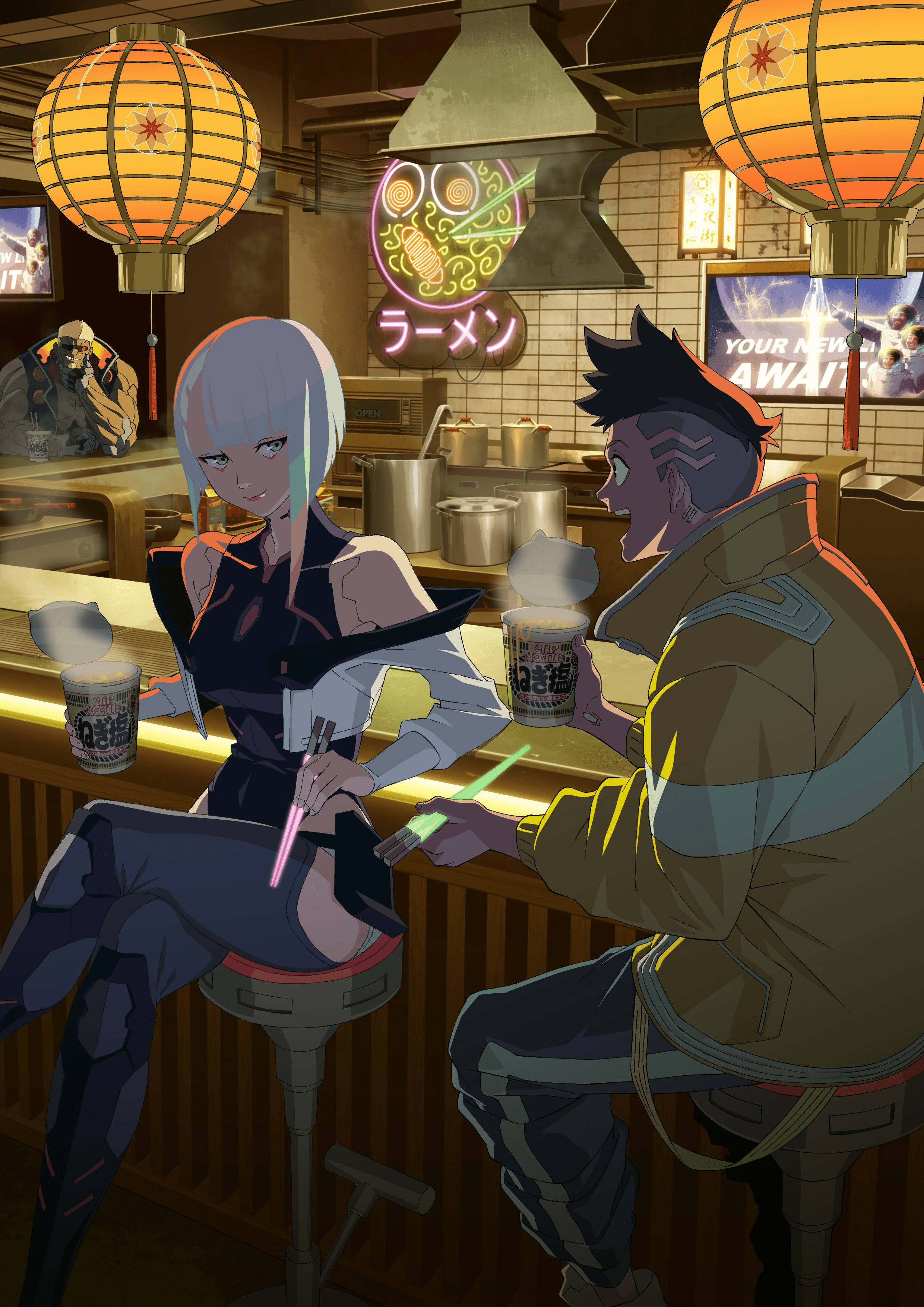 Nissin released a number of anime-themed commercials in the past few months. Most recently, a commercial featuring voice actors Inori Minase and Nobunaga Shimazaki was released to promote its Donbei noodle lineup. Other animated commercials for Nissin Donbei included characters voiced by Kensho Ono and Saori Hayami and Kikunosuke Toya and An Ogawa.
Cyberpunk: Edgerunners original anime was animated by Studio Trigger, and directed by Hiroyuki Imaishi, with Masahiko Otsuka as the assistant director. Yoh Yoshinari and Yuto Kaneko were the character designers, Akira Yamaoka was the music composer, and Masahiko Otsuka and Yoshiki Usa were responsible for the script. CD Projekt Red produced the anime, which was set in the Cyberpunk 2077 universe. The anime was first announced in 2020, with its first trailer announced during Netflix Geeked 2022's event.
The main Japanese cast includes:
Kenn as David Martinez
Aoi Yuuki as Lucy
Michiko Kaiden as Dorio
Kazuhiko Inoue as Faraday
Yurika Hino as Gloria
Takako Honda as Kiwi
Hiroki Touchi as Maine
Wataru Takagi as Pilar
Tomoyo Kurosawa as Rebecca
Kenjiro Tsuda as Ripperdoc
Netflix describes the show as:
In a dystopia riddled with corruption and cybernetic implants, a talented but reckless street kid strives to become a mercenary outlaw — an edgerunner.
Source: Cup Noodles Japan Twitter
©Cyberpunk: Edgerunners © 2022 CD PROJEKT S.A.