TV anime Nights with a Cat revealed the cast members and the theme song performer on May 25. The anime will begin to broadcast on August 3 in Japan.
Ayahi Takagaki (Kuro in the Blue Exorcist series) will play the cat called Kyuryuga. A requirement in the audition was to play a real cat's cry, which motivated her highly, and she took the audition with spirit.
Satoshi Hino (Ainz Ooal Gown/Momon in the Overlord series) will voice Futa-kun who ends up living with Kyuryuga. He says he doesn't know a lot about cats like Futa-kun, so he will play him in the anime while enjoying everyday life with the cat.
Atsumi Tanezaki (Anya Forger in the Spy x Family series) will act as Futa-kun's sister, Pi-chan who brought the animal to his room. The voice actress also has a cat called Celeb, and says cats are so cute and the existence heals her every day.
Kashitaro Ito, the opening song singer for Trapped In A Dating Sim: The World of Otome Games is Tough for Mobs this season, will perform the theme song for Nights with a Cat. His experience as a cat owner lets him enjoy the manga with similarities and differences the cat Kyuryuga has with his cats, which makes him find cats adorable that they have their own personal trait.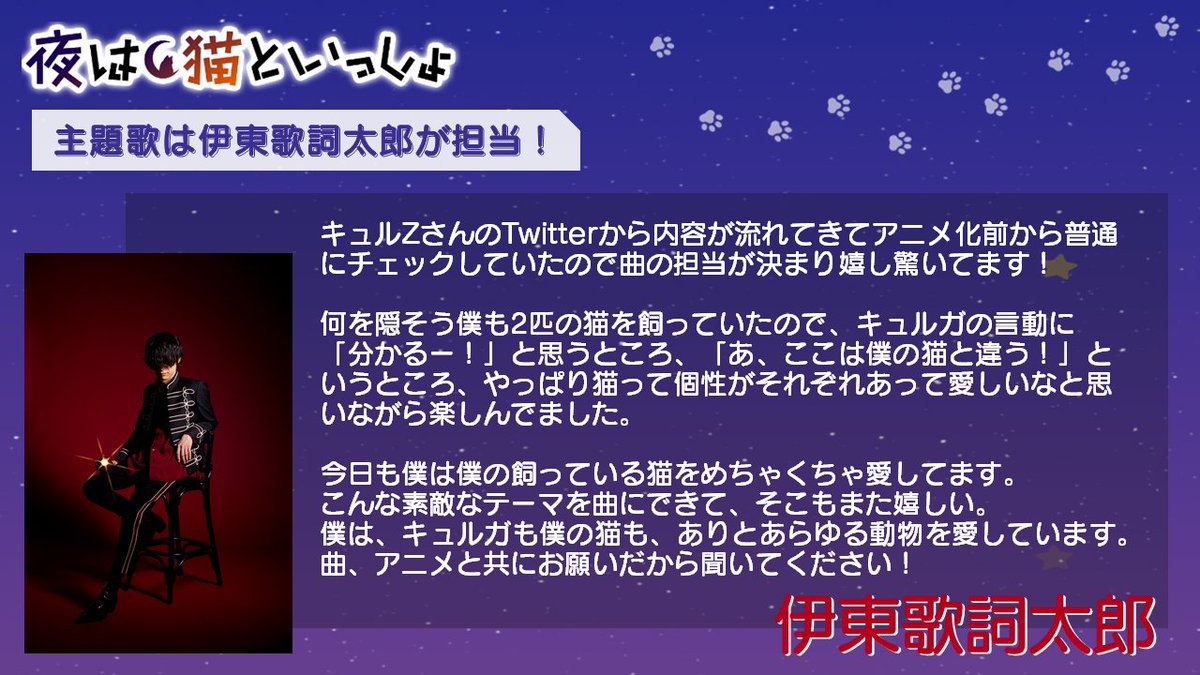 Studio Puyukai (Isekai Quartet series) is producing the anime with Minoru Ashina's direction and scripts. He is a veterinarian and impressed by the manga, describes it as a work that packs all the traits of cats. The main staff members are listed as below:
Director/Script: Minoru Ashina
Character Design/Animation Director: Minoru Takehara
Music: Kana Utatane
Sound Director: Fumiyuki Go
Production: KADOKAWA
Nights with a Cat is a manga essay written and illustrated by Kyuryu Z, and published by Kadokawa. The series has 3 compiled volumes as of April 28, 2022. Yen Press, the official English publisher for the English edition, describes the plot of Volume 1 as:
When Fuuta comes home tired at night, all he wants to do is spend time with his new cat. All the mysterious habits and mannerisms of house cats are carefully reproduced in this relaxed and cute comedy about living with an adorable furball!
Source: Official Website,
© Kyuryu Z ・KADOKAWA/Nights With A Cat