Nobunaga Shimazaki and Mariya Ise are joining the cast of The Vampire Dies in No Time Season 2. The two will voice Kahanshin Tomei and Sanzu, respectively. Character designs have been revealed: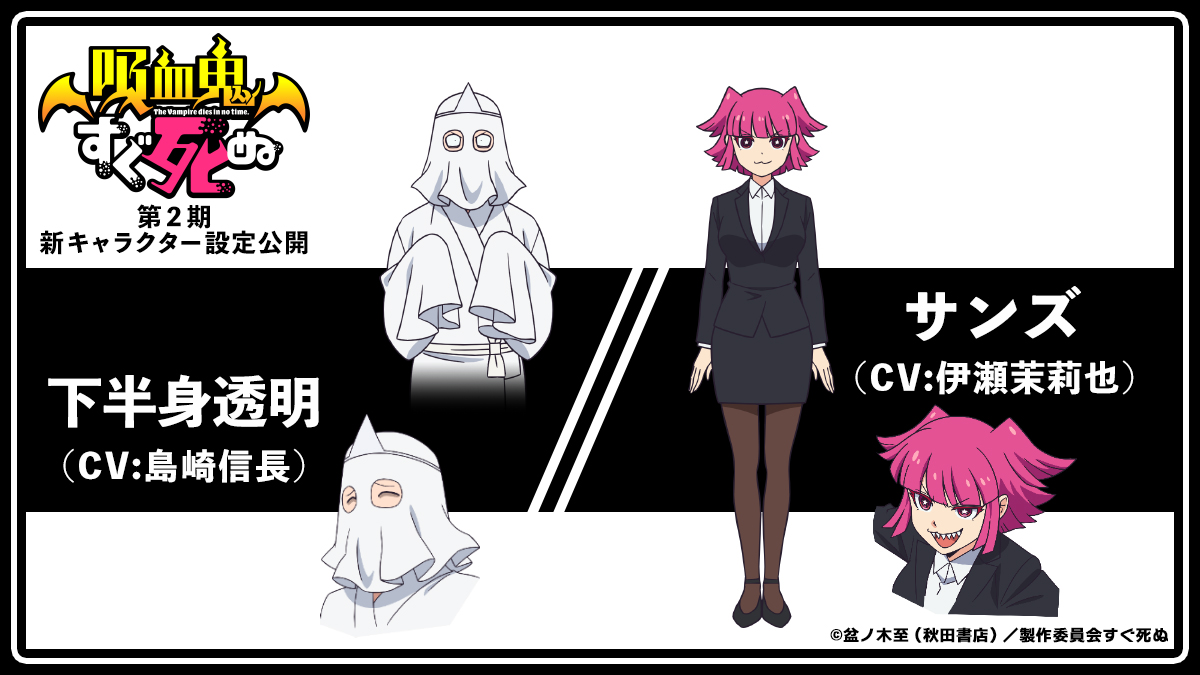 Studio MADHOUSE is animating The Vampire Dies in no Time sequel, with the staff from the first season returning. The staff includes:
Director: Hiroshi Koujina
Character designer: Mayuko Nakano
Chief animation director: Mayuko Nakano
Series composition: Yukie Sugiwara
Screenplay: Yukie Sugiwara
The main cast of The Vampire Dies in No Time, Jun Fukuyama and Makoto Furukawa are reprising their roles as Draluc and Ronald.  Natsumi Hioka, Mutsumi Tamura and Yoshitsugu Matsuoka also voiced characters in the first season of the anime.
The story is based on a manga by Itaru Bonnoki, serialized in Akita Shoten's Weekly Shonen Champion magazine. The plot follows a vampire hunter Ronaldo, who meets an unlikely friend. The friend, Draluc, is a vampire and the two make for a weird combination. But, Draluc is actually quite weak, and even the weakest attack turns him into dust. The two of them adventure together while encountering a number of ridiculous situations.
The first season aired in the Fall 2021 anime season – from October 4 to December 20. Season 2 was hinted at on an Amazon listing for the 19th volume of the manga, which stated that the "2nd season of the anime would be produced" in November of 2012. This information was confirmed after the first season's finale, on December 20 when an announcement teaser was also posted:
Funimation streamed the first season of the anime and describes the plot as:
Legendary vampire hunter Ronaldo finds an unlikely (and unwilling) ally in Draluc, the world's weakest vampire who turns to dust at the slightest attack. Together they're in for more hilarious misadventures than you can shake a stake at, including enemy vampires, axe-wielding editors, and other pains in the neck.
Source: AnimeJapan 2022, Official Twitter
©Itaru Bonnoki (Akita Shoten)/ Vampire Dies in No Time Production Committee