ONE PIECE released episode 1033 this Sunday, and it was yet another big moment that received an incredible adaptation from Toei! The episode began with Sanji carrying Zoro, much to his annoyance. We saw how Law accidentally came across him after using his Shambles, and then left without explaining much besides how many of Zoro's bones were broken. The bickering between Luffy's 'two wings' is always fun to watch, and it felt especially natural here as Sanji complained about having to carry the man with a smaller bounty than his. Zoro's comments while sleep-talking were of no help.
Episode 1033 had Ryosuke Tanaka as the episode director, as well as some amazing animators. It also saw Tu Yong-Ce promoted to the series' Chief Animation Director. Akihiro Ota delivered two great scenes in his beautiful loose style. The first one was not really an important scene, but it certainly looked incredible. It was when Sanji saw Kid facing some random bandits who didn't want to let him pass. The captain of the Kid Pirates made quick work of them to go after Big Mom, and he did it in a flashy way.
The 2nd sequence from Akihiro Ota was when Luffy blew up his fist and threw Red Roc at Kaido. The Yonko was talking about how bored he got when he became the strongest, saying he understands how fun it was to hit someone stronger. Still, he ends up having more fun clashing with Luffy, another user of Conqueror's Haki.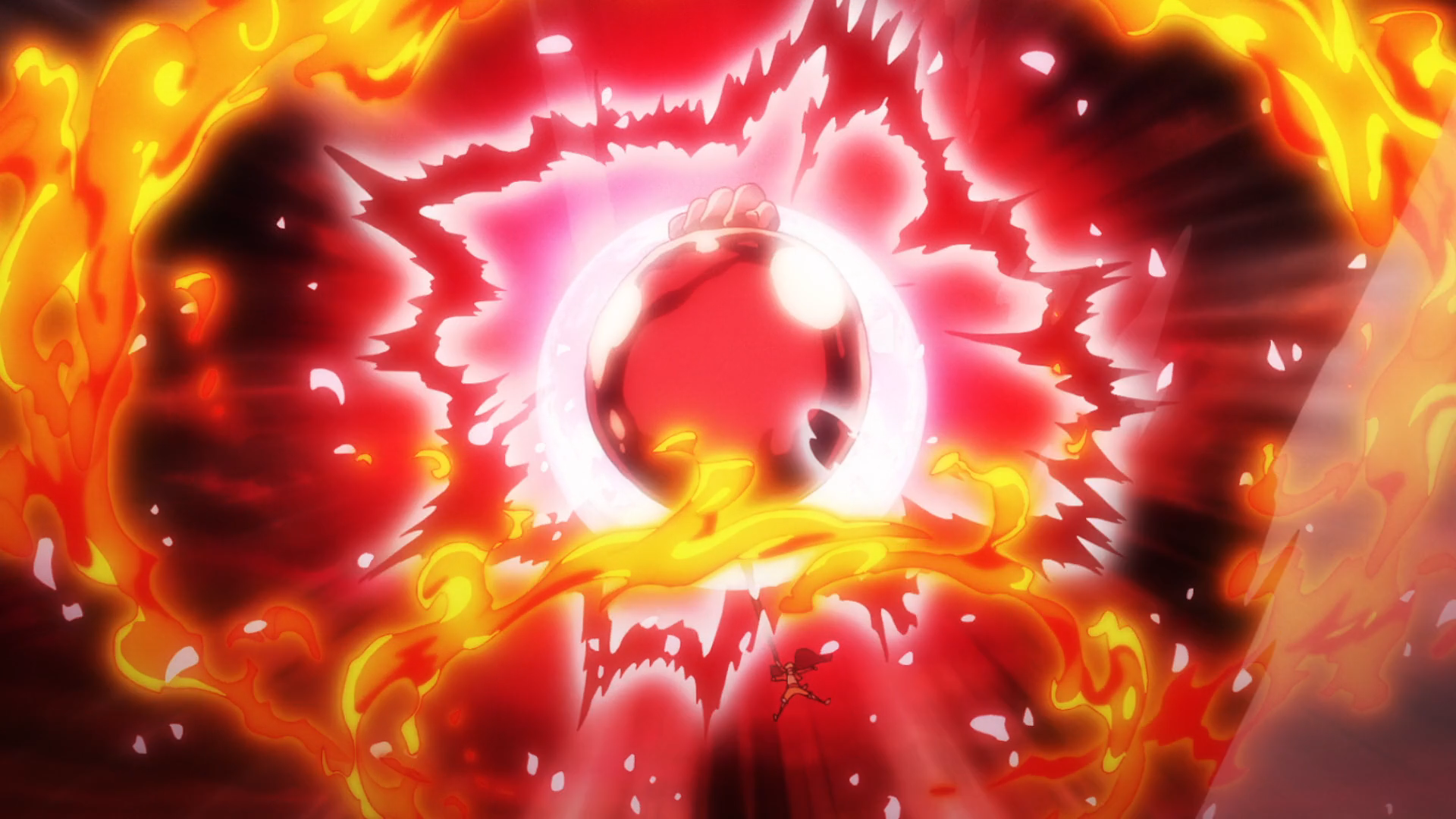 In another battlefield, we saw Nami wanting to get back at Ulti for what she did to Tama. Unfortunately, she gets caught and almost knocked out. Then Big Mom comes in, utilizing her new thunder cloud Hera. In a combination with Prometheus and Napoleon, she launched a huge attack which completely immobilized Ulti. Henry Thurlow handled that sequence of the animation, and you can check it out on his Twitter account:
After a sad moment for Zeus, who seems like he's about to be destroyed by Big Mom, we got back to Luffy vs Kaido on the roof. After several exchanges with the Yonko, he seems to end up unable to coat himself in Conqueror's Haki and gets knocked down of Onigashima. Kaido notes that he made a mistake by not cutting his head off and declaring victory since everyone will cling on to the hope that Luffy will win this way. However, we know Luffy's not done yet, and we'll see how he'll get back into the fight next time!
The title of episode 1034 is "Luffy, Defeated! The Straw Hats in Jeopardy?!" and it will premiere next Sunday on September 25. The ONE PIECE manga will release chapter 1060 today. You can watch episode 1028 of ONE PIECE on Crunchyroll, and you can catch up to the latest manga chapter for free on either VIZ website or MANGA Plus.
Images via Crunchyroll
© Eiichiro Oda / Shueisha / Toei Animation