On March 3, 2021, Takara Tomy announced that it will be producing a new original TV anime series titled Mazica Party.
OLM Studio will produce the series under the direction of Shinji Ushiro. The series is slated to premiere on April 4, 2021.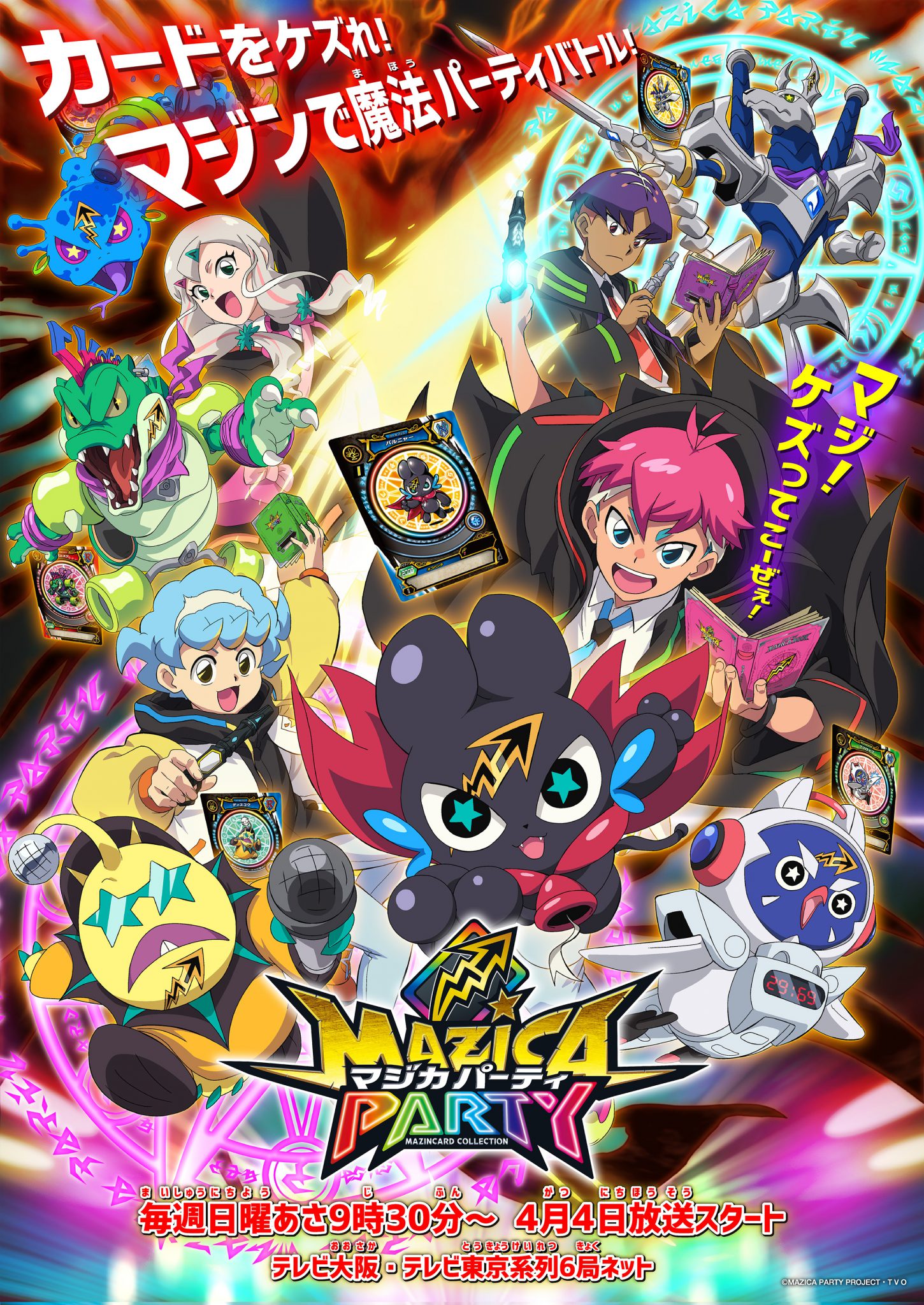 Cast & Production
Cast
Mikako Komatsu as Kezuru
Reina Kondo as Anya do Glengard XII
Junko Takeuchi as Barunya
Ryosuke Higa as Fukurokku
Yurie Funato as Kuracchi
Staff
Original Concept: Takara Tomy & Dentsu
Director: Shinji Ushiro
Scriptwriter: Yoichi Kato
Editor: Yoshiki Ushiroda
Character Design: Yūsuke Ōmura
Character Animation: Yoshihiro Nagamori
Art Director: Scott MacDonald
Color Designer: Naoto Kondō
Cinematographer: Tatsumi Yukiwaki
Composer: Noriyuki Asakura
Sound Director: Yasunori Ebina
Music Production: Music Plat
Synopsis
The story follows a junior high school student named Kezuru, who wakes up from a mysterious dream.
In his dream, he saw himself dressed as a wizard along with a creature called "mazin" and a mysterious girl.
The following day, Kezuru's friend, Kuracchi, proudly tells him a new card game titled 'Mazica Party'. Surprisingly, the characters in the card was exactly what Kezuru had dreamt of.
Meanwhile, Kezuru receives an event notification from the world's largest company, Magicka.
Kezuru was interested and followed the guide to the Mazica Store, where he meets the CEO, Jeff Johns! Johns gave Kezuru a Mazica Gear while saying, "I have great expectations for you."
On his way back, Kezuru was attacked by a balloon-like creature. And at the moment when he tells 'this is it!' to himself, his Mazica Gear glowed violently and a magic book appeared.
Furthermore, he scratches a card and seals a contract with the creature named Barunya. Barunya is a "mazin" creature that is a fusion of a balloon-like creature and a cat.
The story between Kezuru who became a wizard, and his mazin partner Barunya, is about to begin!
In summary, Takara Tomy announced that it will be producing a new original TV anime series titles "Mazica Party."
Of course, you can access all of our stories here!
Source: Mazica Party Official Website and Official Twitter
©MAZICA PARTY PROJECT・TVO