The cast of Spy x Family drew special illustrations about the events of episode 16, right after the official episode visual was revealed. The Spy x Family main cast includes Takuya Eguchi, Atsumi Tanezaki, Saori Hayami, Kenichiro Matsuda, and Yuko Kaida. During the special program before the episode premiere, the cast members each made their own hand-drawn sketches for episode 16. It was later posted with colors on Twitter across the week. These are the first special illustrations of Spy x Family Part 2, with the last from episode 12 and episode 4.
Spy x Family episode 16 was titled, "Yor's Kitchen/The Informant's Great Romance Plan," and it revealed Yor's unusual cooking skills and Franky's struggle with dating. The first Spy x Family episode 16 cast illustration that was revealed is by Yuko Kaida (Handler Sylvia Sherwood), with a frustrated Camila and Yor holding a sharp kitchen knife.
The second illustration that was posted is by Kenichiro Matsuda (Narrator/Bond). His illustration particularly depicts a heartbroken Franky and Yor's strong dedication to learning to cook.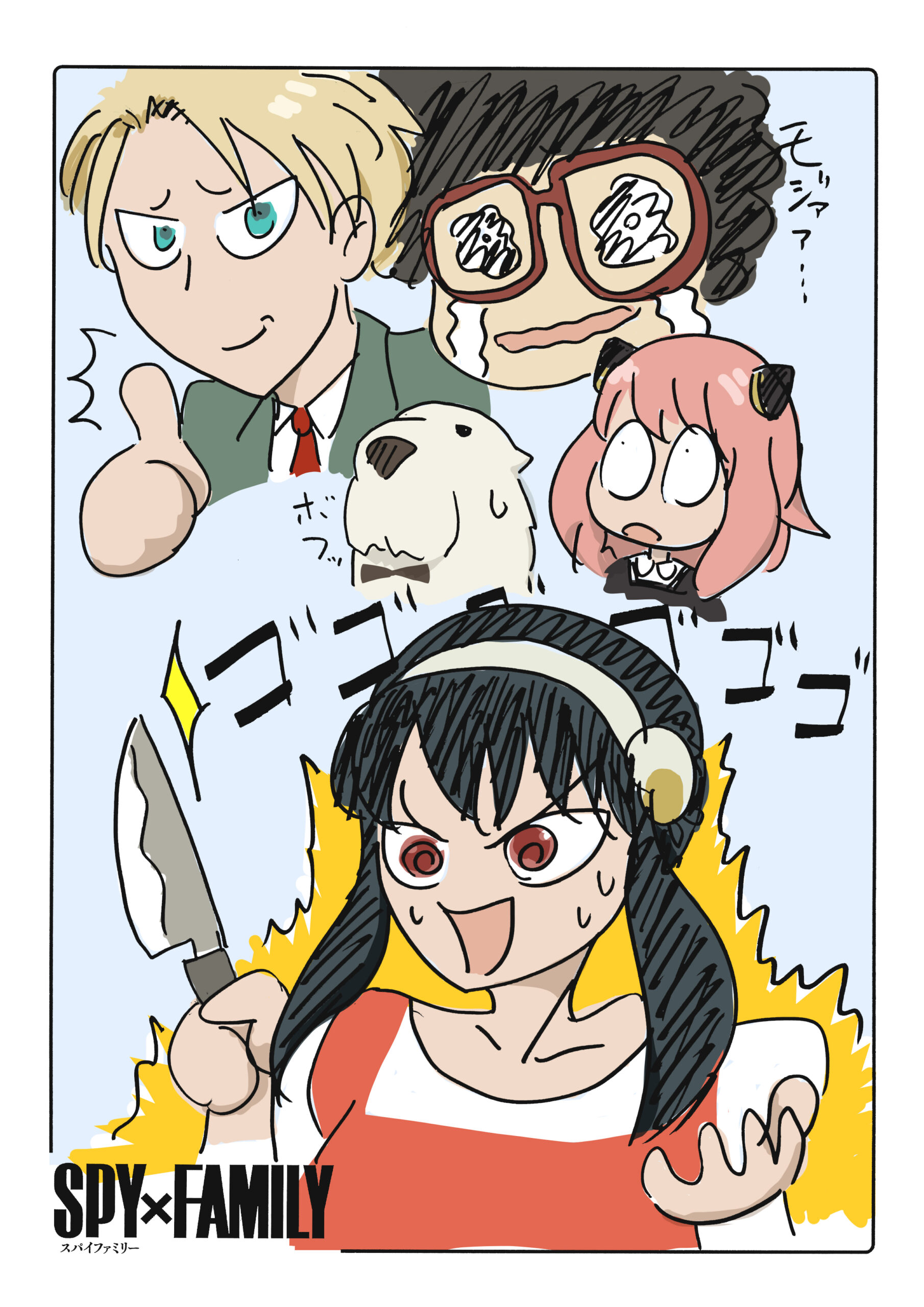 The creativity continues on to the third illustration by Saori Hayami (Yor Forger) which shows Yuri Briar happily taste-testing while throwing up his sister's destructive cooking. It also featured Twilight/Loid and Anya when they were knocked out by her original dish. In case you missed it, Saori Hayami also shared her favorite scene from Spy x Family episode 16.
The fourth illustration posted is by Atsumi Tanezaki (Anya). It shows Yor's intense chopping abilities and Franky with a bouquet of flowers.
The fifth and last illustration revealed on Twitter is by Takuya Eguchi (Twilight/Loid), who drew an imaginative version of Yor and Yuri Briar in episode 16.
Together with a big and fluffy Bond plush, the cast took a photo after the special program:
Also Read:
Spy x Family Episode 17 Preview Images Released
Spy x Family and Burger King Team Up for Peanut Butter Royale
Uniqlo and Spy x Family Unveil Second Clothing Collab
Spy x Family is a manga by Tatsuya Endo. It follows the story of a spy named Twilight on a secret mission to procure a family and infiltrate an elite private school. Unbeknownst to him, the wife he's chosen is actually an assassin while the child he's adopted is a telepath. WIT Studio and CloverWorks are handling the animation of the series. It is set to have a total of 25 episodes.
Source: Official Twitter
© Tatsuya Endo, Shueisha / Spy x Family Project