Spy x Family part two opens with the Forger family on a critical mission — getting a dog. The opening story arc with episodes 13,14, and 15 is a back-to-back joy ride of action and comedy that is absolutely worth the three-month wait. You see, what started out as a family outing (or ooting, for nostalgia's sake) has become a crucial situation threatening the peace between Westalis and Ostania. The funny part is that, again, Anya knows what's happening via her telepathic abilities and we see her attempt to help. She's witty in her own heroic ways but she's also… well, adorably terrible at it. This time, however, she's not alone — she has a big fluffy white doggo with precognition as her newest partner in crime! This dynamic duo makes the narrative sillier than ever and I'm all for seeing Starlight Anya in cutesy action. I truly believe that the highlight of this arc (and the most emotional part) is how the Forgers welcome their newest family member, their fluffy dog, Bond.
It's very heartwarming and I have a lot of feels for this arc. Before anything else though, I also want to say how beautiful the opening and closing themes are! The music, animation, shots, colors –  just, wow. I doubt that I'll ever be able to skip it! Souvenirs expressed the warmth and belongingness that Anya feels about her family, while Shikisai had family shots that rotate around their "home."
Spy x Family episode 13, titled "Project Apple," started out with the Forger family on the way to the pet shop. As always, Twilight says it's for Operation Strix because the happier Anya is, the more motivated she'll be to study, and long story short – world peace. The plan goes south though when the pups flex and act like thugs from the glass window. Anya makes the most disgusted face ever and I honestly couldn't help but laugh over this whole scene. When Twilight gets summoned for an emergency mission, Anya flawlessly executes an excellent assist for her father to go to the toilet. Anya strikes again with her language and even Yor gets flustered. It's easily a comforting reminder of how much I enjoyed the first part and now, I'm feeling waves of nostalgia for witnessing Anya's cuteness all over again!
I think I speak for everyone that when the fluffy white dog first appeared on screen, it was love at first sight. (His borf bark is too precious.) I was so excited for Anya and the dog to meet since they both have unique abilities, but the episode develops into a mess involving the bad guys, bombs, and an assassination attempt. While Twilight is busy chasing clues (and not at all at the toilet), Yor's imagination and worry also go on so many levels before she serves her killer Captain Levi-like entrance, saving Anya from the bad guy, Keith.
While Yor's relationship with Loid is only pretend, Yor's commitment as Anya's mother is solid. Her scary face is truly something to remember. She may be a cold-blooded assassin or clueless at times, but her heart is kind. It's what makes her character very loveable! Meanwhile, we also have the Handler Slyvia Sherwood serving her best and most badass moments. Spy x Family episode 14 titled, "Disarm the Time Bomb" hits hard. It lets us in on the darker side of the story as naive teenagers attempt to cause a casualty that would have no winners – just losses for both Westalis and Ostania.
Slyvia gives a horrifying illustration of the gravity of their actions and the reality of war. Later, Anya also sees a vision through the dog that Twilight gets crushed under a building– something a child should not have to see. It's a subtle reminder of the anime's time and setting, and you just gotta give credit to how much these adults (including Yuri) are tirelessly working towards a better, more peaceful world.
Personally, my favorite part of Spy x Family episode 14 is Anya and the dog's solo mission. It was suspenseful, cute, and funny! It's always nice to see her six-year-old (or was it five?) mind at work. Like I said above, she could be a genius psychic but is also sometimes just a normal kid trying to solve problems the best that she can. For example, her struggle to read clocks was hilariously relatable to me! (I myself had trouble with it as a kid. Very stressful memories.)
In the end, the eggplant sign worked and Anya saved her father's life. Right after, we get to see agent Twilight in action and it is super cool. The "Minister" parkours around and when Keith realizes his plan is failing, he descends into a panic that is very, very satisfying to watch. Yor's kick at the end was the cherry on top. Damn, what a family!
Saving the world was not on Anya's to-do list today, and the same goes with Yor … the uh, ordinary housewife. In Spy x Family episode 15 titled "A New Family Member" when everyone gets back together, it's an amusing sight to see how Anya convinces the adults to let her keep her new fluffy friend. She's learned by now that she can get what she wants if she aligns it with the mission, and surprisingly, Slyvia has a soft spot for her. It seems to stir up some memories of her own daughter and considering her recent speech, it makes me wonder what her backstory is.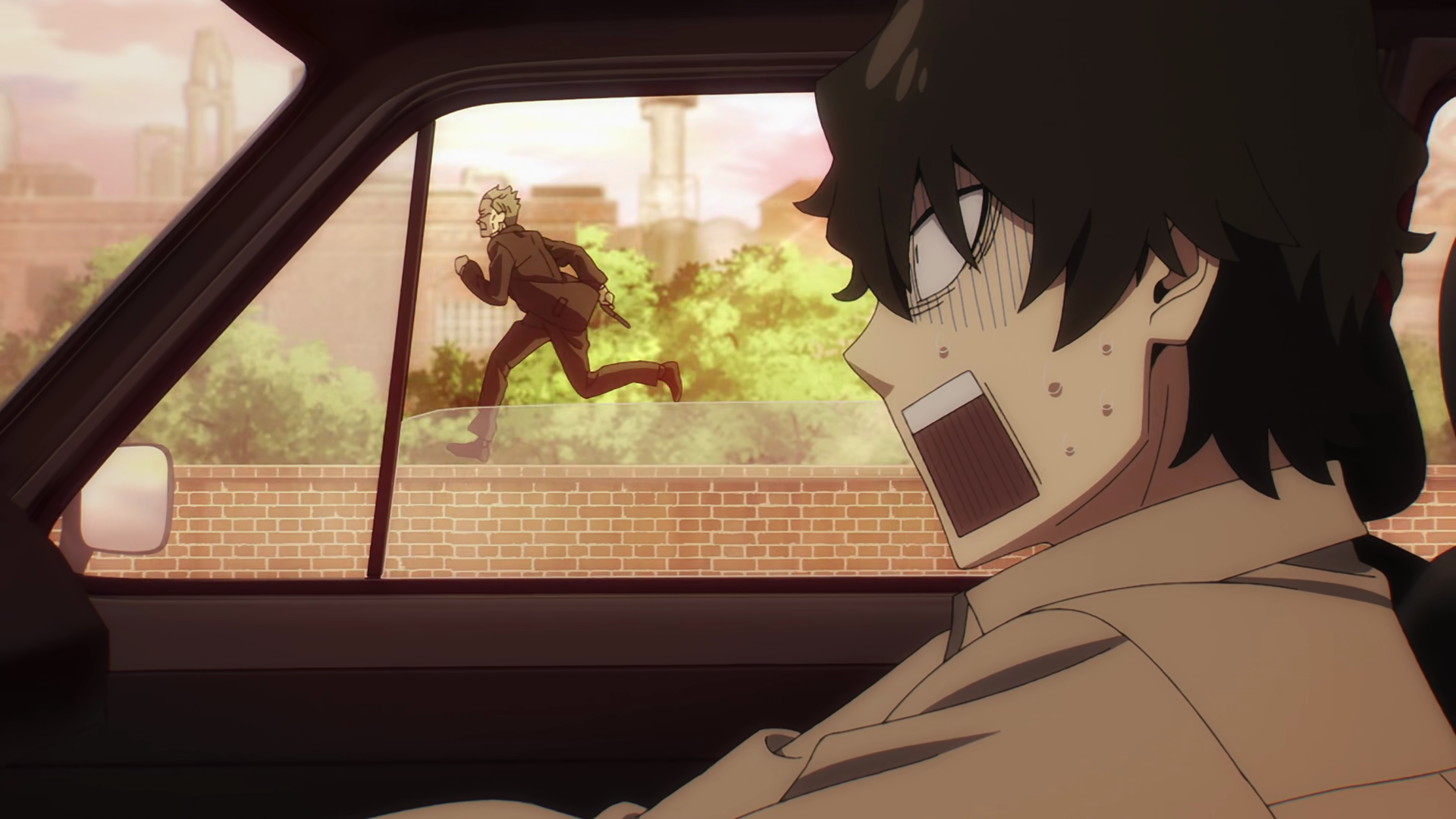 At the end of the day, Anya and Yor are happy that they got to save the world while Twilight is yet again, tired and stressed from a day's work. In Spy x Family episode 15, I was emotional to see the fluffy dog come home to see his vision come true, especially after those experiment flashbacks. Another highlight in the episode that I also loved was when Anya messed up both her attempt and Damian's attempt to interact! The whole scene is just another one to put on her list of memeable faces.
All in all, Spy x Family episodes 13,14, and 15 are strong and well-balanced episodes with everyone getting to show off their special skills. The three of them –now four– all make for an awesome team together. It also reminds me of the last episode wherein Anya was also her dad's secret support agent and Yor kicked the life out of an alleged kidnapper. I'll never forget the "Wow."
Spy x Family never ceases to amaze me. I fall more and more in love with every new episode. The show's ability to shift between its genres (including the weird volleyball episode) has always been very elegant in its writing. Part two really had an enjoyable premiere and it made the entire cour really exciting. I look forward to the family's new dynamic at home, not to mention Operation Strix and the Friendship Scheme. In addition, it seems that the next episode will be about Yor. And even though Twilight/Loid thought about how he would tie loose ends with the family after completing his mission, I have a strong feeling that it might not be the case. I don't know how it'll be but I'm excited to find out!
In case you didn't know, Tatsuya Endo also shared in the manga that he was supposedly going to name the dog "Peanuts!" It is fitting because it's Anya's favorite food, but it's also the name of another white dog so they changed it. (Volume 4, Bonus Pages.) To be honest, I thought Lucky Vanilla Princess The Third was already a good one, but Bond? It's perfect.
The next episode will air on Saturday, October 22, at 23:00 JST. You can watch it on Crunchyroll, Netflix, Muse Asia, and Bilibili. Lastly, don't forget to vote in our weekly polls!
Images via Crunchyroll
© Tatsuya Endo, Shueisha / Spy x Family Project