Aniplex Online Fest 2021 was streamed last weekend! There are various anime stages in the event such as 86-Eighty Six-, Demon Slayer, Fate/ Grand Order, and many more. Likewise, the last anime in the lineup is titled "Sword Art Online -Progressive- Aria of a Starless Night <Past and Future>."
Here, they showed us an interview with different staff/cast of the show, as well as Reki Kawahara (author of the series). There are two topics in this interview: one of them is "Going Back to Our Roots." The other one is "Asuna," who is the main heroine of the 'Sword Art Online' series.
Warning: To those who are not yet watching seasons 1 and 2 of the SAO series, please take note that this section contains spoilers.
Here, we will tackle the thoughts of the Sword Art Online's staffs on Asuna
The guests for the 'Sword Art Online' stage in Aniplex were Yoshitsugu Matsuoka (Kirito) and Haruka Tomatsu (Asuna). Together with the stream viewers, they are also watching the interviews of the different casts and staff. After watching each video, they also give comments on what they just heard from the interview.
Personally, I think this is a touching part for the two of them, since they are voicing the protagonists of the series. Most importantly, for Haruka Tomatsu, since she is the voice of Asuna. Likewise, her acting is important for the people's impression of Asuna.
Masami Niwa
The first person they interviewed was Masami Niwa. He works for Aniplex, and at the same time, he is the producer of the 'Sword Art Online' series.
Now let's go to the interview. The first Asuna-related thing he talked about was the SAO Progressive movie's original character, Mito. According to him, Mito didn't appear in the Progressive novels, but she's an important character for the film. Since the movie was from Asuna's point of view, they need to show some of her relationships to other people in Aincrad's early days, and one of them is Mito.
Producer Niwa also said that the one big key to the movie's story will be the feelings she harbors. Does Asuna's past with Mito have something to do with her growth, which made the Asuna we know today? Watching the movie is the only answer, and it's up to you how are you going to interpret Mito's influence on Asuna.
Meaning of Asuna for Masami Niwa
Now, the next question to Mr. Niwa is his thoughts on Asuna, and what does she mean to him. According to him, Asuna is a flower, which I also agree with. He also elaborated that Asuna is an important flower of the story since she is an indispensable part of the 'SAO' series. Most importantly, Mr. Niwa also added that among all flowers of the series, Asuna is the one who emanates the strongest light.
I like how straightforward he is when he said it. Of course, Haruka Tomatsu can't also contain her cool when she heard it, and it seems that she is very happy with what Mr. Niwa said. In fact, she laughed and it looks like she is touched on Mr. Niwa's answer.
Fun fact #1: In this part of the Aniplex live stream, Haruka Tomatsu revealed that Yoshitsugu Matsuoka asked her what kind of proposal would make her happy. In fact, to Ms. Tomatsu, it seems that he gathered all of his strength in asking since he has a very serious look on his face. Well, Mr. Matsuoka also revealed that Ms. Tomatsu only laughed at what he said, then asked him "Where did that come from?"
It happened during the recording of the scene where Kirito proposes to Asuna.
Yōsuke Futami
The next person to interview was Yōsuke Futami, who works for Bandai Namco Entertainment (Super Smash Bros., PAC-MAN series). Also, Mr. Futami is the executive producer of some of the 'Sword Art Online' games. His first work for the series was Sword Art Online: Infinity Moment.
To start off, the first Asuna-related question for Mr. Futami was about his impression of Asuna and Haruka Tomatsu from the game's perspective. For him, he feels very bad for Asuna in the game version, and its sole reason is that she is always angry. Well, we can't really blame her for being angry when Kirito always ends up meeting another heroine.
Then, Mr. Futami also mentioned a memorable scene of Asuna in the anime series. He revealed that it's the part when Heathcliff killed Asuna, and before disappearing, she said "I'm sorry and Goodbye."
His interpretation of the scene is that Asuna is filled with frustration and regrets at that time. She promised to protect Kirito to the end, as well as hoped that Kirito can do the same. Of course, she will feel frustrated with the fact that she was not able to protect him until the end because of her death.
Mr. Futani also added that because of this scene, he concluded that Asuna is Sachi's counterpart. I will not elaborate here why, but if you want to know, you can re-watch the first season of the series, and it's up to you to interpret their own personalities.
Meaning of Asuna for Yōsuke Futami
Another question for Mr. Futami is the same as Mr. Niwa's, and that is about his thoughts on Asuna. The first thing he said is that Asuna is an indispensable piece for the SAO series. Based on his opinion, we can't see what makes Kirito so great if it wasn't for Asuna.
Moreover, Mr. Niwa also thinks that it is thanks to those two why the SAO narrative can unfold. Well, it's true that Asuna is the biggest factor why we have the Kirito we know today. Not only that, in my opinion, one of the reasons why SAO made it this far is because of Asuna.
After the interview, Haruka Tomatsu shares that she is feeling happy because of what Mr. Futami said. According to her, it feels like he is also talking about herself since she is the seiyuu of Asuna.
After hearing Ms. Tomatsu, Mr. Matsuoka also said that in his opinion, Asuna is able to grow as a character because of the quality of her voice. For him, whether the scene is scolding Kirito or comforting him, when you hear Asuna's voice, you will realize that she is the only one for Kirito. It also shows how perfect their relationship is.
Well, in my opinion, I can't imagine hearing Asuna with a different voice other than the one we know. For me, her voice is really perfect.
Hisanori Yoshida
The next person we have here is the Nippon Broadcasting announcer Hisanori Yoshida. He worked on some SAO events overseas, as well as an emcee to some SAO events in Japan. According to Mr. Matsuoka and Ms. Tomatsu, it's refreshing to see Mr. Yoshida being the one interviewed, because normally, he is always the interviewer.
Asuna to Hisanori Yoshida
Just like Mr. Niwa and Mr. Futani, Mr. Yoshida also needs to tell what does Asuna means to him. Well, he went straight and said that if you happen to meet a girl like Asuna, you must do all you can to marry her. According to him, you will never find another wife as decent as dependable to her.
This is only my opinion, but I agree, if I happen to find a girl like Asuna, I would like to marry her. For me, a girl like her would be ideal in terms of having someone by your side.
Rina Hidaka
The fourth one they interviewed was Rina Hidaka (Ophelia, Filo, Belial), who voiced Silica in the SAO series. As we all know, Silica is part of the show since its first season. Thus, Rina Hidaka, being her voice actress, is one of the people who know the series very well.
One of the questions to her is about the similarities between Haruka Tomatsu and Asuna. Then, she said that in terms of beauty and appearance, they're very similar. Not only that, but she also said that both of them got a great figure and both pretty in that way.
Furthermore, Ms. Hidaka also elaborated on how hardworking Ms. Tomatsu is. She also described that Asuna is extremely stoic and can keep working hard for her friends' sake and for her own. To Ms. Hidaka, Asuna and Ms. Tomatsu are similar in that sense.
This time, for every compliment coming out of Ms. Hidaka's mouth, Ms. Tomatsu is saying "Thank You". Of course, she will feel happy after hearing those words. The next thing Ms. Hidaka talked about is a memorable scene of Silica and Asuna.
For Ms. Hidaka, the most memorable are the scenes Silica and Asuna shared in the movie 'Sword Art Online Ordinal Scale'. According to her, you can see that Asuna is the main character and Silica is the heroine of the film. Their roles are really highlighted, and there is so much care to the depiction of their personalities.
Rina Hidaka on Asuna
Of course, Ms. Hidaka faced the question about the meaning of Asuna to her. She said that Asuna is an absolute heroine and entity in general. For Ms. Hidaka, she's no match to Asuna.
She also added that if she's against her, then there's nothing she can do to win. She will just let Asuna have her way. For me, this interview shows how much adoration Asuna's personality has,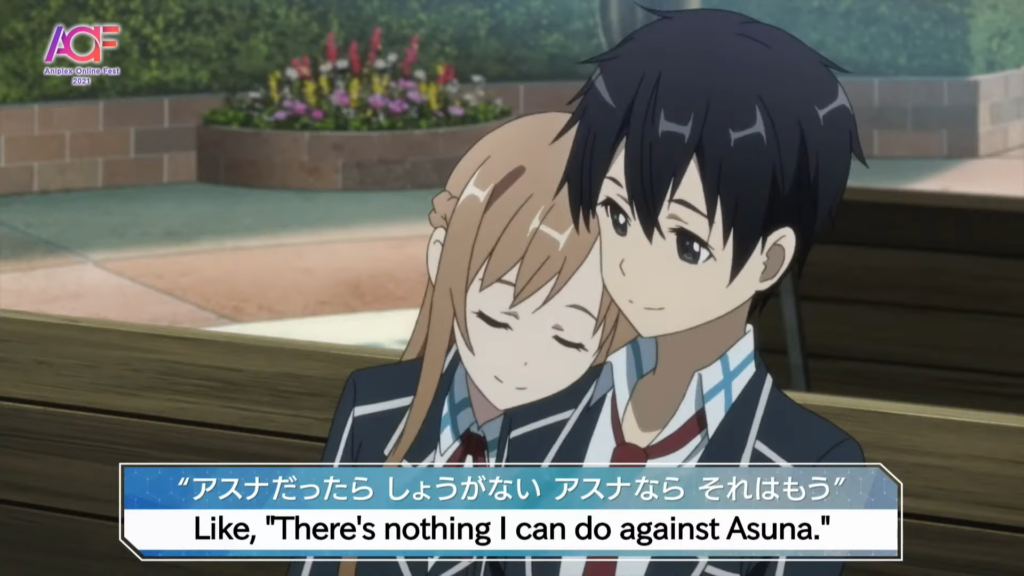 After watching the interview, Ms. Tomatsu revealed that Asuna and Silica's scene in the movie is also one of her favorites. Likewise, Mr. Matsuoka said that you can really see the connection between Silica and Asuna in the film. Also, Silica's facial expressions there really show much she cares for Asuna.
Ayahi Takagaki
For the next person, we have Ayahi Takagaki (Itori, Chris Yukine, Mikako Satsukitane). Ms. Takagaki is Ms. Tomatsu's colleague in the seiyuu unit Sphere. She is the one who voiced Lisbeth in the SAO series. Being one of the characters since the first season of the anime, she also holds many memories of it.
Just like Ms. Hidaka, Ms. Takagaki also faced a question about the similarities between Haruka Tomatsu and Asuna. For her, Both Ms. Tomatsu and Asuna can be referred to as "The one and only." She also specified that Asuna's charisma is what makes her "The only one."
In addition, she said that Asuna and Ms. Tomatsu are similar in a way that it's impossible to hate them. I think that Haruka Tomatsu is the real-life version of Asuna and they're really synced to each other.
Asuna to Ayahi Takagaki
Now it's time for Ms. Takagaki to answer the question about her thoughts of Asuna. According to her, Asuna is the one she looks up to. Similar to what Rina Hidaka said, she is also a character that Ms. Takagaki can never hope to match.
Then, she also added that Asuna is someone that she wants to protect. Personally, after hearing Ms. Takagaki's answer, I think Asuna can be a role model for every person out there.
Fun Fact #2: After watching the interview, Ms. Tomatsu revealed that Lisbeth is the favorite character of Mr. Matsuoka in the SAO series.
Reki Kawahara
The last person to interview was Reki Kawahara (Accel World). He is the author of the original Sword Art Online novel. He started writing it in the year 2001, which makes the series 20 years old as of now.
His first talk about Asuna in the interview was about her voice in the first episode. Mr. Kawahara said that you can really feel Asuna's despair when she started talking. Because of that, he really loves Ms. Tomatsu's acting.
Mr. Kawahara also added that he could sense Asuna's resolve when she is talking, especially when Asuna said "I just don't want to lose". Well, for me, the impressions of the characters on their episode debut are very important, since it's also one of the factors on whether the viewers will watch the show or not.
Influence of Asuna to Reki Kawahara
According to Mr. Kawahara, Haruka Tomatsu's greatest gift for Asuna in the 'Sword Art Online' series was the sound of her laugh. He said that it made him want to see Asuna laughing more. Furthermore, he also stated that it's because of Ms. Tomatsu that they got more scenes of Asuna laughing.
What's more, Mr. Kawahara added that Asuna is the one who always encourages Kirito or other people. He thinks that Ms. Tomatsu shares that trait with Asuna while being her seiyuu. It makes Asuna being the one who energizes others.
Asuna to Reki Kawahara
At last, Reki Kawahara will now tell what does Asuna means to him. For him, Asuna is the main heroine of the 'Sword Art Online' series. Likewise, she is also one of the hardest characters to write.
He also thinks that Asuna is too perfect to the point that she rarely bares her soul even to him, the author. Then, Mr. Kawahara also added that in the novels, Asuna is now in October of her third year of high school. Thus, college entrance exams are near. It will make Asuna thinks more of her future in the future developments of the novel.
Because of that, Mr. Kawahara thinks that the time will come when he needs to confront this character one more time.
After watching Kawahara's interview, Ms. Tomatsu said that she is not aware that her acting reflects on the characters of the novel. She was also shocked by the fact that she is the reason why they have more shots of Asuna laughing in the 'Sword Art Online' anime, which made her really happy. Moreover, Ms. Tomatsu also said Mr. Kawahara is like a god to her, creating the SAO from the very start. Because of him, SAO characters were born.
Lastly, Ms. Tomatsu also said that Asuna is like a partner to her since she is living for almost 10 years while being Asuna's voice. She said that it is thanks to Asuna why she is in her position right now. Not only that, but for Ms. Tomatsu, Asuna is almost like a family. which gotten to the point that she can't imagine her life without her.
News
If you are wondering why Asuna is one of the topics of the interview, it is because she is the protagonist of the upcoming film 'Sword Art Online -Progressive- Aria of a Starless Night'. In the Aniplex Online Fest 2021, it is announced on the SAO stage that the movie will premiere on October 30, 2021 in Japan. According to Ms. Tomatsu, we will see in the movie why Asuna played the game 'Sword Art Online'
You can check the key visual below:
If you want to know more details about the movie, you can read them here in Anime Corner. We also have various news related to anime.
The synopsis of 'Sword Art Online: Progressive' from Yen Press:
There's no way to beat this game. The only difference is when and where you die…"
One month has passed since Akihiko Kayaba's deadly game began, and the body count continues to rise. Two thousand players are already dead.
Kirito and Asuna are two very different people, but they both desire to fight alone. Nonetheless, they find themselves drawn together to face challenges from both within and without. Given that the entire virtual world they now live in has been created as a deathtrap, the surviving players of Sword Art Online are starting to get desperate, and desperation makes them dangerous to loners like Kirito and Asuna. As it becomes clear that solitude equals suicide, will the two be able to overcome their differences to find the strength to believe in each other, and in so doing survive?
Sword Art Online: Progressive is a new version of the Sword Art Online tale that starts at the beginning of Kirito and Asuna's epic adventure–on the very first level of the deadly world of Aincrad!
Interview source and screenshots via Aniplex Online Fest 2021 stream
© 2020 川原 礫/KADOKAWA/SAO-P Project
© Aniplex of America Inc. All Rights Reserved.