The Totto-chan: The Little Girl at the Window anime film debuted a new trailer prior to its December 8 release date in Japan. As previously announced, Studio Shin-Ei is animating the film. This new trailer features the debut of Aimyon's new song, "Anone" (あのね). Check out the song alongside the new trailer:
Fans also received a message from Aimyon, conveying her excitement before also getting a new visual:
"Totto-chan, loved around the world – I feel it must have great meaning that such a Totto-chan is being made into an animated film in this day and age. When I watched footage from production, it brought me to tears. It's the sensation of something hot rising straight from my belly through my chest to my eyes. When I was first offered the role, I was anxious, but when Tetsuko [Kuroyanagi] said 'Please take good care of her' to me at last year's Kohaku Uta Gassen, I was overjoyed. Our lived experiences and memories of the times may differ, but I'm filled with joy to be living in the same period now. I'm overflowing with gratitude to Setsuko for choosing me."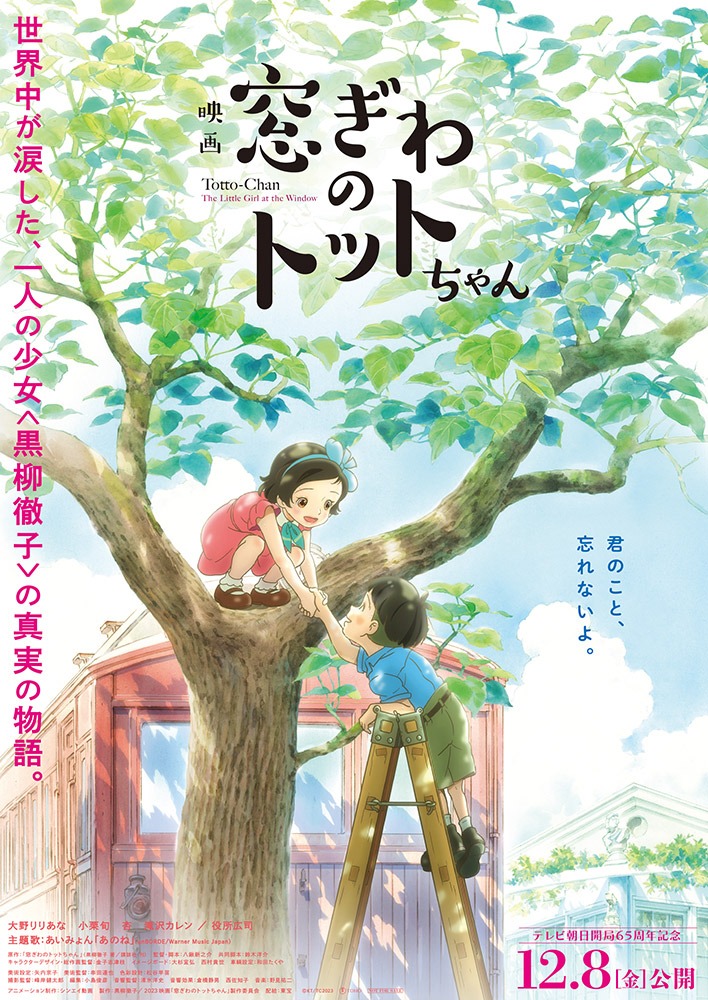 The staff was previously announced, and the cast includes:
Ririna Oono as Totto-chan
Koji Yakusho as Mr. Kobayashi
Shun Oguri as Moritsuna Kuroyanagi
Karen Takizawa as Ms. Oishi
Anne as Cho Kuroyanagi
The official website for Totto-chan: The Little Girl at the Window describes the film:
Around 80 years ago, just before the end of World War II during a time of great turmoil, "Totto-chan: The Little Girl at the Window" depicted author Tetsuko Kuroyanagi's early childhood autobiographically. This globally beloved bestselling work, adored not only in Japan but overseas as well, will finally be adapted into an animated film this winter!
Through Totto-chan's cheerful daily life, we see the small joys of each day, the richness of individuality, lessons from revered teachers, and deep affection for family and friends. This winter, Totto-chan will deliver moving moments and love across Japan.
Totto-chan was expelled from elementary school for being restless. The headmaster of the Tomoe Gakuen she newly enrolled at gently spoke to Totto-chan, who he'd just met: "You're actually a good girl." Totto-chan's days brimming with energy and new experiences have begun!
Source: Official Website
©Tetsuko Kuroyanagi / 2023 "Totto-chan: The Little Girl at the Window" Film Partners