We recently had a plagiarism issue with Tokyo Babylon 2021. This time, however, a new issue with 7Seeds having plagiarized the Beyond the Boundary ending! If you've been watching anime for some time you must have encountered a lot of Netflix's anime. If you caught a glimpse of the ending theme for the second season of 7Seeds you might find it oddly familiar.
When the 2nd season having launched on Netflix in March of 2020, a lot of people had noticed the similarities of the ending of both 7Seeds and Kyoto Animation's Beyond The Boundary.
Of course, 7Seeds released a statement about this. The people behind the 7Seeds ending theme have acknowledged that the similarity was not, in fact, a coincidence! You read that right, a post on the official 7Seeds website says that it was international. Their post said, "It is undeniable the direction of the ending features is similar to the other anime". They didn't name the show, but we all know that it is in fact Beyond the Boundary.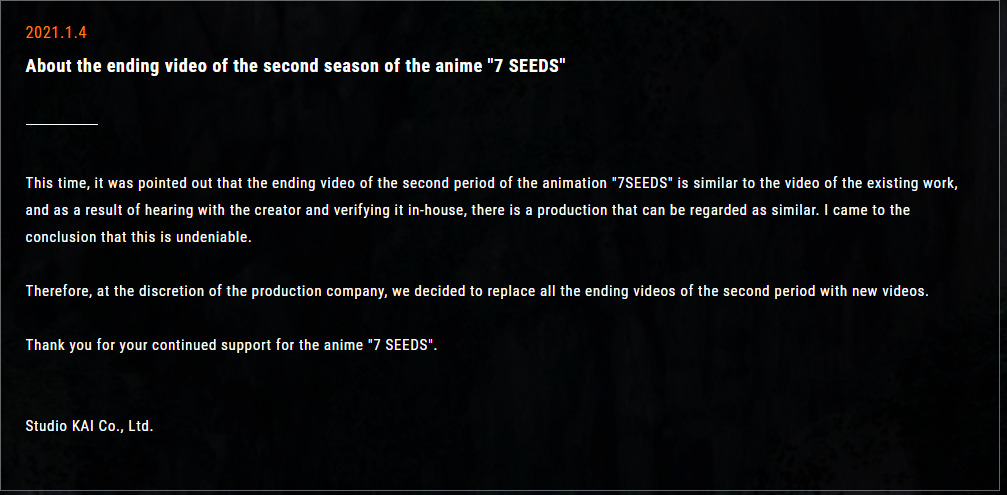 Furthermore, they already replaced the ending theme with a new one, you can check it yourself by going to Netflix and owatching 7Seeds!
To know more about the statement check their official website!
Source: 7Seeds Official Twitter
© 2019 Yumi Tamura / Shogakukan / 7SEEDS Project