The Spring 2022 anime season is a few days away, and this means that we will be seeing new anime titles but also some sequels. Some of these sequels include long-anticipated titles such as the continuation of the Shield Hero, final episodes of Magia Records, and more.
We have compiled the list of all sequels in the Spring 2022 anime season – all 14 of them.
The continuation of Naofumi's journey after he gained some recognition is coming, along with a slew of new supporting characters.
Studio: Kinema Citrus and DR Movie
Where to Watch: Crunchyroll
Premiere: April 6, 2022
Synopsis:
After their battle with Glass, Naofumi and his friends work to revitalize the Cal Mira islands before returning to the castle. On the ship back to Melromarc, they meet a young girl named Rishia, who claims to have been tricked and abandoned by her companions. Naofumi, sympathizing with her fate, agrees to listen to her story, and she joins the party. Eventually, Naofumi discovers that she has a talent for transformation magic, but before they can discuss it, someone comes running to beg the heroes for assistance. A monster wearing something like a turtle shell needs to be chased off. The monster is so powerful that even the mightiest adventurers cannot defeat him—so what hope is there for Naofumi? Those answers and more in volume 6 as the epic fantasy continues!

One Piece Books
The war of love between Kaguya Shinomiya and Miyuki Shirogane continues. New obstacles to their "complicated" relationship lie ahead of them.
Studio: A-1 Pictures
Where to Watch: Muse Asia
Premiere: April 9, 2022
Synopsis:
As leaders of their prestigious academy's student council, Kaguya and Miyuki are the elite of the elite! But it's lonely at the top… Luckily for them, they've fallen in love! There's just one problem—they both have too much pride to admit it. And so begins the daily scheming to get the object of their affection to confess their romantic feelings first…

Love is a war you win by losing.

Viz Media
Komi's journey to make 100 friends continues. Just what kind of people will she meet in this season?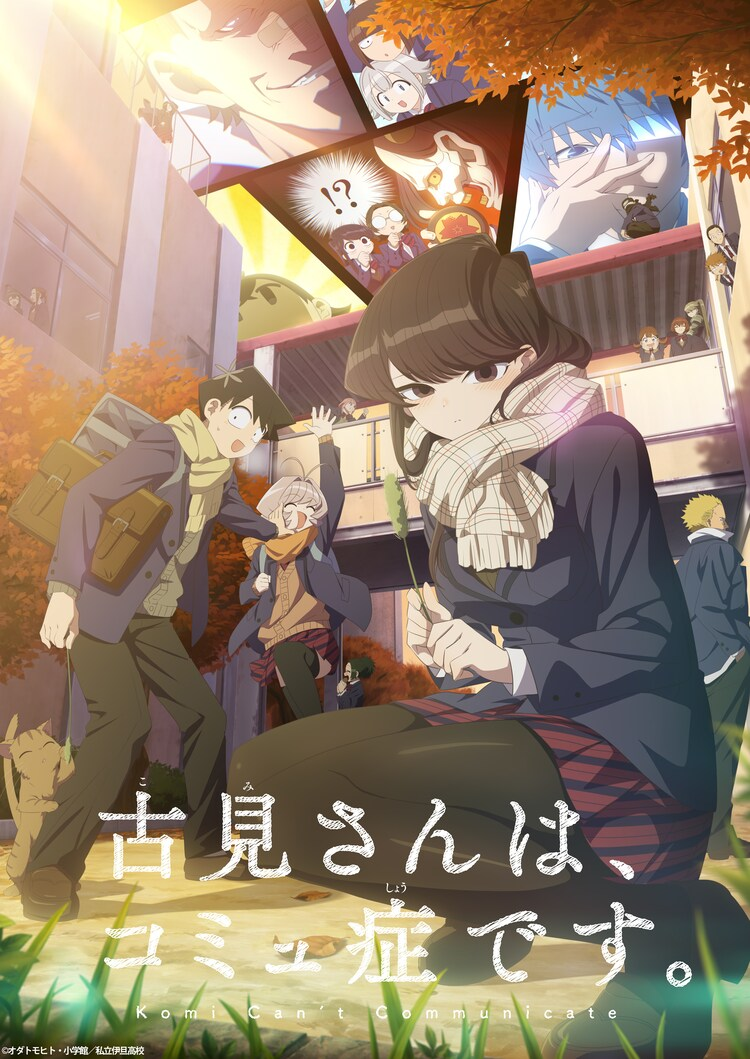 Studio: OLM
Where to Watch: Netflix
Premiere: April 6, 2022
Synopsis:
The journey to 100 friends begins with a single conversation. Socially anxious high school student Shoko Komi's greatest dream is to make some friends, but everyone at school mistakes her crippling social anxiety for cool reserve! With the whole student body keeping their distance and Komi unable to utter a single word, friendship might be forever beyond her reach. Timid Tadano is a total wallflower, and that's just the way he likes it. He lives to blend in with the background. All that changes when he finds himself alone in a classroom on the first day of high school with the legendary Komi. He quickly realizes she isn't aloof, she's just super awkward. Now he's made it his mission to help her on her quest to make 100 friends!

Viz Media
Shido's goal to save all spirits by dating them continues. Will he manage to save them all, including two new ones?
Studio: GEEKTOYS
Where to Watch: Crunchyroll
Premiere: April 8, 2022
Synopsis:
April 10. The first day of school. Shido Itsuka is rudely awoken by his personal alarm clock—his little sister. It's shaping up to be another typical day…well, as typical as it gets on a planet plagued by massive spatial quakes. Little does Shido know, however, his life is about to take a sudden turn when he encounters the source of this destructive phenomenon—a girl his age, apparently known as a Spirit. Turns out, there are only two ways he can stop her from unleashing hell on the world: Eliminate her by force or placate her…by taking her out on a date and making her fall in love with him!

Yen Press
Ayame Himuro and Shinya Yukimura's experiments and theories to prove that they are in love with each other resume this spring. What kind of conclusion will the two arrive at this time?
Studio: Zero-G
Where to Watch: Crunchyroll
Premiere: April 1, 2022
Synopsis:
What happens when a science-inclined girl and boy who are deeply passionate about research fall in love? An intelligent woman named Himuro Ayame who is a science graduate student at Saitama University happens to ask fellow science graduate student Yukimura Shinya out. Of course, there's no logical reason for this love! But as a science and engineering major, not being able to logically prove love would mean that those feelings aren't real, and they'd fail as a science student.

With that in mind, the two drag everyone else in the lab into trying various experiments to prove love actually exists. Dating experiments, the pursuit of a componential explanation for "love", measuring heart rate, and defining mood value… There are plenty of laughs and heart-racing moments in this scientific romantic comedy where these loveable and unique science students try to prove that love logically exists!

Crunchyroll
Myne's journey and love for reading books continues in the 3rd season of the anime. She'll meet new people, but will they be able to help her?
Studio: Ajia-do Animation Works
Where to Watch: Crunchyroll and Muse Asia
Premiere: April 11, 2022
Synopsis:
A certain college girl who's loved books ever since she was a little girl dies in an accident and is reborn in another world she knows nothing about. She is now Myne, the sickly five-year-old daughter of a poor soldier. To make things worse, the world she's been reborn in has a very low literacy rate and books mostly don't exist. She'd have to pay an enormous amount of money to buy one. Myne resolves herself: If there aren't any books, she'll just have to make them! Her goal is to become a librarian. This story begins with her quest to make books so she can live surrounded by them! Dive into this biblio-fantasy written for book lovers and bookworms!

J-Novel Club
Yuko's adventures continue this spring as she fights to lift the curse. Will she remain kind to her enemies?
Studio: J.C. Staff
Where to Watch: HiDIVE
Premiere: April 7, 2022
Synopsis:
Yoshida Yuko was living a perfectly normal (if poverty-stricken) life, but at the age of fifteen, she suddenly sprouts demon horns and a tail! Her mother explains that she's actually a demon named Shadow Mistress Yuko, once sealed away and cursed so that her family would remain poor for generations. Now Yuko can break that very curse if she defeats Chiyoda Momo, a magical girl who goes to her school…but Momo is stronger than she is, knows how to manage magical powers, and is so freaking nice that she's actually helping Yuko out of scrapes. Yuko's too weak and uncoordinated to straight-up kill Momo, even if she wanted to, but she can't just be buddies with this generous magical girl, either–she has to break the curse on her family somehow. What's a demon girl to do?

Seven Seas Entertainment
Spring 2022 brings a sequel to Black Rock Shooter anime, which aired in 2012. The protagonist in this show is a Guardian, named Empress, and a new journey in the franchise starts.
Studio: Bibury Animation Studio
Where to Watch: Not yet announced
Premiere: April 3, 2022
Synopsis:
The year is 2062. After the failure of a project to greatly automate the workforce, Artemis, the artificial intelligence at the core of the project, has chosen to fight against humanity, and the Earth has been destroyed after a twenty-year-long war. A young girl named Empress wakes up in the underground research facility of a base.
She is one of the three survivors of the human guardians. However, she has no memory of her past. She soon meets the Colonel of the Peace Building Force who tells her that she has a mission to stop Artemis from building an orbital elevator that connects the Moon and the Earth.
However, their way is blocked by their supposed friends Dead Master and Strength, the unmanned army of Artemis' minions, and the cult group Smiley.
As their various goals intersect, Empress and the Colonel make their way to the orbital elevator.
What awaits them on the other side?

Official Website
Tu Takasaki's journey together with the other idols continues as new competition and rivalry arise. What kind of growth will the sequel bring to the group this Spring 2022?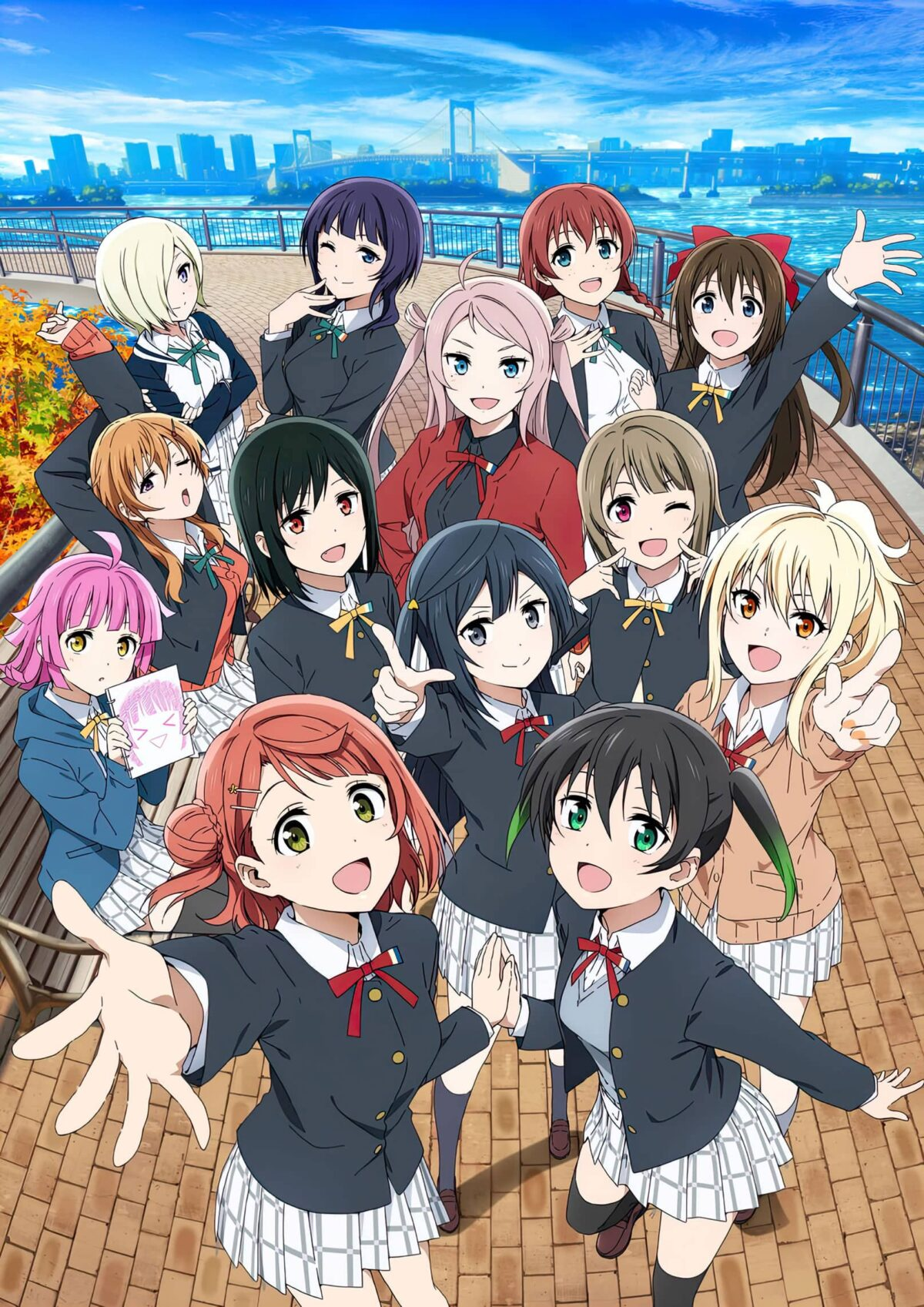 Studio: Sunrise
Where to Watch: Muse Asia and Crunchyroll
Premiere: April 2, 2022
Synopsis:
Nijigasaki High School is known for their diverse subjects and the freedom they give to students. Second-year student Yu Takasaki has been turned on to the charms of school idols, so she knocks on the door of the School Idol Club with her friend, Ayumu Uehara. Sometimes friends, sometimes rivals, the members of this club each contribute their own thoughts and motivations to the group.

Funimation
The final four episodes of Magia Record's side story. In this chapter, Iroha Tamaki's questions will also be answered. Upon arriving at those answers, will she be able to save the magical girls?
Studio: Shaft
Where to Watch: Not yet announced
Premiere: April 3 (All 4 episodes)
Synopsis:
Few people know the truth: the world is safe thanks to the Magical Girls who are forced to slay Witches. Even though these girls are putting their lives on the line for a wish, rumors say they can be saved in Kamihama City. That's where Iroha Tamaki is headed in search of answers. She can't remember the wish she made to Kyubey, but a shadowy figure haunts her dreams.

Funimation
The sequel to the anime Build Divide: Code Black. The newest generation of card game players will once again show their skills to the entire world.
Studio: Liden Films
Where to Watch: Crunchyroll
Premiere: April 3, 2022
Synopsis:
In a city where the King reigns supreme, your strength in Build-Divide determines everything… There is a rumor circulating in Shin Kyoto. "Anyone able to defeat the King in Build-Divide shall be granted whatever their heart desires." In order to challenge the King, one must first enter the battle known as Rebuild. There, they will have to complete the "Key." The young Teruto Kurabe vows to defeat the King so that he can get what he longs for. He, with a little guidance from the mysterious Sakura Banka, dives headfirst into the Rebuild Battle.

Crunchyroll
Kyoukai Senki Part 2
The new generation's mecha-anime is back in action! Amou Shiiba's adventure to save Japan continues. Will they succeed in their goals?
Studio: Sunrise Beyond
Where to Watch: Crunchyroll
Premiere: April 12, 2022
Synopsis:
In 2061 AD, Japan is dominated. Divided and ruled by the four major economic blocs of the world, the Japanese people spent their days oppressed as subjugated citizens. Japan became the front line of the world where AMAIM, a human-type special mobile weapon deployed by each economic zone, strode about.. One day, Amou Shiiba, a boy who loves machines, meets i-LeS (autonomous thinking AI) named "Gai," and this leads him to throw himself into the battle to reclaim Japan, by piloting the AMAIM "Kenbu" built by himself.

Crunchyroll
Yatogame-chan Kansatsu Nikki Season 4
Yatogame Monaka and Jin Kaito's wholesome daily life continues. The sequel of the slice of life comedy series will surely make us laugh again this Spring 2022.
Studio: Hayabusa Film
Where to Watch: Crunchyroll
Premiere: April 2, 2022
Synopsis:
After growing up in Tokyo, high school student Jin Kaito moves to Nagoya where he meets Yatogame Monaka, a fellow student who puts her Nagoya dialect on full display. With her cat-like appearance and unvarnished Nagoya dialect, Yatogame won't open up to him at all. This popular local comedy is increasing the status of Nagoya through observation of the adorable Yatogame-chan!

Crunchyroll
Kaginado Season 2
Kaginado is a crossover anime of Clannad, Kanon, Air, and Little Busters in chibi forms. We will now witness again the random events in their lives, and they will surely bring laughter to us. Seeing their cute chibi forms again might also help us relax when we are under stress.
Studio: Liden Films Kyoto Studio
Where to Watch: Crunchyroll
Premiere: April 12, 2022
Synopsis:
Stars from different universes and different times that were never meant to cross paths. By irony of fate, these stars come together in "Kaginado Academy". What awaits them there is a lively school life full of hope and dreams. The wonderful encounters provide the stars with new radiance. What awaits beyond that radiance…?

Crunchyroll
Dawn of the Witch
Set in the same universe as the anime, Grimoire of Zero. The war between the witches and the church for five centuries was finally over. However, anti-magic insurgents still live in some parts of the world.. Thus, Roux Cristasse, who seeks the knowledge of the forbidden magic in the Grimoire of Zero, along with Saville travel to the conflicted parts of the continents.
Studio: Tezuka Productions
Where to Watch: Crunchyroll
Premiere: April 7, 2022
Synopsis:
I can't remember. Who am I? What am I? Seville is a student at a magic academy who has no memories of anything from before he joined the school. Not understanding why he's there, the time he spends at the academy feels hollow and empty. And since he doesn't know how to work hard, his grades are always the lowest in his year. Then, one day, the school headmaster, Albus, orders Seville to participate in a dangerous special training. "I want you to spread the use of magic in an area where they hold witch hunts." It has only been a few years since the war between the church and the witches came to an end—the world has not yet fully accepted witches and their magic. This is the dawn of the age of the witch. This is the story of how a young man, a boy who is no one special, and his companions, who all hold wounds in their hearts, set out and end up finding themselves.

Crunchyroll
Spring 2022 Anime Sequels
This concludes the list of TV anime sequels in Spring 2022. Some of them are quite popular, for example, Shield Hero which already has a third season in the works. If you are not familiar with these titles, I suggest you check out the first seasons as some of them might pique your interest. For everyone else, mark your calendars because the new season is about to begin!