Spring 2022 anime season is just around the corner, with many amazing sequels coming our way. However, we can't ignore the new titles that look promising, be it for their animation quality, source material popularity, or simply the story. We did the research and found 6 new titles that are not remakes or sequels of any kind but look like they might be worth checking out simply because they somehow stand out from the rest. Keep in mind these are not the most-anticipated anime (for the most part) and that the list is actually aimed at titles that are flying under the radar, but that you definitely should check out.
SPY x FAMILY
Premiere date: April 9
SPY x FAMILY is definitely one of the most anticipated titles of the spring. The manga generated quite a lot of hype and the adorable trailers and key visuals left an impression on nearly everyone. The premise seems quite original and it is quite difficult to find something to compare it to.
It is also the first work by Tatsuya Endo to get an anime adaptation so anime onlies don't really have anything to compare it to. Studio lineup is another important point: CloverWorks and WIT Studio have been fan-favorites for the past few years with many decent titles under their belt (we will ignore Wonder Egg Priority and Promised Neverland 2).
Not one to depend on others, Twilight has his work cut out for him procuring both a wife and a child for his mission to infiltrate an elite private school. What he doesn't know is that the wife he's chosen is an assassin and the child he's adopted is a telepath!

Viz Media
Tomodachi Game
Premiere date: April 5
High-stakes games fans might be in for a treat – or a disaster, as the Tomodachi Game premiere looms. We all know this genre is either a hit or a miss and quite a few titles from it revolve around edgy death games. Studio Okuruto Noboru is animating the series which only recently revealed the first trailer. The manga by Mikoto Yamaguchi and Yuki Sato is still ongoing and it is quite unlikely that we will see a sign of story conclusion in the first season, so it all boils down to how much of the source material gets adapted and how. The premise that many manga readers are comparing to Squid Game certainly looks interesting.
Tomodachi Game is at least the fourth anime from the high-stakes/battle royale genre to actually have "game" in the title, and that is without counting the manga. Time will tell if it will be a Darwin's or King's game.
Yuichi Katagiri is a high school student who values friendship above all else. He was living a fulfilling, quiet life with his friends Tenji, Shiho, Makoto, and Yutori until a large debt forced them to play a game in order to pay it off. The only way to clear this game is to never doubt your friends. For these 5 it sounds easy but…
Summer Time Rendering
Premiere date: April 14 (in Japan)
Summer Time Rendering is a mystery thriller manga by Yasuki Tanaka and it already finished its run. This fact alone is enticing since it means less of a wait time between seasons. However, it also presents a danger of the story being rushed, since there are 139 chapters/13 volumes are out. The first season will consist of 2 split cours – 25 episodes total and Studio OLM is animating it. Ayumu Watanabe is directing, which is another big plus for this adaptation.
The trailer and key visuals we've seen so far have been quite interesting and neither of them was like the other. The manga is fairly highly rated on the anime/manga database websites but the series itself isn't too well-known. It almost feels as if that is a good thing because going blind into a mystery series is half the charm.
Upon hearing of Ushio's death, Shinpei returns to his hometown of Wakayama City on Hitogashima and reunites with his childhood friend's family. The funeral goes smoothly, but under the surface, something strange is brewing on the island. What mysteries await him on this secluded summer island?

MANGA Plus
Ya Boy Kongming!
Premiere date: April 5
Ya Boy Kongming! did not look amazing when first announced, but then something happened. That something was the first trailer, followed by the reveal of the theme songs and overall music that will be used in the adaptation. Even if you are not big on the reincarnation/time-traveling trope this series just looks fun. The famed Chinese military strategist reincarnation in modern-day Tokyo and just living his best life with Japanese covers of Hungarian viral hit songs – what's not to like? We all deserve a little joy.
P.A. Works is animating the series, with Shuu Honma as the director. Ya Boy Kongming! is Honma's directorial debut, but judging from the most recent trailer we will be graced with quite a few artistically interesting scenes. Definitely, a fun anime of the Spring 2022 season to look forward to.
General of the Three Kingdoms, Kongming had struggled his whole life, facing countless battles that made him into the accomplished strategist he was. So on his deathbed, he wished only to be reborn into a peaceful world…and was sent straight to modern-day party-central, Tokyo! Can even a brilliant strategist like Kongming adapt to the wild beats and even wilder party people?!

Kodansha
Deaimon
Premiere date: April 6
Deaimon is an upcoming slice-of-life anime adaptation that will start airing this spring. Like many titles from this genre, it went kind of unnoticed, but the premise and the art certainly have potential. It feels reminiscent of Barakamon style storytelling and it might end up being the soul food anime of the Spring 2022 season. Encourage Films is animating the adaptation. The manga has not been licensed in English, so it's difficult to know what to expect. However, judging from the synopsis and the trailers we are in for both an emotional and a fun ride.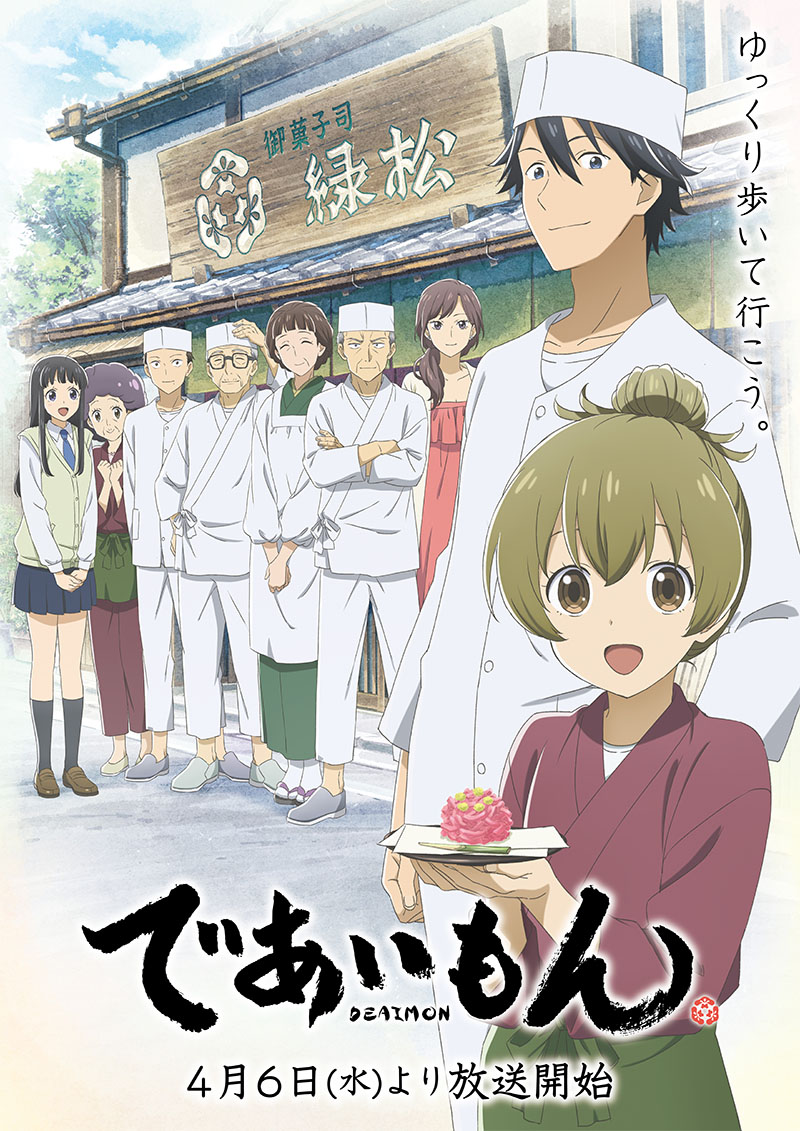 Nagomu Irino moved to Tokyo to pursue his dreams, but after his father ends up hospitalized he returns to Kyoto to take over the family wagashi (sweets) shop. However, he's in for a surprise when he meets Itsuka Yukihira. The girl who is working at the shop and staying with the Nagomu family is seen as the potential heiress and Irino soon ends up mentoring her. At first, he thinks of her as distant and cold, especially after he learns she refused to inherit the shop. But as he gets to know her better, he learns there is a different side to her.
This is a heartwarming story about forming bonds in Kyoto, where wagashi connects people.
Love After World Domination
Premiere date: April 8
The spring of 2022 is bringing an explosion of romance anime. From Shikimori's Not Just a Cutie to a Couple of Cuckoos and sequels like Kaguya-sama: Love Is War, there is certainly something for everyone. However, among all of those one title stands out with its uniquely fun premise: Love After World Domination. The sci-fi/superhero story is somewhat of an underdog, but it brings a unique take on the rom-com genre with some interesting characters. Studio No.9 is animating the series, which is based on a manga by Hiroshi Noda and Takahiro Wakamatsu.
There are two sides to every coin…light vs. dark, good vs. evil, love vs. hate. Sometimes the line between the two grows thin…and it's so, so easy to cross. So it's no surprise that Fudo Aikawa, A.K.A. Red Gelato of the Gelato Five and hero to all people, just may have happened to fall for the villainess and member of the shadow organization Gekko, Desumi Magahara! But when opposites like these attract, there's more than a few obstacles to their love…! What's a pair like this to do?

Kodansha
Spring 2022 Anime Season – Final Thoughts
This concludes the list. There are obviously quite a few titles that look amazing but aren't on here, as this list is meant as more of a way to draw attention to things that may go unnoticed. Hopefully, it helped you update your watching list for the spring at least a little!