Many Anime Expo 2023 con-goers were pleased and excited to see the author of the popular manga Bungo Stray Dogs, Kafka Asagiri, as the event's Guest of Honor. A highlight event called, "Meet Kafka Asagiri—Creator of Bungo Stray Dogs" was held at the JW Platinum, Los Angeles Convention Center, USA on July 1. Joining the author at the Yen Press panel were Kadokawa's Hirotsubo Kato, his editor, and Studio Bones' co-founders Masahiko Minami and Toshihiro Kawamoto.
All the Bungo Stray Dogs fans were happy to meet Kafka Asagiri-sensei as he shared many interesting things about his life as a writer and the creation of the Bungo Stray Dogs series, and many more. Anime Corner had the opportunity to be at this event. Here are some of our favorite highlights. Do keep in mind that the special guests spoke in Japanese and were translated into English by an interpreter, so the words have been paraphrased.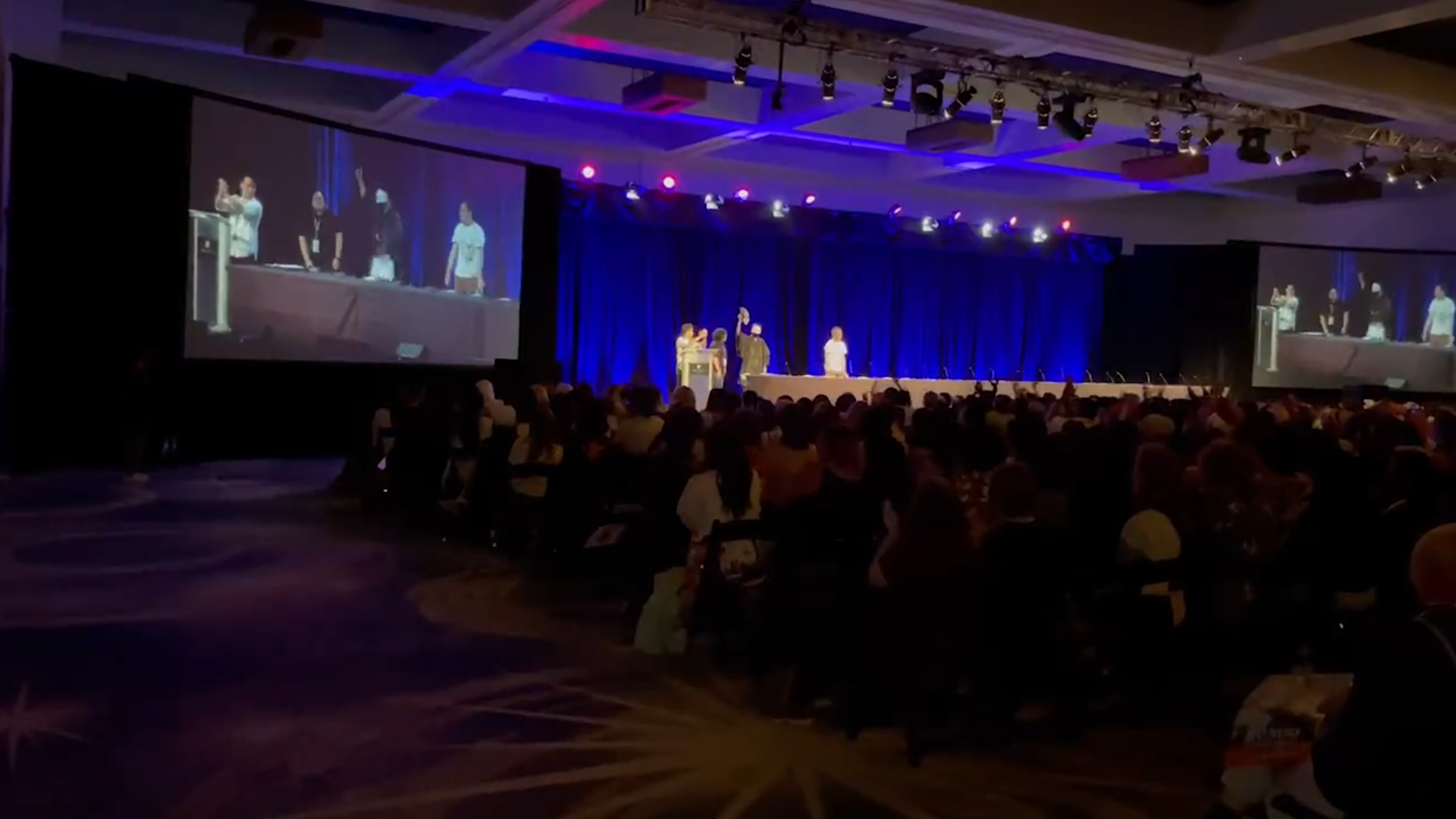 Meet Kafka Asagiri—Creator of Bungo Stray Dog
On becoming a writer:
In his childhood, Asagiri said that he loved YuYu Hakusho and that it was the reason he became interested in manga. He mentioned how he was fascinated with the characters and their mottos, something which he pays close attention to in stories, including Hollywood movies.
Asagiri enjoys international films and series, especially The Avengers.
His writing began in elementary school with RPG Maker, a program that allows users to create their own role-playing video games. Making the game's stories is what piqued his interest.
However, Asagiri didn't pursue his writing dreams until after his office job. The quote that pushed him to pursue his passion is from Ibraha, a villain from Black Lagoon, who said "Our lives aren't defined by work, but how you live it."
On creating Bungo Stray Dogs
Asagiri shared that when he was starting out, his goal was to show how classical literature was interesting and relatable. By putting it into his story, his readers can discover the real-life authors and their original literature.
Asagiri's favorite author and book within his story is Osamu Dazai's "No Longer Human." He said that he wanted to replicate the same emotions that he felt while reading it and put it into his own novel.
As a light novel writer, he takes the importance of the flow of feelings throughout the entire story. In the manga process, although it all comes down to Harukawa-sensei's work in the end, Asagiri is still responsible for the flow. He describes this as the most difficult part of being a writer.
After receiving a lot of love from fans, Asagiri said that he looks forward to continuing Bungo Stray Dogs. He would also like to make more stories soon.
On Creating the Characters and Special Abilities
He described his character creation process as mysterious and difficult since it takes time to work on it.
For example, Asagiri said that he has to consider things like the character's personality, strengths, background, relationships, designs, and roles in the story.
Other than Avengers (again), the other character influences are "The Mentalist" for Osamu Dazai, Sherlock Holmes for Edogawa Ranpo, and The Dark Knight's Joker for Fyodor Dostoevsky.
Dazai's special ability is based on the real-life author's No Longer Human novel, which dives into the meaning behind life. Asagiri said that from then on, his characters were based on research like that.
Another example is Nakajima Atsushi's short stories known as The Moon Over the Mountain. (In the premiere event, he mentioned that Fyodor's ability is a secret for now).
He also shared that Doppo Kunikida was created because he wanted someone who would "suffer next to Dazai." He thought it would be funny for someone to have an amazing synergy with Dazai, which led to the idea of a serious, studious, and obsessive note-taker.
In finding the words to describe Osamu Dazai, Asagiri said something interesting."Dazai is a donut, if I had to find a metaphor for him. At the center, you don't know what's in the middle. Why does he want to die?… Even Igarashi (Bones Animation Director) and Mamoru Miyano (Dazai's VA) don't know. This is the complexity of his character."
On Bungo Stray Dogs' expansion
Spin-offs such as the light novels, anime, Bungo Stray Dogs: Beast, and Bungo Stray Dogs Wan exist because Kadokawa simply reached out to him.
He mentioned that the themes he wanted to explore were the lives of the characters before their character development.
For example, Asagiri said that for Osamu Dazai's Dark Era, he wanted to explore Dazai's unpolished character from when he started as an assassin and into becoming a detective.
The title "Osamu Dazai and the Dark Era" was influenced by Picasso's Blue Period. (Blue Period is a series of monochromatic paintings between 1900 and 1904 that represented the artist's deep melancholy and despair.) Asagiri said that Black Period could be a more accurate way of calling the novel.
In regards to his stories getting an anime adaptation, Asagiri expressed his disbelief. He shared the unlikelihood of manga writers succeeding in Japan, not to mention the chances of an adaptation. All in all, he is glad that he ended up pursuing his work.
On Asagiri's favorites
Asagiri mentions he likes interesting characters, like Sigma, Mushitaro, and Pushkin.
When asked about his thoughts on the Dark Era stage play, the author said that his favorite character was Odasaku. His favorite scene is with Odasaku in the end and every time he saw Dazai's actor in this scene, he cried. He has also seen the stage play 5 times.
Beast is his favorite novel that he's written. He answered this Q&A while scratching his head, a gesture that the audience laughed with.
When asked about children and bombs, Asagiri laughed but was unapologetic about it because "he had to have them explode." Director Takuya Igarashi would also yell at him.
When asked about which is his favorite rivalry, he answered that the one he thought about the most is the relationship between Osamu Dazai and Nakahara Chuya. He adds that he also personally likes Yokomizo and Mushitaro.
When asked what he is most proud and happiest about, Asagiri answered that it's the experience of being at the Anime Expo 2023 and meeting fans who appreciate him.
On what to look forward to in Season 5 and the manga
Without any spoilers, Asagiri teased that Season 5 will be very interesting. Edogawa Ranpo will finally make his move. The Armed Detective Agency is confident that things will work out especially with Ranpo to join in on the battle.
He mentioned looking closely at the rivalry between Dazai and Fyodor.
He also told the audience to look forward to seeing Sigma again, one of his favorite characters in the series.
In regards to the manga, he hopes to surprise his readers.
Bungo Stray Dogs Season 5 Premiere at the Crunchyroll Stage
On the second day of the Anime Expo 2023 (July 2), a special screening of Bungo Stray Dogs season 5 was held on the Crunchyroll stage. Here are some of the highlights:
Kafka Asagiri, Studio Bones's Masahiko Minami (Studio Bones Anime Producer and President), and Kadokawa's Chiaki Kurakane (Producer) participated in this event.
The author was happy and laughing at the audience's reactions
When asked about future projects, Asagiri joked about a sixth season or a new movie with the director. Minami humorously expressed to the audience that he wants to tell Asagiri to give him more content because he can't make an adaptation without it.
The author said "Amazing!" in regards to the recent seasons' animations and how the anime has come this far.
Asagiri was just happy to be at the event surrounded by loving fans.
Kafka Asagiri also had autograph sessions throughout at the Anime Expo 2023. Visit Anime Expo's website for more information. You can also visit the author's Twitter for more updates.
Bungo Stray Dogs is based on a manga created by Kafka Asagiri and illustrated by Sango Harukawa. It began serialization in "Young Ace" in December 2012, followed by a few more spin-off manga and light novels. An animated series was produced by Studio Bones in 2006. The upcoming fifth season is set to have 11 episodes and will premiere on July 12, 2023. A trailer was recently released.

Source: Anime Expo 2023 Yen Press Panel, Anime News Network via Kalai Chik (Twitter thread now removed)
©Kafka Asagiri, Harukawa35/KADOKAWA/Bungo Stray Dogs Production Committee