Fujino Omori's Is It Wrong to Try to Pick Up Girls in a Dungeon? series has been serialized in SB Creative's GA Bunko imprint since January 2013. However, the ending of the series, better known as Danmachi, was mapped out long before then. In an interview with the Japanese sound and pop culture outlet Realsound for Danmachi's 10th anniversary, Omori revealed that he's known Danmachi's ending for years:
"The ending point for the main story itself was decided before submitting [the story] to the GA Bunko Award, and that hasn't changed. However, it's at the stage where some detours have occurred. Also, some parts are starting to be written more on the fly. While some parts haven't changed, other parts are being handled flexibly. I guess you could say there's a sense of trusting my experience points from having been an author for 10 years."
While the ending seems set in stone, Omori outlines some changes from his original manuscript which he submitted for award consideration. He also outlines changes from even after the story was published:
The Monsterphilia plot was added for award submission. Omori worried that Bell's battle with the minotaur and his encounter with Lili wouldn't happen otherwise.
Haruhime's arc was toned down after the story was published. Given that the original version was set in a brothel, Omori had planned for the arc to be "a little more extreme." His editor at the time said that the idea was no good.
The Monsterphilia arc was changed after the story was published so that Bell rescues Hestia instead of Syr. Omori had planned for Freya to be a more quiet mastermind rather than an open schemer; Bell helping Syr would have been part of Freya's plan to create artificial trouble so that she could swoop in and fix it, however, his editor felt Hestia should have been the focus.
Fans won't have to worry about Danmachi's ending anytime soon, however. The series released its 19th volume on September 15, 2023, leaving more questions to consider. North American licensor Yen Press announced that the 18th volume of Danmachi will be available to read on December 12.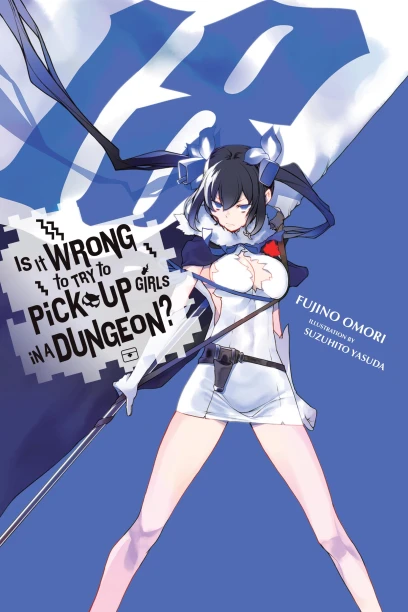 Yen Press teases Danmachi Volume 18 as:
The white fairy swears to serve the goddess. The black fairy inscribes the mood of the times. The prum weeps as four regrets become power. The chariot advances to cut down all but the goddess. And the monarch demands a show of power that is neither dream nor sophistry. From this point on, the boy will have to write his own legends.
Source: Realsound
© Fujino Omori, SB Creative / Danmachi Production Committee