The Japan Platform for Patent Information (J-PlatPat) has recorded the information that a 'Delicious Party PreCure' trademark has been filed by Toei Animation on 19th October.
Speculation from the PreCure community has been evident, noting that said trademark application could potentially be a new series involving the franchise.
Said information was filed under the application number '2021-129248', which has the trademark registration, alongside with a logo.
Fans have speculated that the trademark application potentially hints to a food-related 'PreCure' series due to the motifs present. This draws similarity to the series' 12th generation title 'Kirakira Pretty Cure a la Mode'. Said series revolves around a student who makes sweets and wishes to work in a patisserie, but struggles to make anything good.
More on the 'PreCure' Franchise
'PreCure' is a Japanese magical girl anime franchise by Izumi Todo, a collective of Toei Animation producers. Asahi Broadcasting Corporation, Asatsu-DK and Toei Animation are the ones responsible for the series' production.
The series first debuted in February 2004 with 'Futari wa Pretty Cure'. Since then, 'PreCure' has produced 800 episodes to date, as well as spawning movies, manga, toys, and video games.
The premise of each generation of 'PreCure' titles is that they involve a group of magical girls known as Pretty Cures who battle against evil forces. In addition, each generation revolves around a certain theme, including idol culture, culinary, and fantasy.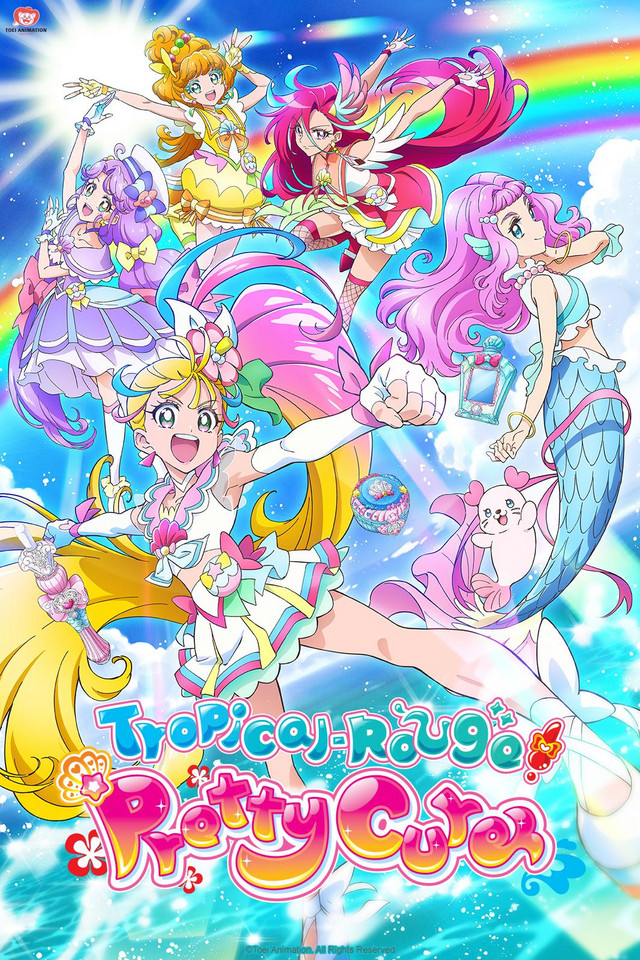 The franchise's latest release is 'Tropical-Rouge! Pretty Cure', released on 20 March this year. The series now streams as well on Crunchyroll, and with the following synopsis:
"Manatsu Natsuumi, who was born and raised on a small island, is attending 7th grade at a school in the city during the Spring. The day she moved here from her hometown island, she encounters a mermaid girl, Laura, who had come onshore alone to find the Legendary Warrior Pretty Cure. Laura's home, the Mermaid Kingdom in the Grand Ocean, was attacked by the Witch of Delays who lives in the dark abyss of the sea, and the inhabitants' motivation power was seized. If the motivation power of the humans is also taken away, the world will be in trouble!"

The synopsis of 'Tropical-Rouge! Pretty Cure' on Crunchyroll.
Source: J-PlatPat / Banner: J-PlatPat, © Toei Animation, 2021