We reported a few weeks ago about the Kanojo, Okarishimasu exhibition being held in Japan. It is being held for the manga's 3-year anniversary, and will close on October 26th in Tokyo. It will open again in Osaka on December 24 and last until January 4, 2021. Anyway, in that article I wrote about an unknown feature of the exhibition. It was just known that it would include voice recordings of the cast. However, after the exhibition opened, it was revealed that the aforementioned feature lets you take on of the girls on a virtual date.
Included in the program is a 4-track CD, which has voice recordings for Chizuru, Mami, Ruka and Sumi. It lets the fans enjoy a virtual date with the girl of their choice while they go through the exhibition. Some more images have been revealed, and one of the things available for sale is the phone case Chizuru bought Kazuya for Christmas.
To avoid posting the same images I did last time, I'll only post different ones. For example, these T-shirts: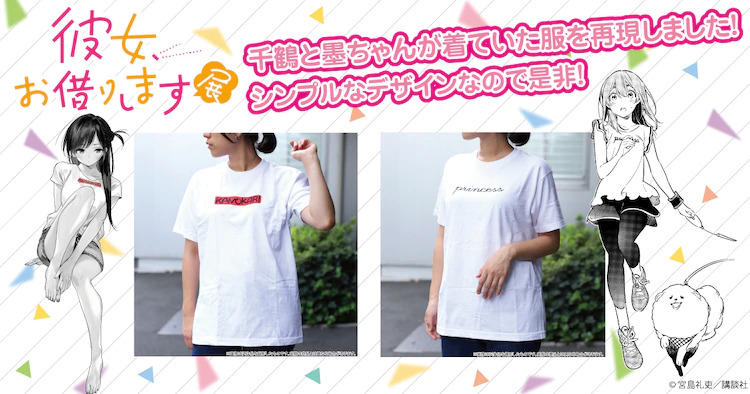 There are also framed manga pages autographed by the author:
Every shopper will receive 1 of the 4 mini illustrations with their admission ticket:
In addition, the customers get a special bag for every 5000 yen spent. It also features the main girls:
As usual, I sadly can't go to an exhibition in Japan (for now!), but I still enjoy looking at these and hope others do too. The Kanojo, Okarishimasu exhibition ends in just 2 weeks in Tokyo. So if you happen to be there and are a fan of the show, go!
Source: Comic Natalie