Episode 6 of Mushoku Tensei released this Sunday, and we got to see the other side of the violent Eris! Well, she did hit Rudy again, but he deserved it and it wasn't all the time at least! We also got to see her loud grandpa, and she seems to take after him a lot. Although he also taught her a rather weird (but adorable) way of how to ask for a favor. The episode was pretty calm, but very enjoyable, and I always enjoy hearing Gintoki in his mischievous moments.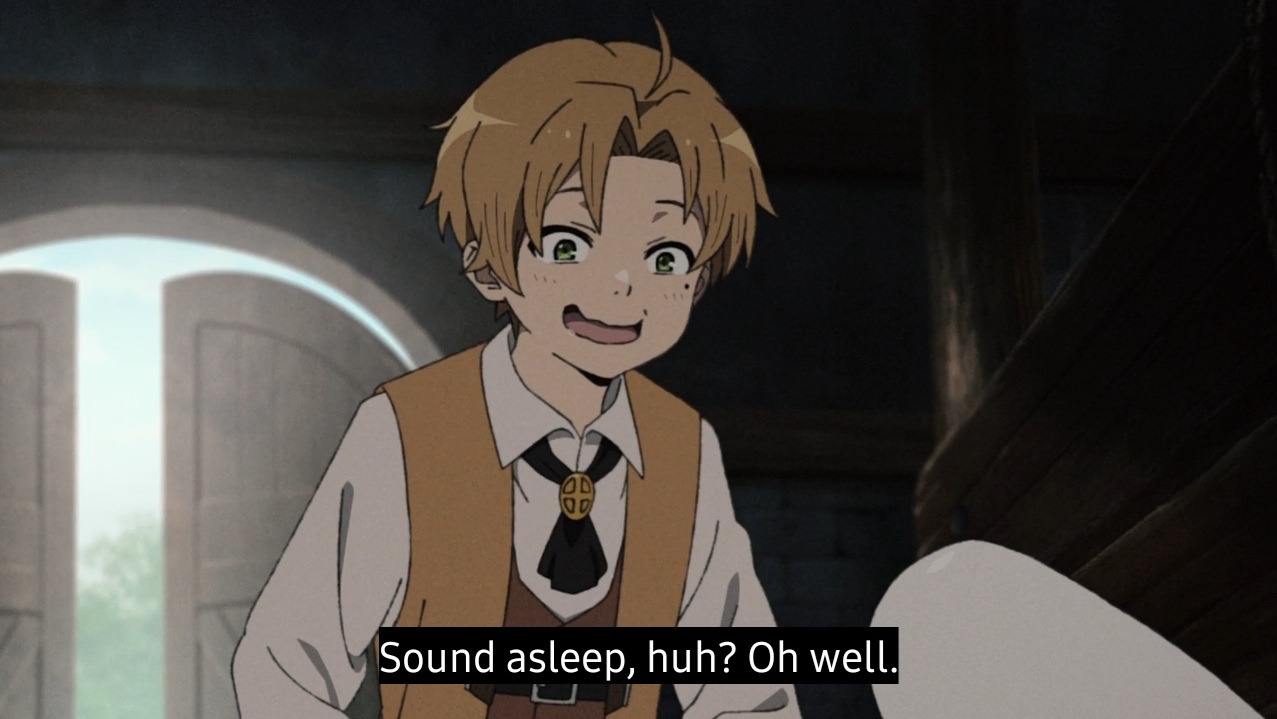 Though he got punished for it. They also possibly foreshadowed a deeper plot with the flying fortress of Perugius and mention of Demon God Laplace, though that will probably have some purpose much later. For now we just got a rough history lesson and moved forward. Although Gislaine seemed to get math better than Eris, they both showed progress. The tsundere even learned not to take money she didn't earn for granted, but she still got an allowance which doesn't count I guess.
In the end, Eris spent the allowance to buy Rudy the potion he was interested in. Though it was an aphrodisiacal, and he ended up getting tortured to say what it was (after he unfortunately spilled it). It was a very lighthearted episode, but I get the feeling something bad will happen soon to push the story forward. Oh, not to forget the Goddess Roxy figure Rudy made!
Episode 6 of Mushoku Tensei is already out on Funimation. The title of the next episode is "What Lies Beyond Effort". It will premiere next Sunday on February 21. If you enjoyed this episode, you can vote for it as the best anime of this week on our weekly poll!
You can also check out the special illustration by the episode's animation director Aineko, and it features Eris and Ghislaine tickling Rudy similarly to the end of the episode:
In case you haven't checked the anime out yet, the story goes:
When a 34-year-old underachiever gets run over by a bus, his story doesn't end there. Reincarnated in a new world as an infant, Rudy will seize every opportunity to live the life he's always wanted. Armed with new friends, some freshly acquired magical abilities, and the courage to do the things he's always dreamed of, he's embarking on an epic adventure—with all of his past experience intact!

It only has 6 episodes now, and it's definitely worth a watch! Read all our Mushoku Tensei articles here!
All images via Funimation (mobile app)
©理不尽な孫の手/MFブックス/「無職転生」製作委員会