Nights with a Cat anime released preview images and synopsis for episode 25 along with Christmas presents – Kyuryuga wallpapers. The episode is scheduled to be streamed on December 7, and it is titled "Futa-kun Wants the Cat to Look Back" and the plot is described as:
Kyuryuga is sitting on the table. An idea comes to mind that the cat will possibly look back on him if he calls its name, and Futa-kun tries it, but…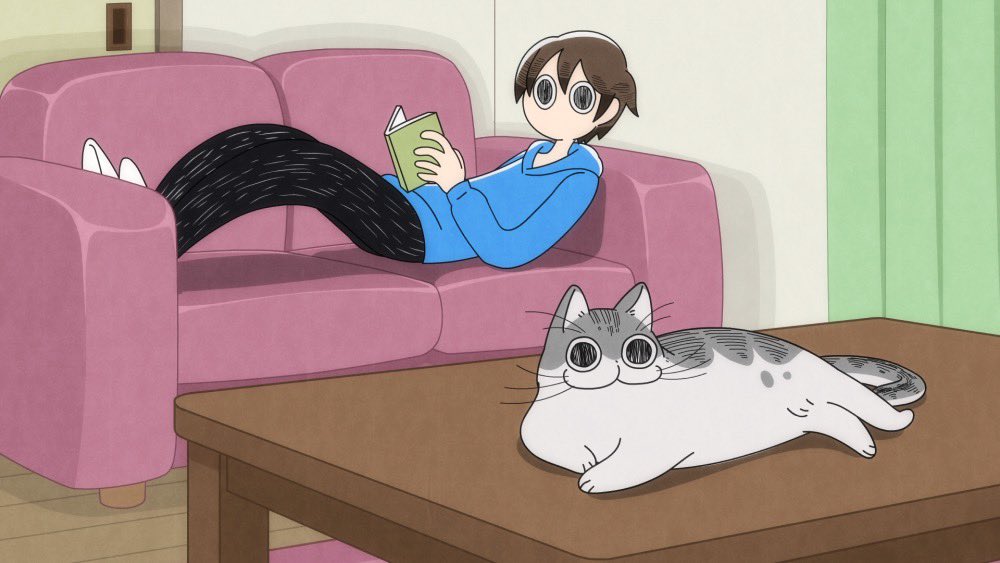 Nights with a Cat's official YouTube channel will live premiere the episode at 8 p.m. on December 7 through the link below:
The official Twitter account of the anime released two Christmas-themed wallpapers where the cat with a Santa hat is playing around a Christmas tree.
Also Read:
Nights with a Cat Releases Preview for Episode 24
Nights with a Cat Gets Collab With Inaba's Ciao Churu, Features Cast's Cats
Ayahi Takagaki (Kuro in the Blue Exorcist series) is voicing the cat Kyuryuga, Satoshi Hino (Ainz Ooal Gown/Momon in the Overlord series) is playing the role of Futa-kun, and Atsumi Tanezaki (Anya Forger in the Spy x Family series) voices Futa-kun's sister Pi-chan in the anime.
Nights with a Cat is a manga essay written and illustrated by Kyuryu Z, and published by KADOKAWA. The series released the fourth compiled volume on October 27, 2022. Studio PuYUKAI (Isekai Quartet series) is producing the anime with Minoru Ashina's direction and scripts. 
Yen Press, the official English publisher for the English edition, describes the plot of Volume 1:
When Fuuta comes home tired at night, all he wants to do is spend time with his new cat. All the mysterious habits and mannerisms of house cats are carefully reproduced in this relaxed and cute comedy about living with an adorable furball!
Source: Official YouTube, Official Twitter (Preview, Wallpaper – 1, 2)
© Kyuryu Z, KADOKAWA/Nights With A Cat