During the OreGairu Fes-FINAL- there was an announcement for two new OreGairu (Yahari Ore no Seishun Love Comedy wa Machigatteiru) projects. One of them is titled OreGairu Climax and will be a direct sequel to the Oregairu season 3. It will be an anime OVA. Unfortunately, the form of the second project, Oregairu Ketsu, is unknown. We have no confirmation if it will be in form of a novel or an anime yet. The OreGairu OVA is bundled together with an upcoming OreGairu: Climax game adaptation.
In addition, you can see the visual for the OreGairu Fes.-FINAL- below:
Moreover, on the event itself you could buy (and you still can) OreGairu merchandise that you can see below!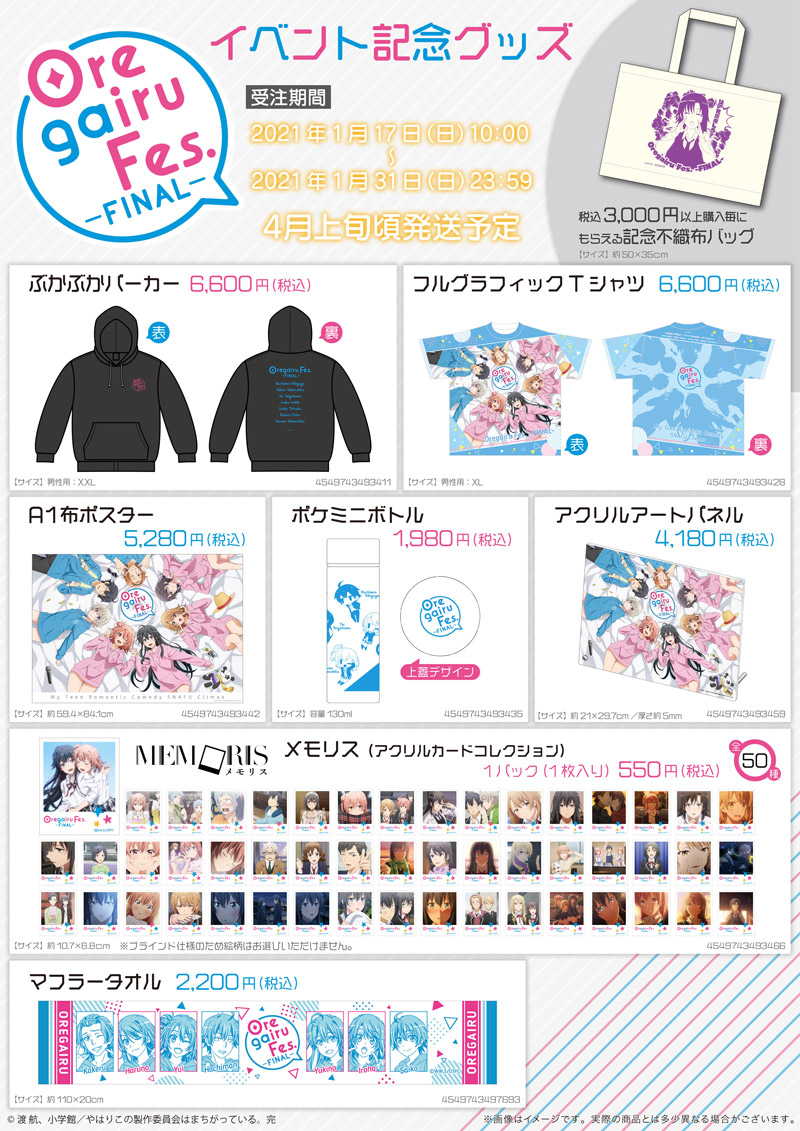 In case you don't know what OreGairu is about, you also can read the synopsis below:
Hachiman Hikigaya is a cynic. "Youth" is a crock, he believes–a sucker's game, an illusion woven from failure and hypocrisy. But when he turns in an essay for a school assignment espousing this view, he's sentenced to work in the Service Club, an organization dedicated to helping students with problems in their lives! How will Hachiman the Cynic cope with a job that requires–gasp!–optimism?
(Written by YenPress)
Also, you can read more anime news here!
Source: Official OreGairu Twitter
Copyright© 1995-2021, Tokyo Broadcasting System Television, Inc. All Rights Reserved.