The Rekishi ni Nokoru Akujo ni Naru zo light novels by Izumi Оkido are getting an anime adaptation. Commemorative illustrations from Okida and manga illustrator Akari Hoshi have been released as part of the announcement.
The Rekishi ni Nokoru Akujo ni Naru zo light novels were first published on the Shosetsuka ni Naro novel website in December 2018. The light novels were picked up by Kadokawa's B's-LOG Bunko in 2020 and published with Jun Hayase's illustrations. A manga adaptation with Akari Hoshi's art is ongoing in B's-LOG Comic magazine.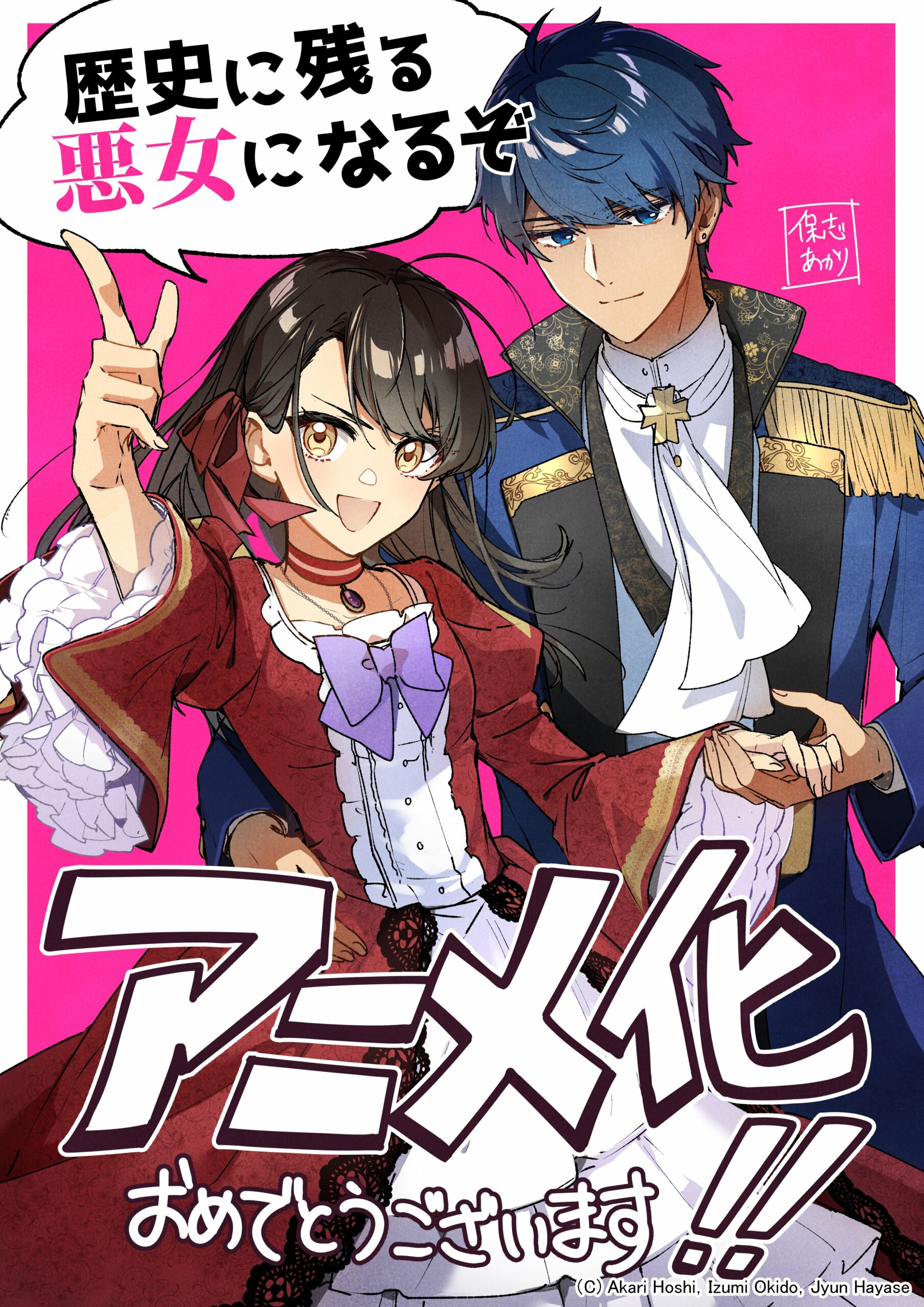 The series follows the story of Alicia, the eldest daughter of the esteemed Williams family, a lineage renowned for their mastery of dark magic. Despite embodying the role of a villainess, she exists as a fictional character originating from an otome game. Meanwhile, a fervent admirer of Alicia, an unnamed young woman, yearns to become her. Miraculously, her wish is granted through a peculiar twist of fate involving a drowsy truck driver. This twist results in her demise and subsequent rebirth as a seven-year-old Alicia within the confines of the game.
Rekishi ni Nokoru Akujo ni Naru zo: Akuyaku Reijou ni naru hodo Ouji no Dekiai wa Kasoku suru you desu (I'll Become a Villainess Who Will Go Down in History: The More Villainous I Become, the More the Prince Dotes on Me) is the first series from the B's-LOG lineup to get an anime. The latest (5th) volume of the light novel and the 4th volume of the manga will both be released on August 12. You can check out OSTER Project's music video for the series:
Source: Official Twitter
© Akari Hoshi, Izumi Okido, Jyun Hayase
See Also:
The Fable Anime Adaptation Reveals First Teaser Trailer
Your Forma Light Novel Gets Anime Adaptation