"That Time I Got Reincarnated as a Slime" episode 38 is out! Tempest's important meeting continues. Plus, the Demon Lords are making their moves. The episode is titled, "Meeting of Humans and Monsters." Major spoilers ahead!
"That Time I Got Reincarnated as a Slime" episode 38 begins with the clown Majin, Laplace. He reports to someone about his infiltration in the Holy Empire of Lubelius. This person is (drumroll) Yuuki Kagurazaka.
In addition, another card on the table is the revival of the Demon Lord Kazaream. It seems to be that Laplace, Yuuki, and Clayman are planning to instigate the Demon Lord's Banquet, Walpurgis. This definitely has something to do with Milim too. It's a lot to wrap my head around, but I know for sure that it's all very interesting …
Veldora is a Game Changer
At Tempest, the important meeting ends before it even begins. Why? Because Veldora's surprise appearance causes quite a hilarious scene. Honestly, seeing people's surprised reactions to overpowering characters never gets tiring. It's really silly, especially when Fuze faints from shock. Plus, Veldora in casual slippers is a fun sight.
Discussing the Way Forward
One of my favorite things about the show is how smart it is. Aside from its skill tree, "That Time I Got Reincarnated as a Slime" episode 38 is also filled with politics, strategy, and tactics. As leaders of their nation, everyone certainly has to address their places with Tempest — a monster nation with a mass-murdering Demon Lord and a terrifying Storm Dragon. Of course, the King and Archduke choose friendship.
It's quite fascinating to see their exchange too. So many heavy responsibilities and decisions! I also found it nice that King Gazel and Archduke Elalude give advice to Rimuru on how to be more diplomatic and "kingly."
More Battles to Come
So far, the episode has been nitpicking my mind. Suddenly, the plot is becoming bigger! The word-building is amazing. It's also surprising to hear how Hinata Sakaguchi is actually a "protector" of people, given how cold she was to Rimuru. From here, we can assume that it was Yuuki who tipped her.
We thought he was an otaku ally, but he's actually a bad guy. It's chilling to think that Yuuki is manipulating all these events — the war, Clayman, and Hinata. What exactly is his plan? Rimuru will surely deal with Hinata and Yuuki later on, but for now, it's Clayman.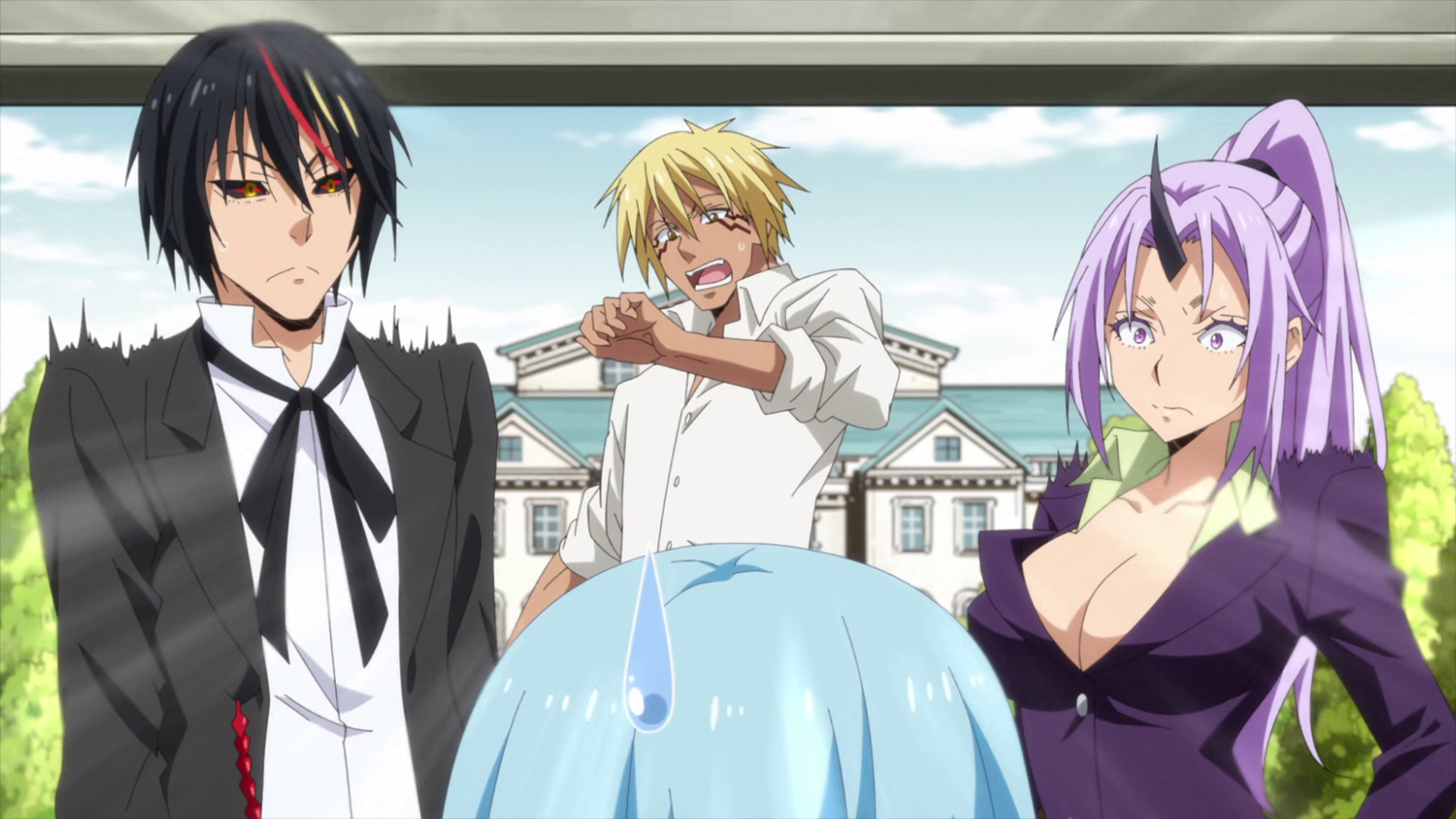 There are a lot of things happening, but the nice thing about the show is that it executes it at a good pace. The comedic parts here is how Shion, Diablo, and Velodra all want to fight for Rimuru. (It's actually cute.) I also love how Veldora just casually reads manga. As usual, the episode leaves us hanging. Ramiris appears with a warning! Tempest is in danger? I honestly can't wait for all of this to unfold soon.
Episode 39 Release Date
Episode 39 is titled "Ramiris' Warning" airs on Tuesday, July 20 at 11:00 PM (JST). It will also be available to watch on Crunchyroll and Muse Asia in select regions.
If you enjoyed this week's episode, make sure to vote for it as well in our weekly poll! Furthermore, you may read all our other Slime articles on the site.
"That Time I Got Reincarnated as a Slime" or "Tensura" for short, is an anime adaption of the light novel by Fuse. It follows the story of how Mikami Satoru reincarnates to another world as a slime monster! He eventually obtains the name Rimuru and begins his quest to create a world that's welcoming to all races. Eightbit Studio is handling the animation production.
Images via Crunchyroll
Official Tensura Website
©Taiki Kawakami, Fuse, KODANSHA/"Ten-Sura" Project