VIZ Media announced its summer 2024 lineup of licensed manga, with an array of genres and new ways to relive many fans' most beloved series. Junji Ito once again strolls into the list of new releases, accompanied by romcoms like You and I Are Polar Opposites, I Wanna Do Bad Things With You, anthologies like My Neighbor Totoro: All-in-One Edition and Haikyu!! (3-in-1 Edition) and accompaniments to the most well-known series like Spy x Family: The Official Anime Guide—Mission Report: 220409-0625 to go alongside the upcoming SPY x FAMILY Animation Art Book.
Super Smartphone (Sugoi Sumaho) [DIGITAL ONLY]
Author: Hiroki Tomisawa, Artist: Kentaro Hidano
Release date: Spring 2024
Synopsis: Kyu discovers a phone that can search through all information on Earth. But he's not the only one…
Cipher Academy (Ango Gakuen no Iroha) [DIGITAL ONLY]
Author: Nisio Isin, Artist: Yuji Iwasaki
Release date: Spring 2024
Synopsis: The all-girl Cipher Academy's new recruit Iroha may struggle with deciphering codes, but he might be the key to ending all wars!
Aliens Area [DIGITAL ONLY]
By: Fusai Naba
Release date: Spring 2024
Synopsis: Tatsumi's already-difficult life is upended when aliens attack him. After being saved by a mysterious organization, Foreign Affairs 5, Tatsumi will need to figure out why aliens are after him.
Naruto: Sasuke's Story—The Uchiha and the Heavenly Stardust: The Manga
Author: Masashi Kishimoto and Jun Esaka, Artist: Shingo Kimura
Release date: Summer 2024
Synopsis: Sasuke and Sakura take on ancient secrets, deadly conspiracies, and even dragons in this manga adaptation of the novel.
Years after the great shinobi war, Naruto is struck with a mysterious illness. Desperate for a cure, Sasuke and Sakura undertake a dangerous undercover mission in the distant Land of Redaku. Together they discover a plan that goes beyond life and death, and a battle that will test this husband-and-wife team till death do they part.
Sasuke Uchiha heads for the isolationist land of Redaku, where he'll need to infiltrate an astronomical observatory that's being operated as a prison for deadly criminals. There he rendezvouses with none other than his wife, Sakura, and together they dive into an undercover investigation in search of traces of the Sage of Six Paths! With danger lurking around every corner, what fate will lie in store for the ninja couple?
Naruto: Konoha's Story-The Steam Ninja Scrolls: The Manga
Author: Masashi Kishimoto, Artist: Shou Hinata
Release date: Summer 2024
Synopsis: A comedic story set in the universe of Naruto that features Kakashi, Guy, and Mirai Sarutobi, along with the rest of the new generation!
Mirai Sarutobi has a lot to live up to as the granddaughter of Konoha's third Hokage and the daughter of Asuma Sarutobi, the hero who gave up his life during the Great Shinobi War. But as everyone continues to expect great things from her, she struggles to separate herself from her family's legacy and find her own way.
When Mirai is assigned a super-secret mission to protect Kakashi and Guy on their journey to the Land of Steam, she expects to fend off assassins around every corner. Instead, she finds herself babysitting two grown shinobi who are acting like an old married couple on a hot springs vacation! What is a girl trying to prove herself to do?
Hirayasumi
By: Keigo Shinzo
Release date: Summer 2024
Synopsis: With a carefree outlook on life, Hiroto knows better than anyone that slowing down is sometimes the best way to move forward.
At 29 years old, carefree Hiroto Ikuta doesn't have a girlfriend, a full-time job, or a plan for the future—and he couldn't be happier. Hiroto's breezy attitude isn't easy for everyone to understand, though. In a world filled with anxiety, confusion, and grief, Hiroto and the people who surround him are all just doing their best to figure out this thing called life.
After developing an unlikely friendship with the grouchy old granny who lives in his neighborhood, Hiroto suddenly finds himself inheriting not just her house, but some rather difficult emotions as well. His 18-year-old cousin Natsumi moves in with him, but as a struggling art student, she has her own troubles to deal with and may just put Hiroto's easygoing lifestyle to the test.
Star Wars: Visions: The Manga Anthology
Author, Artist: Kamome Shirahama, Keisuke Sato, Yusuke Osawa, Haruichi
Release date: Summer 2024
Synopsis: Celebrate the mythos of Star Wars with this manga adaptation of the hit Disney+ series Star Wars: Visions!
The first series of Star Wars: Visions invited visionary Japanese anime studios to explore the Star Wars galaxy through their unique cultural lens. Now, top manga creators such as Kamome Shirahama and Yusuke Osawa bring those visions to life in manga form! Featuring the episodes: "The Elder," "Lop and Ocho," "The Ninth Jedi," and "The Twins."
Disney Twisted-Wonderland: Rose-Red Tyrant: The Novel
Author: Jun Hioki and Yana Toboso, Artist: Yana Toboso
Release date: Summer 2024
Synopsis: A tie-in novel based on the Disney Twisted-Wonderland mobile video game and inspired by Alice in Wonderland.
Meet the curiouser and curiouser students of Night Raven College in Disney Twisted-Wonderland: Rose-Red Tyrant. When Yuya Kuroki is transported to the mysterious academy for the magically gifted, he discovers he must navigate a colorful cast of characters as he searches for a way home.
Delve into an alternate world inspired by Alice in Wonderland and filled with Disney Villains reimagined by Yana Toboso, the acclaimed creator of Black Butler. The book includes original art and a foldout poster illustrated by Toboso.
Deadpool: Samurai-The Official Coloring Book
By: VIZ Media
Release date: Summer 2024
Synopsis: A coloring book based on the best-selling manga Deadpool: Samurai.
Deadpool: Samurai—The Official Coloring Book includes 80 pages of art for fans of the merc with a mouth to color! Featuring illustrations by Hikaru Uesugi taken from the pages of the Deadpool: Samurai manga, this coloring book is packed with art featuring Marvel characters such as Iron Man, Thor, Black Widow, Loki, and more.
This book features thick, high-quality paper and includes a flexible binding to make coloring easy for all!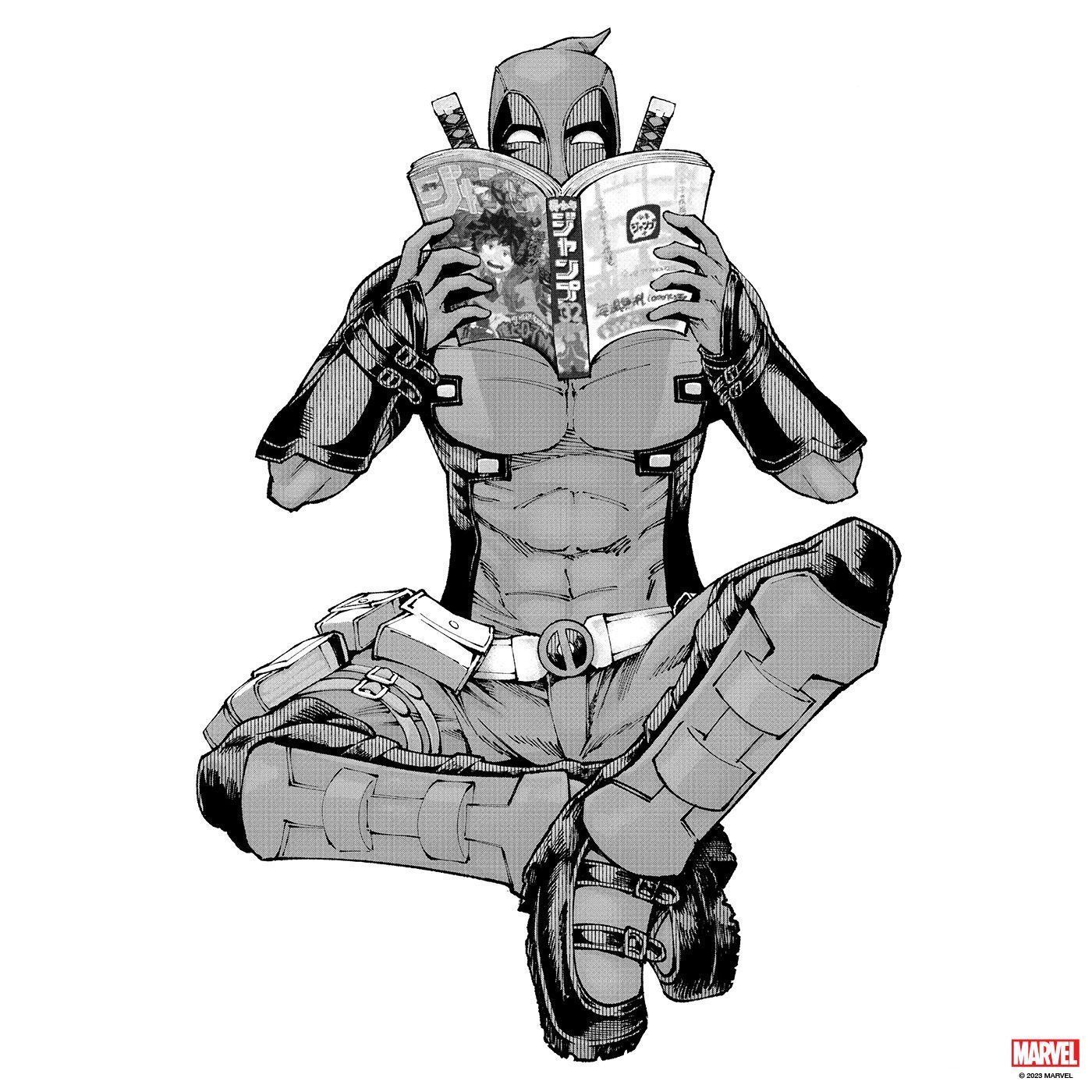 Alley: Junji Ito Story Collection (Rojiura: Ito Junji Kessakushuu)
By: Junji Ito
Release date: Summer 2024
Synopsis: A collection full of grotesque imagination and surreal urban legends.
Every night, a young man hears children playing outside of his boarding house. But the alley below his window is fenced off from the world. What secret lies within the stains on the alley's walls? Then, when a young woman's family starts acting strangely at the same time she begins having bizarre dreams, she decides to stay with her aunt, but the town she heads for has neither addresses or roads… Also, an all-you-can-eat ice cream truck that's more sinister than sweet!
Legendary horror author Junji Ito presents ten blood-curdling short stories.
You and I Are Polar Opposites (Seihantai na Kimi to Boku)
By: Kocha Agasawa
Release date: Summer 2024
Synopsis: When it comes to romance, opposites really do attract!
Miyu Suzuki is a bright and bubbly high schooler who's got a crush. There's just one little problem—when it comes to personality, the guy she's into is her polar opposite!
Suzuki's a high school girl in love. The only problem is that the guy she's fallen for is pretty much her total opposite! While she's cheerful, outgoing, and always trying to fit in, her classmate Yusuke Tani is stoic and quiet, and he doesn't seem to care what people think of him. Will Suzuki be able to overcome her anxieties and ask him out, or will she discover that opposites really don't attract?
Fool Night
By: Kasumi Yasuda
Release date: Summer 2024
Synopsis: In a distant future where the sun no longer shines, Toshiro Kamiya gives up his body to a sinister floral metamorphosis for a payday.
The earth of the distant future is covered in thick clouds, and the sun no longer shines. Plants wither, and oxygen is thin. To fight extinction, humankind has developed a technology that turns humans into plants, providing a small amount of oxygen. Is this process sustainable? Is it ethical? Toshiro Kamiya must consider these questions as he's faced with a difficult choice—save his family or save himself.
Kamiya is at the end of his rope. His mother is ill, and his job barely pays for her medication, much less food. With few options left, he considers the life-changing process of floromorphosis. Ready to give his body up for a payday, Kamiya is about to explore the limits of society's waning humanity.
I Wanna Do Bad Things With You (Kimi to Boku Warui Koto ga Shitai)
By: Yutaka
Release date: Summer 2024
Synopsis: Sometimes being the villain is way more fun than being the hero.
Mamori Wataya has always faded into the shadows at her school. Tall and plain, she long ago accepted her role as a side character. When she befriends Soushi Fuji, her brusque classmate who walks with a cane and gets even when people underestimate him, a new avenue appears before her. Can Fuji teach her to embrace her bad side and become a villain like him?
When Fuji asks Wataya to drain the school pool for him, she gets her first taste of the high that comes from breaking the rules. Like the villains in anime and manga that Wataya admires, she's ready to try being a little naughty. Though she may not be ready for drastic crimes, Wataya knows she wants to start doing bad things.
Spy x Family: The Official Anime Guide–Mission Report: 220409-0625
By: Tatsuya Endo
Release date: Summer 2024
Synopsis: The official companion guide to the first twelve episodes of the smash-hit anime series Spy x Family.
Uncover the secrets of the Forger family with Spy x Family: The Official Anime Guide—Mission Report: 220409-0625!
This full-color companion guide to the first twelve episodes of the hugely popular anime based on the manga series by Tatsuya Endo provides readers with an exclusive behind-the-scenes look at the creation of this thrilling and comedic TV series.
Storyboards, character designs, episode guides, production art, image gallery, and exclusive interviews with the production team and voice actors show how the world of Loid, Anya, and Yor was transformed into the hit animated show. The manga's creator also provides commentary about his experience with the anime's production.
GoGo Monster
By: Taiyo Matsumoto
Release date: Summer 2024
Synopsis: A haunting and poetic vision of one boy's imagination.
Third grader Yuki Tachibana lives in two worlds. In one, he is a loner ridiculed by his classmates and reprimanded by his teachers for telling stories of supernatural beings that only he can see. In the other, those supernatural beings vie for power with malevolent spirits who bring chaos into the school, the students' lives, and nature itself.
Haikyu!! (3-in-1 Edition)
By: Haruichi Furudate
Release date: Summer 2024
Synopsis: Shoyo Hinata is out to prove that in volleyball you don't need to be tall to fly!
Ever since he saw the legendary player known as "the Little Giant" compete at the national volleyball finals, Shoyo Hinata has been aiming to be the best volleyball player ever! Who says you need to be tall to play volleyball when you can jump higher than anyone else?
After losing his first and last volleyball match against Tobio Kageyama, "the King of the Court," Shoyo Hinata swears to become his rival after graduating middle school. But the guy he wants to defeat ends up becoming his teammate at Karasuno High School! The two will have to prove themselves capable of playing together if they want to have a future playing volleyball.
My Neighbor Totoro: All-in-One Edition
By: Hayao Miyazaki
Release date: Summer 2024
Synopsis: Revisit one of Studio Ghibli's most beloved classics with the My Neighbor Totoro film comics, collected for the first time into one large deluxe hardcover edition!
Eleven-year-old Satsuki and her sassy little sister Mei have moved to the country to be closer to their ailing mother. Soon, in the woods behind their spooky old house, Satsuki and Mei discover a forest spirit named Totoro. When Mei goes missing, it's up to Satsuki to find her sister, and she'll need help from some new—and magical—friends.
Let's Do It Already! (Hayaku Shitai Futari)
By: Aki Kusaka
Release date: Summer 2024
Synopsis: His rule: No sexual relations until age 18! Her rule: No rules.
Free-spirited Yuri Hasegawa and straitlaced Keiichiro Katsuragi have fallen in love. But his elite political family—which has produced a long line of prime ministers—does not allow male descendants to engage in any sexual relations until they are 18. Can the physically affectionate Yuri and rule-abiding Keiichiro keep their relationship strictly chaste?
Yuri and Keiichiro have gotten to know each other on their daily commute to their respective high schools. Yuri makes a passionate love confession to Keiichiro, and he feels the same! As a new couple, Yuri rushes in to kiss her new boyfriend, but…!
Battle Royale: Enforcers
Author: Koushun Takami, Artist: Yukai Asada
Release date: Summer 2024
Synopsis: High school students battle each other to the death in the original survival game!
Twenty years ago, the fascist government of the Republic of Greater East Asia seized control of Japan. In order to terrorize the citizens and crush any possibility of rebellion, the government set up Program 68, a savage military program where Japanese high school students were sent to a remote island and forced to kill each other—the Battle Royale.
After being banned for two decades, Program 68 is back, now under the direction of a sinister government artificial intelligence. The troubled and misbehaving kids of Daitoa Academy's Class F have been chosen, armed, and divided into squads, and now must fight each other to the death. Friendships and loyalties will be tested, and only the strongest will survive.
Synopses courtesy of Barnes & Noble, VIZ Media
Featured image: Tokyo Ghoul © Sui Ishida/Shueisha, Tokyo Ghoul Production Committee
Also read:
VIZ Media Announces Magilumiere, Marriage Toxin, Jujutsu Kaisen Character Guide and More