Talent agency Pro-Fit will close its production business by the end of March 2022, president Tanimura Makoto announced. The agency, which was founded 18 years ago, represents voice actors such as Okamoto Nobuhiko, Kito Akari, and Yuuki Aoi.
The announcement states support for their voice actors' transfer or independence will begin in January 2022, aiming to have all of them transferred or independent by the end of March 2022. The official website will keep updating the information.
As for the reason for closure, the management operation department would fall into a serious situation for the next few years, which makes it impossible to do "responsible management" for their voice actors. So they decided to close the production business while they have the stamina to manage people with responsibility and take care of the future of their voice actors and staff. Tanimura clarifies he is all to blame. The president also shared good news – one of their voice actors, Okamoto Nobuhiko will launch a new agency to accept all of the newbies, and of those who have been to the agency's training school. Some managers and voice actors will set one up as well. Along with Tanimura's audio production company Sound Wing, the new agencies will have business partnerships.
Okamoto Nobuhiko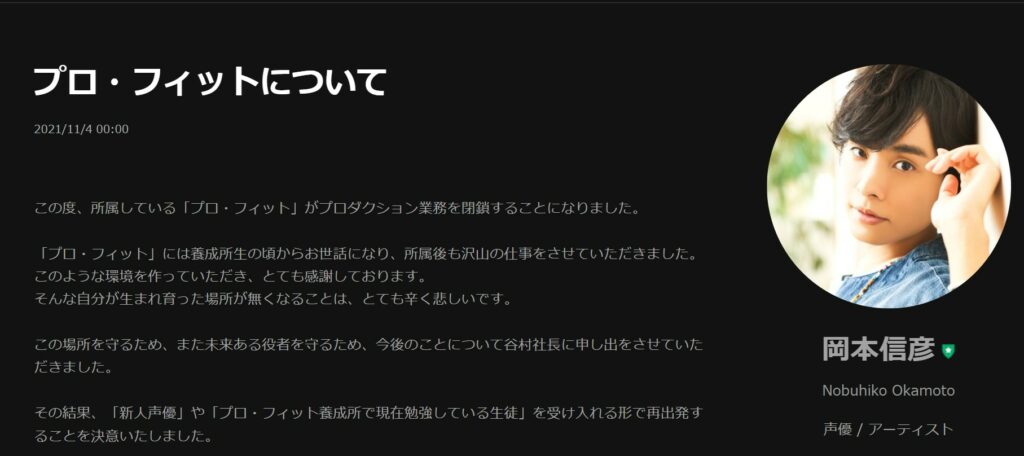 The male voice actor, known for the voice of Bakugo Katsuki (My Hero Academia) and more, updated his blog for his agency's announcement and reveals his reasons behind the decision.
The agency has done a lot for him since he was a trainee. He has received many jobs after he joined, his blog says. He really is grateful for the circumstances the agency built. So it's very painful and sad that the place he was born and grew up will be gone. That's why he made the suggestion to the agency's president for the launch of his production to preserve the place and protect actors that have bright futures ahead. He further expresses his resolution and would like to create one that people would feel "I believe I wouldn't be what I am now if this production didn't exist." Plus, he extends his words to trainees. He will take over the agency's training school that has raised him, so his new agency will surely help them grow as well.
Other Voice Actors
Kito Akari, who voices Kamado Nezuko (Demon Slayer) shared her emotions about the announcement on Twitter likewise.
About the announcement last night. Pro-Fit is a precious agency who has discovered and raised me, an ordinary person back then. I'm just being filled with sadness for the place to be gone… But I will keep in mind what they have done for me and taught me thus far, and keep on doing my best in the future, so I hope you continue to support me.

Kito Akari
Yuki Aoi, who voiced Kaname Madoka (Puella Magi Madoka Magica), also tweeted her feelings to her fans over the ongoing closure.
Let me express thanks to your warm words. But please don't worry. All of the staff members have been giving it all for actors to continue playing in the future. It really is sad to leave the agency I have been in for over 10 years, but I will face forward and work hard to see others again at recording studios. I'd be grateful for your continued support for all of us.

Yuki Aoi
Source: Official Website, Official Blog
©2006-2021 PRO・FIT Inc
Also read:
Okamoto Nobuhiko Joins Twitter, 250k Followers in 1 Day
Akari Kitou Releases Second Photo Book