Several popular virtual YouTubers or VTubers have shared their best anime ever in a latest video collaboration hosted by Joey Bizinger, popularly known on YouTube as The Anime Man. The video has invited over 100 YouTubers to share their favorite anime ever, with big names such as PewDiePie, CDawgVA, and Gigguk.
Here is the list of the guest VTubers and their corresponding responses:
Haruka Karibu
For this Caribou, it would be Cardcaptor Sakura, since for her, it has always been fun to see the main character Sakura go on to various adventures with her friends as well as see her grow as a person. In addition, Haruka noted that she also loves Sakura's catchphrase of "Everything will definitely be alright".
Multiverse Monarch
Amanda Lee's VTuber persona Multiverse Monarch revealed that Full Metal Alchemist: Brotherhood is her favorite series. She loves how the show has great focus as well to not only the main characters, but also to the supporting ones. She even joked about wishing for a side anime series for Lady Olivier Mira Armstrong, one of the show's side characters.
Emirichu
American YouTuber/animator-turned VTuber Emirichu didn't have a specific title to be named as her favorite. However, she shared three titles namely Nichijou, Cardcaptor Sakura, and Fruits Basket. For her, these titles evoke a sense of nostalgia for her, as well as emotional attachment, whether if it's the hilarious fits from Nichijou or the emotional themes of Fruits Basket.
Fream
This independent English VTuber takes Neon Genesis Evangelion as her favorite. For her, the series covers a lot of social and cultural themes that are still relevant to this day, as well as the character development in the series. She even revealed that the pigtails on her VTuber model were inspired by the looks of the character Asuka Langley Sohryu.
Layna Lazar
For the digital sculptor and VTuber Layna Lazar, her favorite anime is Vampire Hunter D, referring to the 1985 fantasy horror anime film directed by Toyoo Ashida and produced by Ashi Productions. For her, the combination of fantasy and dark horror themes really works well, as well as the art style used in the film.
Lord Aethelstan
Independent English VTuber Lord Aethelstan chose Baccano as his favorite title, saying that he believes that there is so much to explore in the subtlety of the storyline, alongside its interweaving complex themes. He also adds mentions one more thing: the jazz tunes in the music. I mean, who could forget the opening theme Guns and Roses by Paradise Lunch?
Takahata
Without hesitation, the popular bartender VTuber said that Outlaw Star is his favorite, mainly because of the character Aisha Clan-Clan, a former officer of the Ctarl-Ctarl Empire, which ruled over Ctarl-Ctarls, a humanoid alien species in the Toward Stars Era.
Miyune
American independent VTuber Miyune recommended the 2010 anime series High School of the Dead. The reason? The uhm–the–T-word. (Yes, we're not joking: this is the only answer she gave)
Wolfychu
Irish-English YouTuber Wolfychu said that K-On!! was her favorite anime series, falling over the cuteness of the characters and rating it a 10/10.
Kizuna Ai
The "Queen of VTubers" herself revealed that her favorite show at the moment is ODDTAXI. According to her, the show is like a "love child between Durarara!! and BEASTARS," implying the cuteness of the characters even with the series' serious undertones.
© Kizuna AI
Kson
Our favorite Japanese VTuber Kson said that Naruto is her favorite, saying that "every guy he met who haven't watched Naruto is a [redacted "b" word]!" Looks like this is a call for everyone to at least watch some of it then, right?
Mori Calliope
Hololive English's resident grim reaper revealed that her favorite series is Gurren Lagann, a 2007 sci-fi series animated by Gainax and directed by Hiroyuki Imaishi. According to her, the series is a 'core part of her belief', implying the philosophical undertones of the show, much reflected in her own discography.
Hololive English © 2016 COVER Corp
Airani Iofiteen
The Hololive Indonesia talent says Hunter x Hunter is her favorite series, which according to her has a beautiful plot and the story progression is just perfection. She even joked about being in a coma, and waking up when the franchise finally continues.
Hololive Indonesia © 2016 COVER Corp
Kureiji Ollie
In a rather surprising way, Hololive Indonesia's resident zombie VTuber said that Kaichou wa Maid-sama! was her favorite. While she admitted that the animation isn't the smoothest compared to other anime titles, the series' storyline brings her back to watch it again. As much as she wants it to have another season, Ollie believes that the title has concluded the story well.
Hololive Indonesia © 2016 COVER Corp
Mysta Rias
The Nijisanji EN VTuber from the fourth wave 'Luxiem' said that Don't Toy With Me, Miss Nagatoro is his favorite series. For him, the series is a breath of fresh air from the typical romcom anime setting. He also notes of the great character progression of Naoto from the first episode up to the last. He even mentioned that he is up-to-date with the progress on manga. (Side note: Read our interview with Miss Nagatoro author Nanashi.)
© ANYCOLOR, Inc.
Froot
Also known online as Apricot the Lich, the VShojo talent shared that Mob Psycho 100 is her favorite series. Primarily, she likes the main character Shigeo Kageyama's unconventional character trope. In addition, she likes the art style of the series, and is anticipating its third season.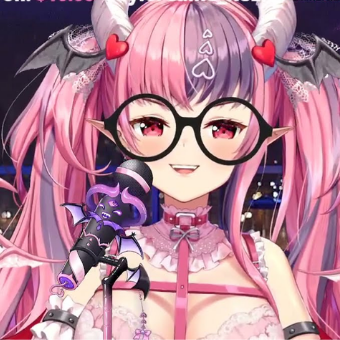 Ironmouse
For this small yet strong VTuber affiliated with VShojo, Gintama is her choice, stating that the show can literally go from zero to a hundred in terms of the story direction. She also likes how the show manages to blend romance, comedy, and drama all into one series.
Nyatasha Nyanners
Another VShojo talent on the list, Nyanners recommends the 2008 romantic comedy Toradora! For her, the show is a beautiful mix of romantic and comedic banter, alongside beautiful human moments. In addition, the character development of the series is something that she enjoys going back to.
Projekt Melody
For one of VShojo's fan favorites, her choice was the 2019 series Beastars. For her, there is so much action packed in this series of anthropomorphic animals raging in a cultural war between the herbivores and the carnivores.
---
And there we have it: some of the best anime from VTubers. What do you think of their choices? Also, you can watch the full version of the video collaboration down below:
Featured Image: Haruka Karibu, Kureiji Ollie, Fream, Mysta Rias, Nyanners
Also Read:
What Are Hololive Council's Top 10 Anime Choices?