A Couple of Cuckoos episode 3 has aired and it revealed more about the personalities of the main characters in the series. Following the ending of the second episode, both Nagi and Erika are now living together as ordered by Erika's father, Soichiro Amano. Although his intentions weren't revealed, when it comes to why he set them up to live together, it's obvious that it's for Nagi and Erika to get closer to each other. After all, they are to be married someday.
Since both of them dislike the marriage idea, they have no interest in getting to know each other better which is why they made one house rule: no involvement with each other by any means. Unfortunately, the rule was broken a couple of times. And even with the rule, they've become closer than they thought they would.
Perhaps Way too Close
Expectedly and unavoidably the two have gotten closer to each other and it was hilarious. Let's take a close look at a few scenarios that happened in just one day. Right off the bat, Nagi barged into the bathroom while Erika was taking a bath, but for good intentions (he was finding out why Erika was crying for help and tried to save Erika). In another scenario, the two playing with the hose, getting each wet just to take that perfect shot. Lastly, they had a picture together that seems like they were cuddling in Erika's bed.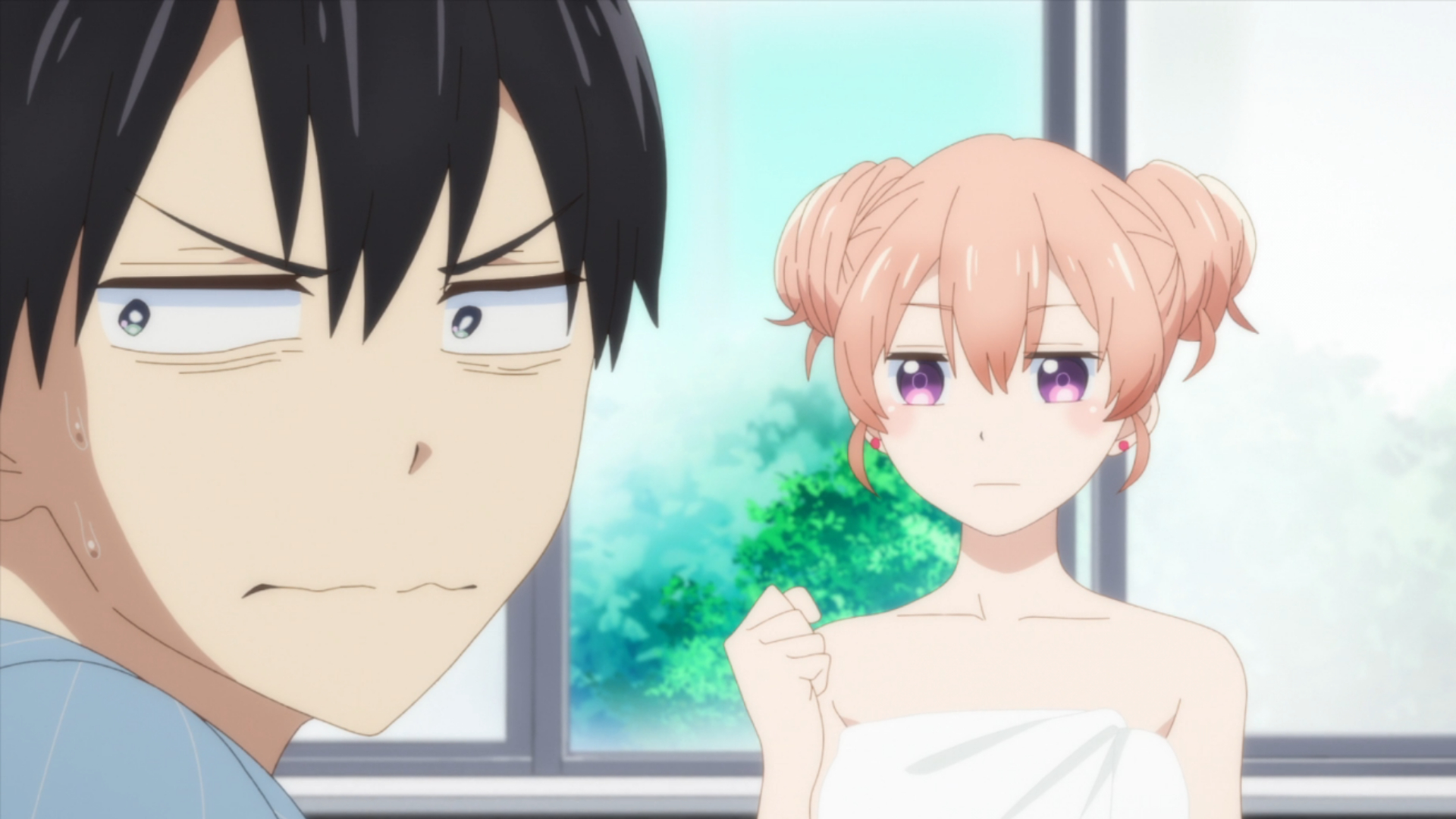 Based on the three scenarios, it seems like the plan of Erika's father has been successful within just one day. Funnily enough, all three scenarios mentioned were mere accidents. It's like fate is playing with these two. What I really liked about this is that it's not only Nagi and Erika who have grown to know each other more but also us, the audience of the show. We've become more acquainted as each episode goes on. The series consistently shows Erika's seemingly spoiled yet tender side and Nagi's persistent and hardworking personality.
The Hardworking MC
The third episode is a showcase of how diligent a student Nagi is. On holidays, weekends, after school, and even when he's sick, the top student continues to review his notes, and not doing so makes him feel like his time is wasted. His actions may seem a bit too much but he has his reasons. However, in the episode, it was shown that his being over-studious has finally taken its toll. Luckily, Erika noticed how Nagi was feeling and catered to his needs.
A Declaration of War
Of course, a cuckoo episode cannot end without something to look forward to the next one. To push the story forward, Hiro Segawa (Nagi's love interest) steps into the series looking innocent and oblivious as depicted in the first episode. However, she shows her competitiveness and fierceness after knowing Nagi is aiming to surpass her. With her top spot on the line, she declared that she won't lose her 1st place spot against the hardworking mc. How does Nagi react to this? Well, this just made Nagi even more confident and makes us even more excited about what is coming. Because after all, if he does beat her, he will confess to her and who knows what happens next.
If you enjoyed episode 3 of A Couple of Cuckoos, you can vote for it in our weekly polls!
Screenshots via Crunchyroll
© Miki Yoshikawa / Kodansha / A Couple of Cuckoos Production Committee