The first episode of Osamake: Romcom Where The Childhood Friend Won't Lose finally premiered on April 14, 2021! But first and foremost, have you ever been dumped by your first love? May it be a yes or no, you shouldn't miss out on Osamake, and here's why!
A Childhood Friend and His First Love
The story of Osamake is about a guy seeking vengeance for his first love with the help of his childhood friend. It might sound romantic and cruel, but Haru along with his childhood friend, Kuro, and his first love, Shirokusa will make your Osamake experience the best it can be!
And yet, here we are again in a tight debate on who would win! Would Haru end up with his childhood friend, Kuro? Or with his first love, Shirokusa? Who are you going to vote for?
Romance Is In the Air
Have you ever fell in love for the first time? Have you ever had such intense feelings for someone?
For our main lead Haru, he did fall in love for the very first time. Haru fell for Shirokusa, an elegant, determined character whose debut novels won an award. He admired Shirokusa for her talent and beauty, and most of all, after seeing Shirokusa's smile, he fell in love with her.
But sadly, things did not end up well for Haru. As he learns that his first love is dating a well-known celebrity, he is devastated. Haru felt depressed and distraught, leaving him broken and longing for peace of mind. And that was how his first love ended.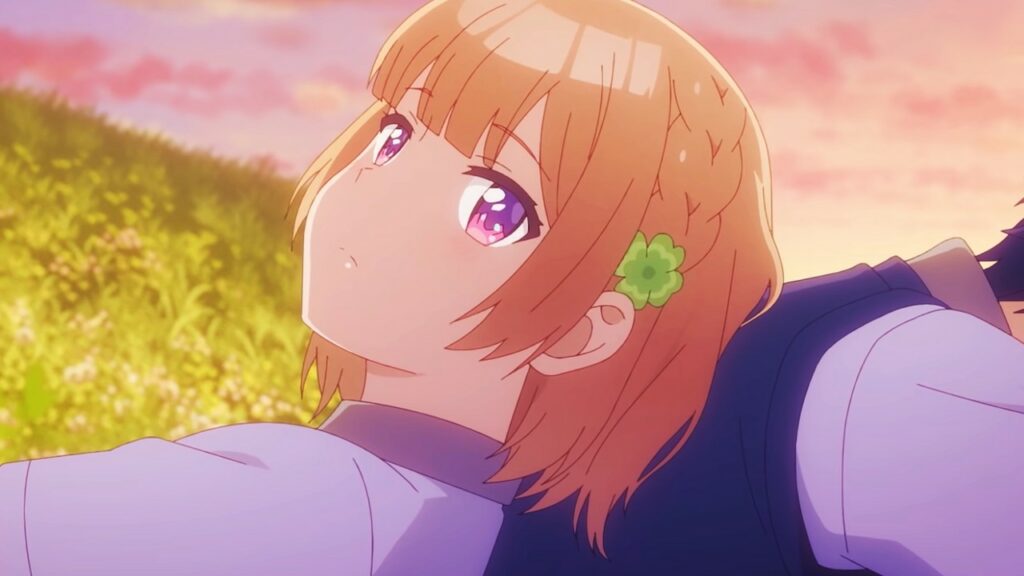 Luckily, Haru's got a kindhearted childhood friend whom he rejected once before. And that childhood friend is no other than Kuroha. Despite being rejected, Kuroha earnestly comforted Haru when he felt sad and lonely. She praised Haru for being kind and even told him that Shirokusa's missing a lot.
And the best thing Kuroha did was lift Haru's spirits and encourage him to take revenge on his first love! Isn't it good to have someone like Kuroha around?
Let Your Feelings Run Wild
Now that you've got a good grasp on how the story started, what are your first impressions of the series? What emotions overtook your heart and mind?
There are scenes in the first episode that made us laugh, cry, or even make us feel somehow irritated. With all these mixed emotions from a single episode, Osamake will absolutely satisfy you to your heart's content. The first episode is a success, and the series would undoubtedly maintain its uplifting yet heartbreaking tone in subsequent episodes.
One thing for sure, Osamake will play with your feelings. Not only that, Osamake will make you think about how it would feel to have someone comfort you. It truly lives up to its title being a rom-com series – a perfect balance of romance and comedy!
Notable Voice Actors
To better pique your interest, let me tell you that Osamake has notable voice actors! Every single character from the series might sound familiar to you, especially the main protagonist! Here's a list of the series' voice actors so you can find out.
Yoshitsugu Matsuoka as Sueharu Maru
Ayane Sakura as Shirokusa Kachi
Inori Minase as Kuroha Shida
Saori Ōnishi as Maria Momosaka
Nobunaga Shimazaki as Tetsuhiko Kai
Takuma Terashima as Atsushi Abe
Fun fact: Yoshitsugu Matsuoka, Saori Ōnishi, and Inori Minase are also voice acting for the series Is It Wrong to Try to Pick Up Girls in a Dungeon?.
---
You can watch the first episode of the series on Crunchyroll or Muse Asia on YouTube. Once you're done watching, you could read more features here!
All images from Muse Asia's Official YouTube Channel
Osamake Official Twitter
Osamake Official Website
©2021 二丸修一/KADOKAWA/おさまけ製作委員会