Episode 10 of Osamake: Romcom Where The Childhood Friend Won't Lose finally premiered and the childhood friends keep up their game even after the beach outing concluded! Now that Ultramarine Channel's back at school, we'll get to witness an all-new member of the team.
Shirokusa the Babysitter
In the previous episode, Sueharu suffered an injury trying to catch Shirokusa while she was falling. With that, he ended up having to wear an arm sling, making him incapable of doing chores. Because of that, Shirokusa decided to stay at Sueharu's house for quite some time.
Of course, she brings along their exclusive maid, and Shirokusa's friend, Shion Ōragi. Also, it seems that Shion despises Sueharu for being close with Shirokusa.
Fun fact: Shion Ōragi was voiced by no other than Kaede Hondo. She also voiced Elaina from Wandering Witch: The Journey of Elaina and Sakura Minamoto from Zombie Land Saga Revenge. In addition, she will be lending her voice to Flora Beltrum for the upcoming anime series Seirei Gensouki: Spirit Chronicles.
Kuroha Never Stops
Just because Ultramarine Channel's beach vacation has ended doesn't mean Kuroha will stop with her game! She still keeps her persistent actions and forces through Sueharu's feelings by keeping up with her "I love you" game.
Unfortunately, her mother did not approve of the idea of having an overnight stay at Sueharu's house.
The New Idol Schoolmate
Let's all recall in the past episodes that Momosaka already informed the Ultramarine Channel that she will be transferring to their school. And here she comes, right after the beach outing – the new idol schoolmate!
Additionally, Momosaka is now officially a member of Ultramarine Channel!
Ultramarine Channel's New Project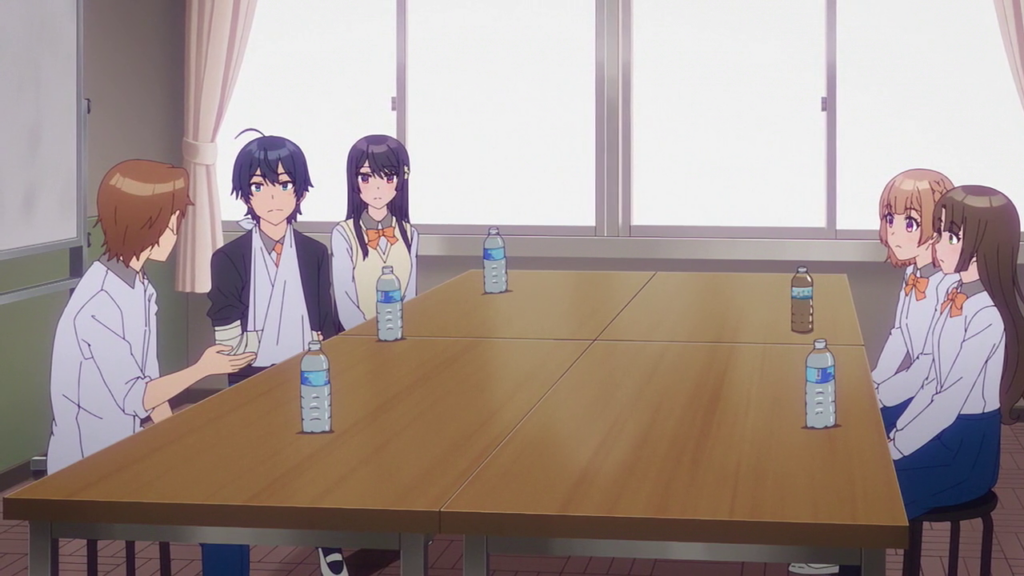 While Sueharu and Kuroha were talking at the rooftops, Tetsuhiko suddenly sent them a message. He wanted to discuss a new project for Ultramarine Channel. And that project is about filming and producing Sueharu's documentary series about his life after he left the acting industry.
The War Never Stops
Let's not forget that the war between these childhood friends is still ongoing! Kuroha asked Shirokusa and Momosaka to have a meeting at a simple cafe – only the three of them. They all agreed upon implementing distances to Sueharu as they are being easily recognized throughout the school. Also, Momosaka suggested a plan regarding Ultramarine Channel's new project.
As to what that suggestion was, we'll find out in the next episode. One thing for sure, these girls are being sketchy – as if they all have certain plans.
---
Let's all find out what would happen at Ultramarine Channel's new project and support the series here in our weekly polls!
You can watch Osamake episode 10 on Crunchyroll or Muse Asia on YouTube. Once you're done watching, you could read more features here.
All images from Muse Asia's Official YouTube Channel
Osamake Official Twitter
Osamake Official Website
©2021 二丸修一/KADOKAWA/おさまけ製作委員会