Kureiji Ollie, the resident cute zombie VTuber of Hololive Indonesia, has officially reached 1 million subscribers, making her the second VTuber from the Indonesian division of Hololive to reach such a milestone, alongside Moona Hoshinova. In addition, Ollie is also the first VTuber among Hololive Indonesia's second-generation lineup to reach one million subscribers.
According to SocialBlade, Ollie reached the milestone on the 24th of March this year, with more than 4,000 subscribers adding up to reach the milestone. This is despite the fact that Ollie made a so-called 'unsubathon' stream on the same day, an ironic take on the rising number of VTubers doing subathons to reach milestones.
Ollie explained during the 'unsubathon' stream that she was supposed to share something with her fans, but it's not ready yet, this is why she'll do anything to keep the numbers low. In a moment that defines "suffering from success," Ollie still reached the milestone.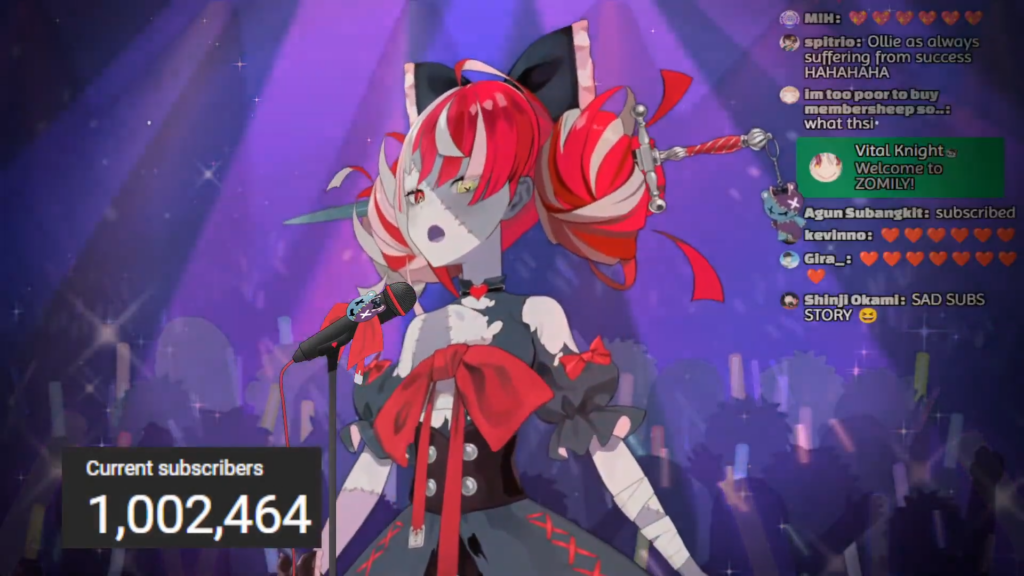 In a series of 'thank you' tweets, Ollie said that "I still can't believe that we finally reached this far…". Various VTubers and well-known online personalities have congratulated Ollie, including VShojo's Ironmouse and Joey "The Anime Man" Bizinger.
Kureiji Ollie debuted alongside fellow generation members Anya Melfissa and Pavolia Reine on December 4, 2020. Throughout her VTuber journey, she has released several popular music covers, including her solo cover of "Kyouran Hey Kids!!" and "Envy Baby" alongside Astel Leda. In addition, she was also part of some of Hololive Indonesia's group discography, including their single "id:entity" and their Indonesian folk music medley, in celebration of the 76th anniversary of Indonesia's Independence Day.
Ollie rose to prominence as well in the VTubing community due to her chess gameplay, which was documented during the "Tournament Arc 2" hosted by Chess.com. In that tournament, Ollie ranked 6th. She is also known best for playing Apex Legends and constantly suggesting others to also play it. She was a commentator for the Aegis invitational Apex Legends Tournament alongside popular European gamer Dan "rpr" Ušić.
More recently, Ollie joined the rest of Hololive VTuber lineup at the Hololive Super Expo 2022 online program held from March 19 to 20, the same weekend as the Hololive 3rd fes. Link Your Wish concert.
Source: YouTube Live Stream
Hololive Indonesia © Cover Corp