We learned a lot about Miko in episode 4 of the Mieruko-chan. Following the events in the previous episode, Miko tried to use prayer beads to scare the ghosts, but her plan failed and her daily life with the ghosts continued. That said, Miko expressed her feelings about what's happening around her in this episode. As result, we happen to see her struggles and how thoughtful she is.
Warning: This Section Might Contain Spoilers
Miko might already be used to seeing ghosts around her. However, seeing them seeking attention and making noise still feels weird, so she ends up chasing one outside, just because she was curious.
Miko's Struggles and Wish
Because of the recent events in Miko's life, even her brother Kyousuke noticed that she is acting weird so he followed her from school to a bookstore. It looked like Miko is trying to learn more about how to deal with ghosts by reading books about the paranormal.
Miko continues struggling at home. Ghosts even follow her to the bathroom – a place she's the most comfortable in. This leads to Kyosuke helping her out, in a bit of an unusual way.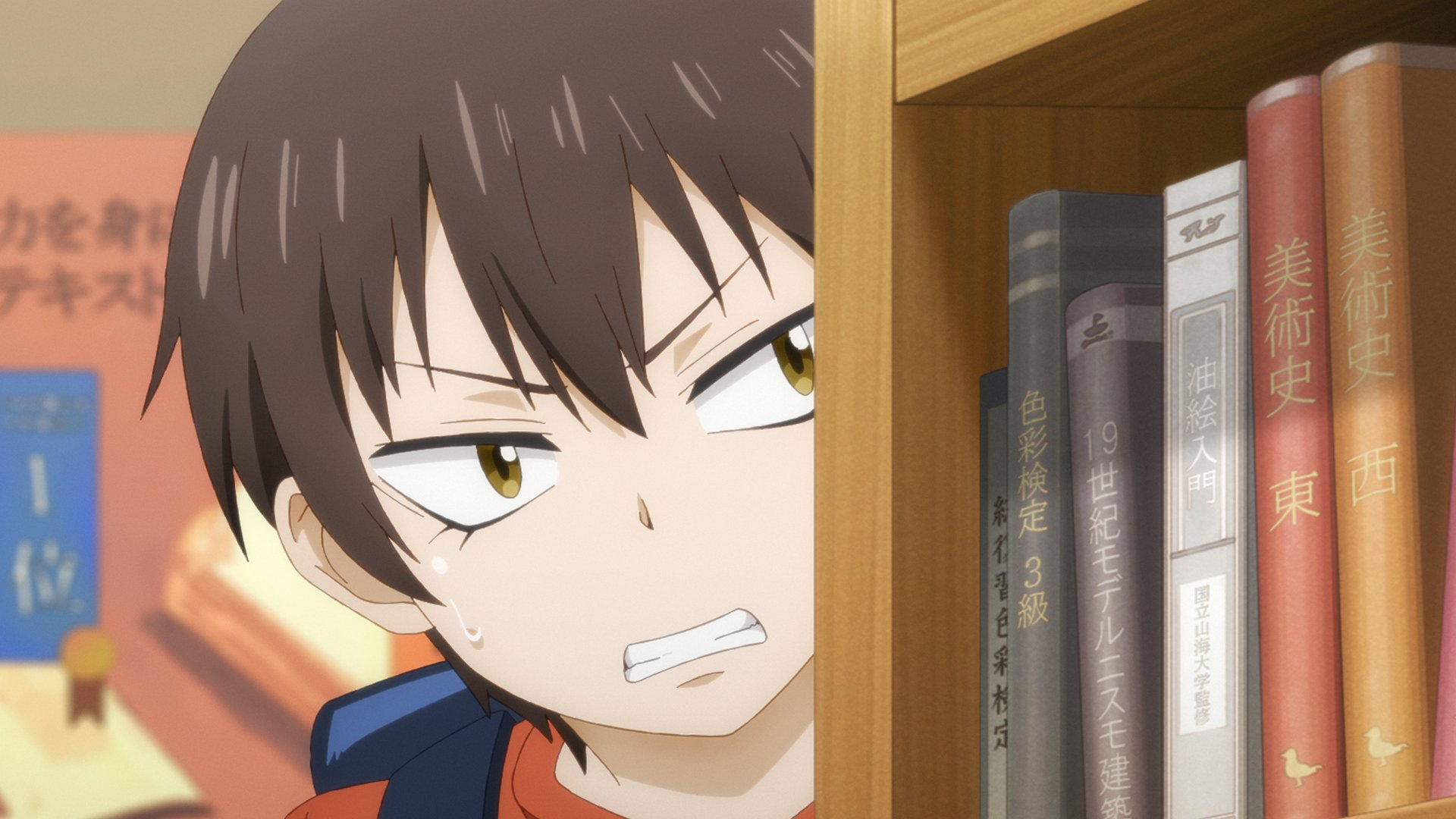 There's a monologue scene in this episode where she expresses how frustrated she is with the whole ghost situation. Her only wish is to not be able to see the ghosts, and even though this anime leans toward a comedic approach this scene really made me sympathize with her struggles.
Miko's Father
This episode also gives a bit of an insight into Miko's background and family. We see her entering the dining room and finding her whole family there. Her mother is talking about a fight she had with her dad over a year ago and of course, her father looks embarrassed and asks her to stop talking about it. But, Miko's mom just continues.
Miko soon leaves the room and puts an offering in front of her father's photo. As it turns out, he is already dead. He looks at Miko and says that he always wanted to apologize for the fight, but never got the chance.
This scene really made an impact on me, It felt really sad, but at the same time, it's heartwarming. You can actually see that Miko is a good person and that she is really thoughtful. Episode 4 of MIeruko-chan ended with Miko saying "See you later" in front of her father's photo.
It seems that every episode of Mieruko-chan has a touching scene. If you want more heartfelt events in the anime, episode 5 will air on October 31, 2021, and you can watch it on Funimation. If the ending of Mieruko-chan episode 4 also reached your heart, you can vote for the anime on our weekly poll.
Synopsis
A normal girl was living a normal life until she wasn't.
One day, she could see…everything. What's a girl to do when hideous monsters appear no matter which way she turns?
And on top of that, nobody else can see them! Obviously, there's only one thing that makes sense-ignore them.
Kinda hard to put theory into practice, though, when the ghosts know she's watching…

Yen Press
Images from Official Website
©泉朝樹・KADOKAWA刊/見える子ちゃん製作委員会