The season finale of the anime Mother of the Goddess' Dormitory is out! All of the waifus have received enough screentime in this episode. However, it seems that among six of them, Atena is the one who stands out. In terms of fan service, of course, nothing can beat Frey. The events in the episode were hilarious, mainly due to the amount of fan service. It's a truly befitting season finale for the series, and all of this happened because Koushi got sick.
Warning: Spoilers Ahead!
To begin with, Koushi was exerting himself too much due to his duties as dorm mother. But since it was winter, it got really cold and he suddenly collapsed while out with Kiriya. At the dorm, the residents rush to his side only to find out that he has a fever. Frey also comes home from a cosplay event immediately to see what happened to Koushi. Sutea also comes rushing with a worried face because she thought that Koushi would disappear again.
This scene is really funny because, to me, all of them are overreacting. They are acting like Koushi is already dead and the background music fits. The residents come over to Koushi's room, and all of them are sitting around him, with sad faces.
Fan Service
Of course, the fan service will never disappear in this anime. Since Koushi is sick, Frey tries to play doctor with Koushi while wearing a skimpy nurse outfit. Atena also accidentally exposes her chest to Koushi. Frey and Serene try to wash Koushi's body in their own way. Furthermore, a failed experiment of Mineru explodes, burning her clothes, along with Atena's, in front of Koushi.
I'll be honest with my thoughts. I was looking forward to these scenes, and wondering if this episode will manage to outdo the previous ones. And it did, the episode was the right mix of comedy and fan service. I want to commend Frey because she really stands out in this episode, due to her cosplay outfit. It made me fall for her a little, even though I'm on team Atena.
Taking Care of Koushi
After Koushi collapses, the residents begin to take the matter of his health more seriously. Atena insists that she will take care of Koushi 24/7 until he recovers. Kiriya volunteers to take care of the laundry. Sutea leaves the dorm, believing that it will be better if the residents are the ones to taking care of him. Frey volunteers to walk Sutea home but she refuses. Serene is reading her status on the moon so that she will know if she can help Koushi. Mineru locks herself in her room, reading something but can't focus because of Koushi.
In the end, all residents, aside from Sutea, prepare food for Atena so that she can enjoy a midnight snack after taking care of Koushi.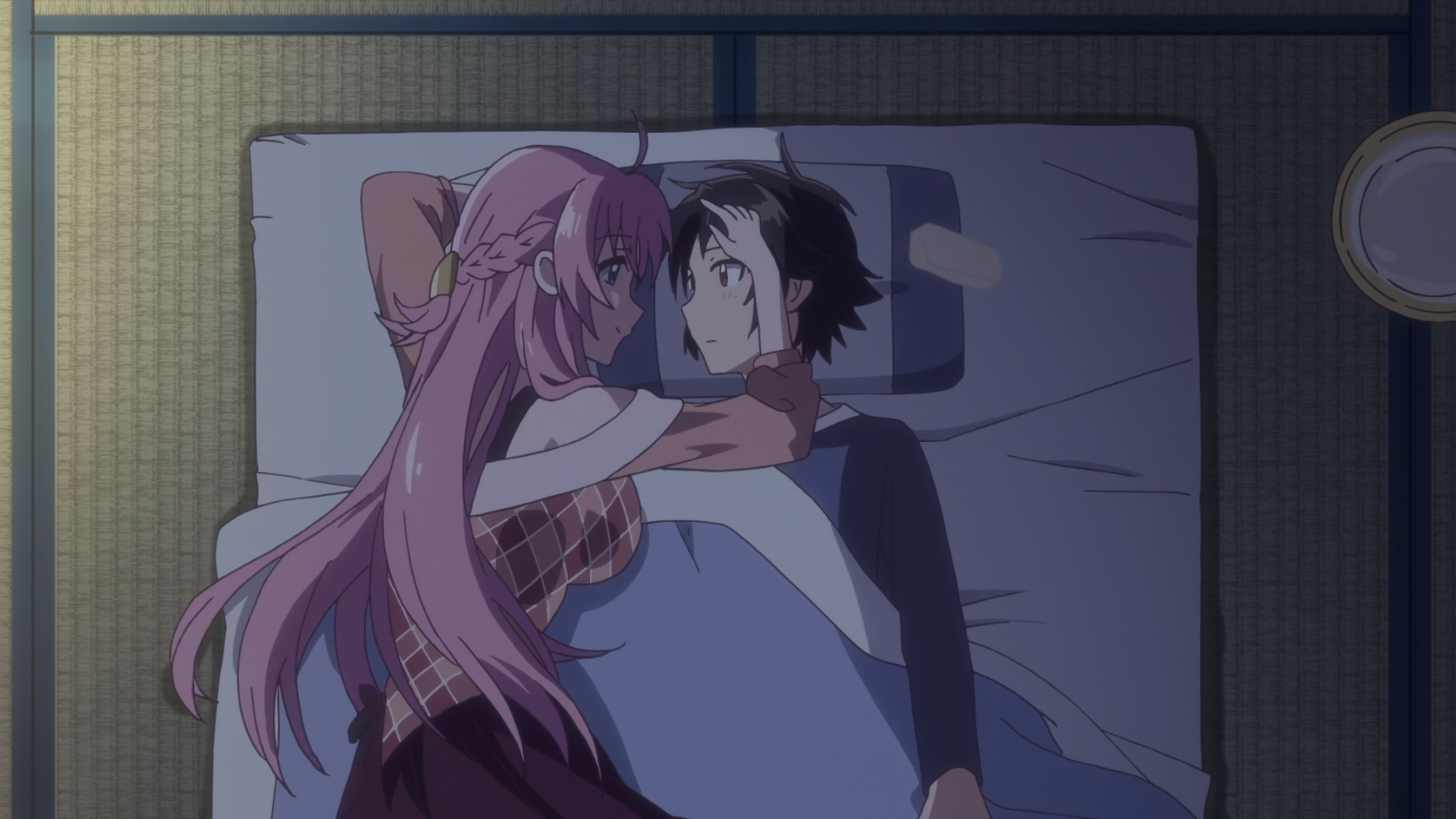 This part is very serious. I can feel that Atena and the others are really passionate about taking care of Koushi. Honestly, I thought that Atena would kiss Koushi this time because when he woke up, Atena was sleeping beside him while her right arm was wrapped around him.
Koushi finally recovers and the whole dorm goes shopping in order to prepare for a New Years' Eve celebration.
Message From the Author
After the official broadcast of the show, the author of the Mother of the Goddess' Dormitory, Ikumi Hino expressed gratitude using Twitter. The tweet he posted says thank you to everyone who supported the series from the start until the end by drawing an illustration of Atena and Koushi. You can check the official tweets below:
I hope that this anime will receive a second season in the future. Well, If the finale made you happy by seeing all of the characters united, you can vote for it on our weekly poll.
Lastly, If the show manages to capture your heart and makes you attached to the waifus as I did, you can vote for it as anime of the season in our poll.
12-year-old boy Kōshi Nagumo, finds himself homeless, penniless, and without relatives to care for him. As he lies on the street, he gets picked up to become the "dorm mother" of a dormitory full of troubled female university students.

HIDIVE, ACN Edit
Screenshots via HIDIVE
©2021 Ikumi Hino/女神寮