Tokyo, Japan – May 29, 2020 – Preorders are officially open for Clare & Teresa Elite Bust by Figurama Collectors! There are three ways to add these pieces to your collection: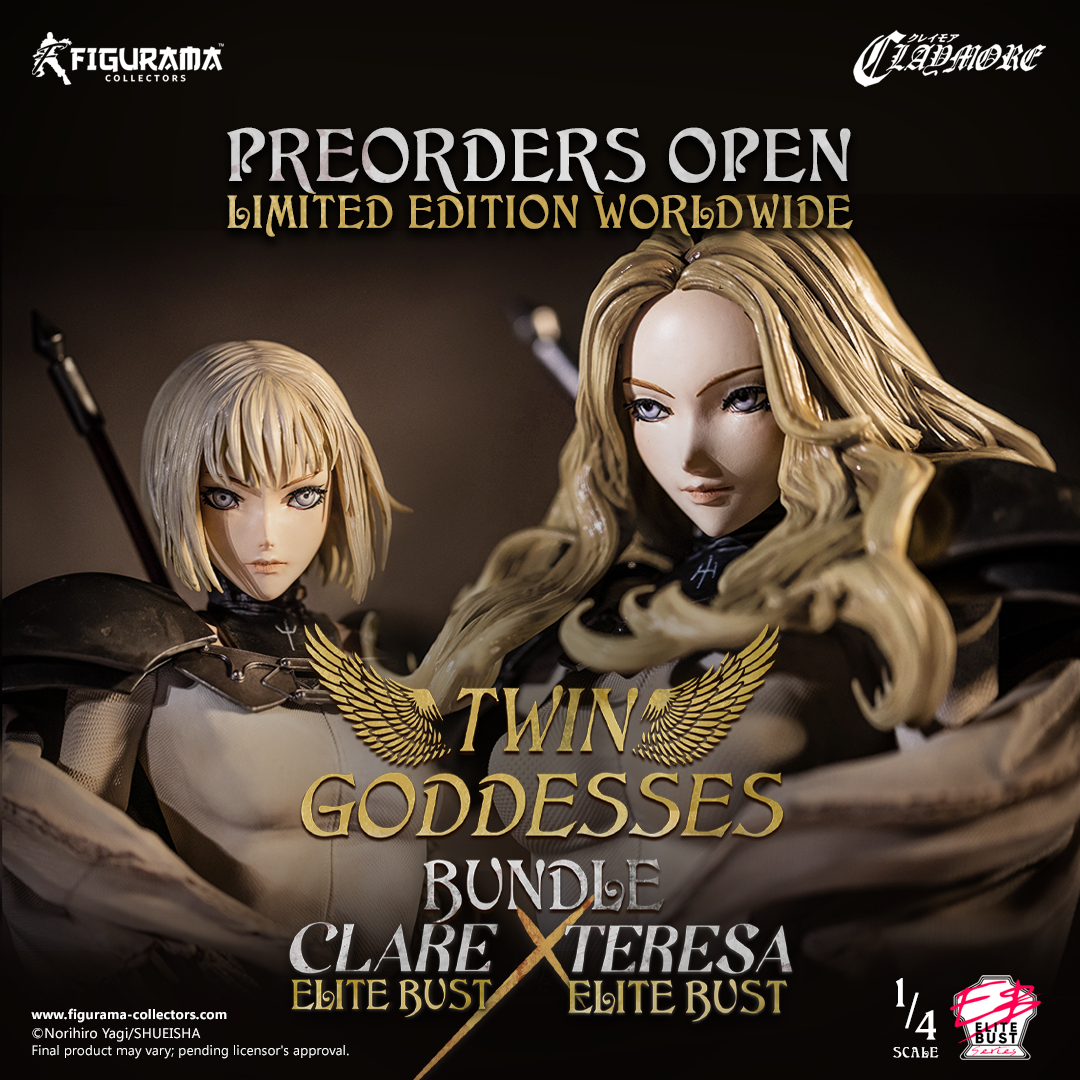 Designed to Complement Teresa vs. Priscilla Elite Exclusive Statue – Colors, detail, and design parallel the larger Teresa vs. Priscilla Elite Exclusive Statue! The pedestal is directly inspired by the base of the statue and includes matching Easter Eggs. Notice the wings of the Twin Goddesses, partial replicas of their blades, and the grotesque forms of transforming Yoma.
1/4 Scale – Larger scale = higher levels of detail! Teresa and Clare cut majestic figures with their claymores protruding over one shoulder. Their Organization-issued uniform showcases woven textiles and scuffed armor, providing detailed realism and reflecting the gritty aftermath of many victorious battles.

Limited Edition – Crafted from polystone, each piece comes packaged with an official Certificate of authenticity.

Part of a Larger Series – Clare and Teresa won't be the last characters in our Claymore Elite Bust series, and they're going to look awesome lined up together with future releases.

Separately or Together – Get Clare alone, Teresa alone, or both together at a discount price via the Twin Goddesses bundle! More details to be revealed tomorrow.

Edition Size: Limited Edition

Series: Elite Bust

Release Date: Q2 2022

Size: 1/4 scale (Height = 23 CM / 9 IN)

Includes: Certificate of Authenticity

Materials: Polystone, PVC

Creative Director: Mr. Shanab / Figurama Collectors Development Team

Concept Artist: Daniel Kamarudin

3D Artist/Sculptor: Carlos CruzColoring Artist: Three Eyes Studio

Retail Price: $225 each (or save $50 through the Twin Goddesses Bundle)

Non-Refundable Deposit: 20%

Payment Plan: 2-month payment plan for single bust (only $90 per month); 4-month payment plan for bundle (only $80 per month)

SHIPPING: Warehouses in Asia, the USA, and Europe ensure the lowest shipping rates possible
Keep on collecting. WE ARE THE COLLECTORS!
Claymore Synopsis
In case you don't know what "Claymore" is about, you can read the synopsis below:
In this world, humans coexist with demonic predators called Yoma. These demonic beasts feast on human innards and can blend into human society by taking on human appearance. As a counter force, a mysterious organization created half-human, half-Yoma warriors known as the "Silver Eyed Witches" or "Claymores", after the huge claymore swords they carry. They are detested by humanity however necessary.

The story begins with a young boy, Raki, who has lost everything in a Yoma attack, and the Claymore, Clare, who is generally detested by society. Throughout the series, Clare and Raki show their deeper qualities, powers and Clare's never ending devotion to the goal she swore to fulfill in her childhood.
You can read more news here!
Source: Press Release